2 hr 10 min ago
Ukraine says it has rescued mayor who was detained by armed men in Russian-occupied city
From CNN's Tim Lister and Olga Voitovych in Lviv, Paul Murphy and Mariya Knight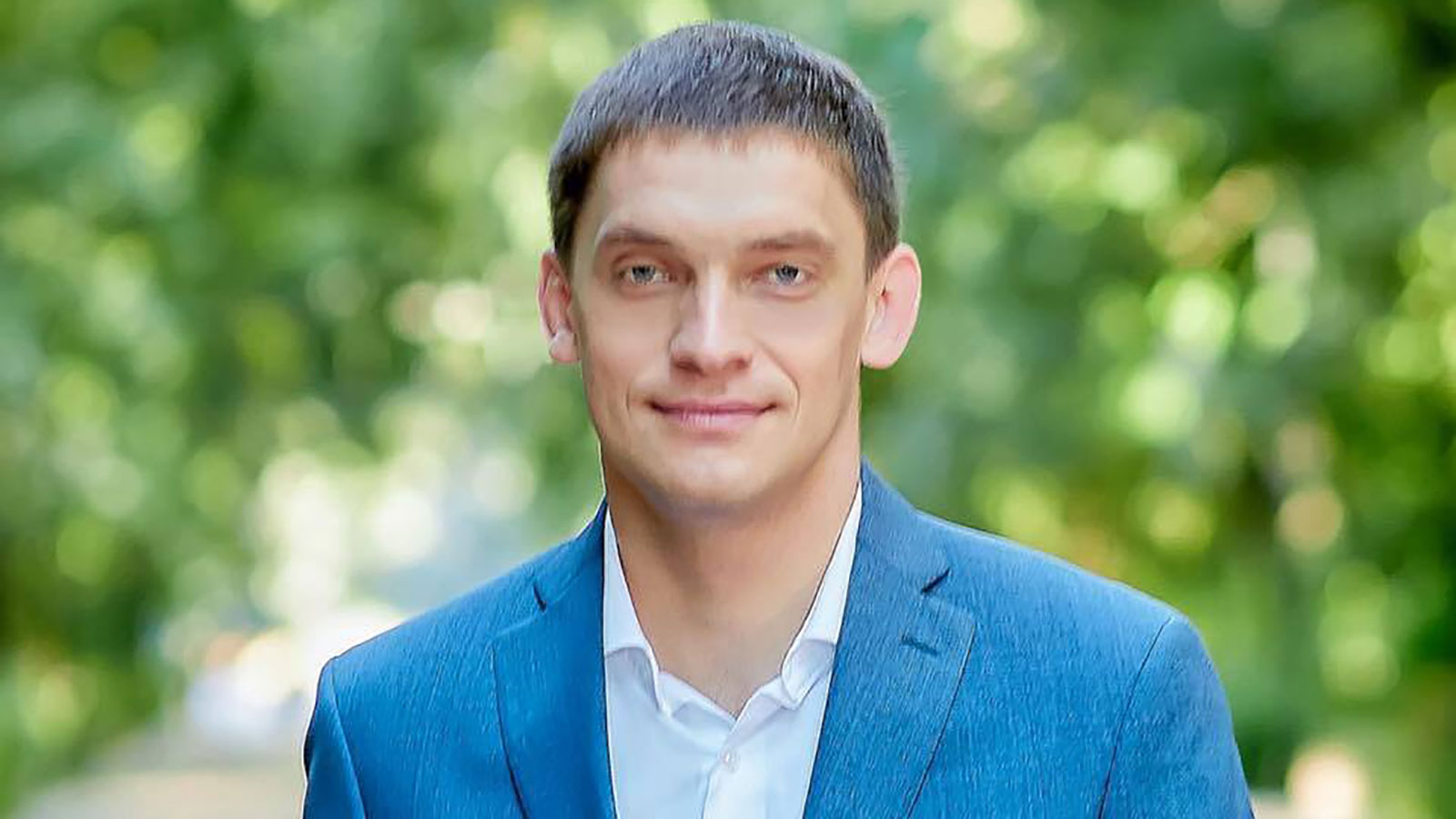 The Ukrainian government says it has staged a rescue of the mayor of the southern city of Melitopol, who was detained by armed men in the Russian-occupied city on March 11.
"A special operation to release the mayor of Melitopol Ivan Fedorov has just been successfully completed. Vanya is safe. We just talked to him together with the president and the head of the Office. I would like to say only one thing – we never leave our people. Ivan will return to his duties as mayor of Ukrainian Melitopol very soon," Kyrylo Tymoshenko, a senior official in President Volodymyr Zelensky's office, said in a message on his Telegram channel.
Another video showed a smiling Zelensky speaking on the phone to someone identified by his office as Fedorov.
More background: Russian troops gained control of Melitopol on Feb. 26. On March 11, armed men detained the elected mayor Fedorov and later that day the prosecutor's office for the Russian-backed separatist Luhansk region accused him on terrorism charges.
Since then, newly installed mayor Galina Danilchenko has ordered the broadcasting of Russian television channels and attempted to dissolve the city council and instead create a People's Committee.
Ukraine's prosecutor general opened a treason investigation into Danilchenko on March 13.
3 hr 47 min ago
Slovakia has preliminarily agreed to send key Soviet-era air defense system to Ukraine, sources say 
From CNN's Katie Bo Lillis, Natasha Bertrand, Jeremy Herb and Zachary Cohen
Slovakia has preliminarily agreed to provide Ukraine with a key Soviet-era air defense system to help defend against Russian airstrikes, according to three sources familiar with the matter, but the US and NATO are still grappling with how to backfill that country's own defensive capabilities and the transfer is not yet assured. 
According to two of the sources, Slovakia, one of three NATO allies that have the defense systems in question, wants assurances that the systems will be replaced immediately. 
If a country provided its S-300s, the supplying country is likely to receive the US-made Patriot air defense missile system to backfill the capability it would be giving up, according to two other sources familiar with the negotiations. 
Germany and the Netherlands have already publicly announced that they are sending Patriots to Slovakia. But integrating a new, complex air defense system into a country's existing military architecture, as well as training its forces to use it, can take time, one source familiar with the matter cautioned. 
The push to get more S-300s into the hands of the Ukrainians comes as Congress has been pressing the Biden administration to help Ukraine obtain the air defense system. Lawmakers in both parties, who heard from Ukrainian President Volodymyr Zelensky in a speech Wednesday morning, have urged the US needed to do more to help Ukraine obtain the weapons it's seeking, particularly after the administration opposed a plan last week to provide Ukraine with Polish MiG-29 jets.
Rep. Michael McCaul, the top Republican on the House Foreign Affairs Committee, hinted publicly on Wednesday that the US had made progress in getting Ukraine access to additional S-300s, an anti-aircraft weapon system that congressional sources say Ukraine is already operating effectively against Russia's assault.
"I've been pushing hard for this," McCaul told CNN's Jim Sciutto. "I'm proud to say they do have S-300s going in now."
An aide to McCaul later said he was referring to S-300 systems that have been owned and operated by Ukraine for years. Those systems are already in the country.
More background: CNN previously reported that the State Department has been working to identify which countries currently have S-300s and determine how they could be transferred to Ukraine. 
CNN reported earlier Wednesday that other Soviet era air defense systems including the SA8 have already been sent into Ukraine. 
"People talk about a no-fly zone, they can create their own if we give them the military equipment and weapons," McCaul noted.
Defense Secretary Lloyd Austin is scheduled to travel to Slovakia later this week after participating in the NATO Defense Ministerial in Brussels.
"At the request of President Zelensky, we have identified and are helping Ukraine acquire additional longer range anti-aircraft systems and the munitions for those systems," US President Joe Biden said on Wednesday as part of remarks detailing new security assistance. 
Some US allies have also been extremely leery of making their contributions to Ukraine public, multiple sources told CNN. Bulgaria and Greece also have more the modern S-300 systems in question. Greece's system is a different model than those currently operated by Ukraine, raising questions of whether additional training would be needed for it to be useful.
The State Department and the Slovakian Embassy in Washington declined to comment. CNN has reached out to the National Security Council and the Defense Department for comment. 
2 hr 43 min ago
An 11-year-old boy traveled more than 600 miles from Ukraine to Slovakia on his own
From CNN's Manveena Suri
Carrying just his passport, a plastic bag and a telephone number written on his hand, an 11-year-old boy travelled from Zaporizhzhya in Ukraine to Slovakia, a journey of more than 600 miles (1,000 kilometers).
"He conquered everyone with his smile, fearlessness and determination of a real hero," according to the Slovak Interior Ministry representative in a Facebook post put out by the Slovak Embassy in the UK on March 8.
"I am very grateful that they saved the life of my child," said his mother, Yulia Pisetskaya in a video message posted on Facebook, adding "in your small country, there are people with big hearts."
"I am a widow and I have more children. I want to thank the Slovak customs and volunteers who took care of my son and helped him cross the border. I am grateful you have saved my child's life. Next to my town is a nuclear power plant that the Russians are shooting at. I couldn't leave my mother — she can't move on her own," she continued.
3 hr 36 min ago
Fate of hundreds sheltering in bombed theater in Mariupol is "unknown," regional official says
From CNN's Tim Lister in Lviv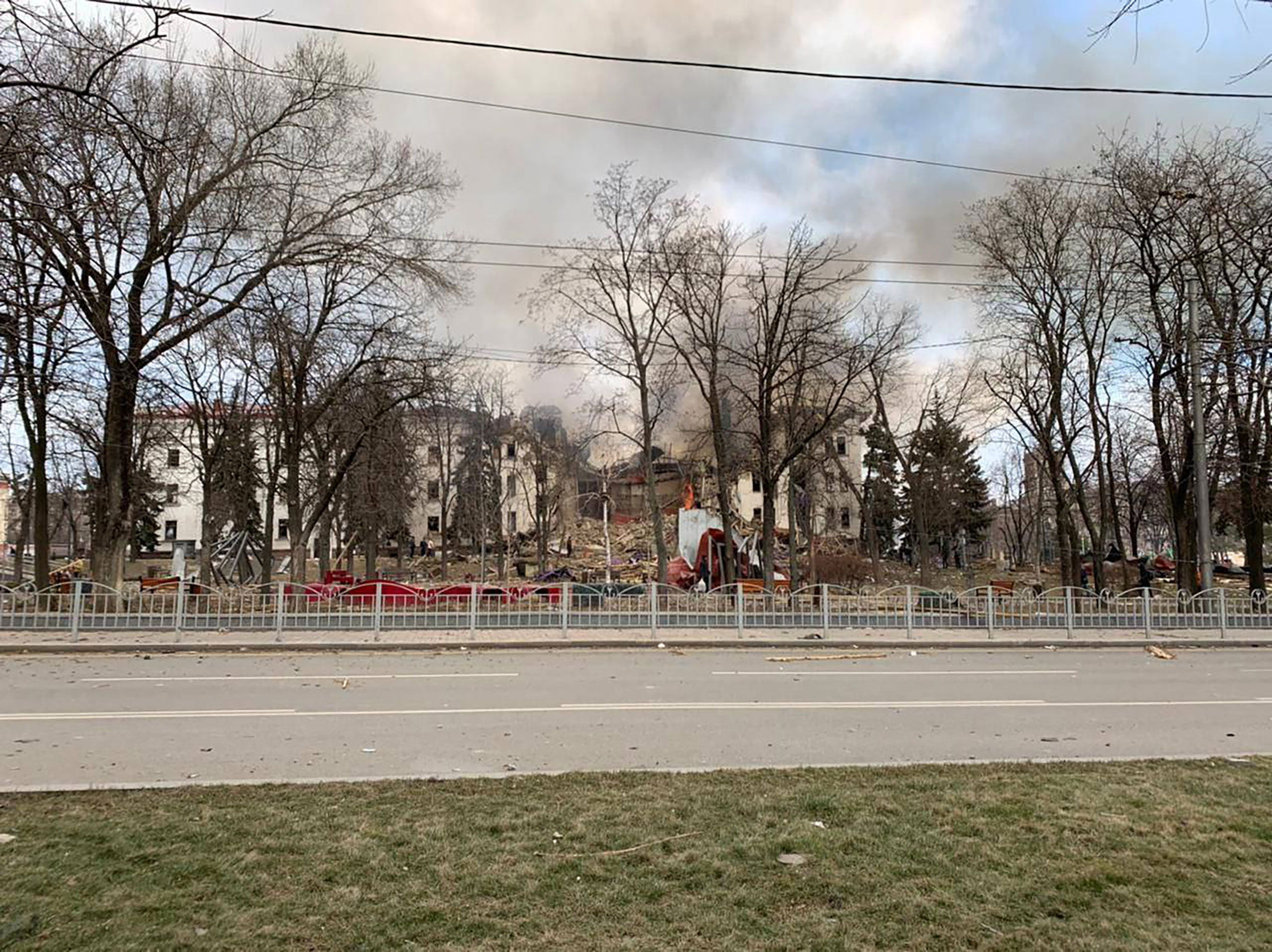 Pavlo Kyrylenko, the head of Donetsk regional administration which includes Mariupol, said Russian forces are trying to "physically destroy Mariupol and the people of Mariupol, which have been a symbol of our resistance" after a theater sustained heavy damage in an apparent bombing.
Kyrylenko said they launched an air strike on the "Drama Theater" and "the Neptune" swimming pool.
"According to preliminary data, several hundred Mariupol residents were hiding in the Drama Theater. Their fate is unknown, as the entrance to the bomb shelter is blocked by rubble," he said.
"The Russians are already lying, [saying] that the headquarters of the Azov Regiment was there. But they themselves are well aware that there were only civilians," he continued on Facebook.
The Azov Battalion is an ultra-nationalist militia that has since been integrated into the Ukrainian armed forces.
"Now there are pregnant women and women with children under the rubble. This is pure terrorism!" he wrote.
It is currently impossible to determine the number of casualties of these shellings and the extent of the destruction as well.
4 hr 33 min ago
The International Court of Justice orders Russia to immediately halt its invasion of Ukraine
From CNN's Abby Baggini
The International Court of Justice (ICJ) in the Hague has ordered Moscow to immediately stop its invasion of Ukraine, saying there is no evidence to support its justification of the war.
During a hearing Wednesday, the court ruled there was no evidence to support Russian claims that Ukraine was committing genocide in the Luhansk and Donetsk oblasts, whereby Moscow has justified its invasion of Ukraine.
"The Russian Federation shall immediately suspend the military operations commenced on 24 February, 2022, that have as their stated purpose and objective the prevention and punishment of a claimed genocide in the Luhansk and Donetskoblasts of Ukraine," it said.
The Court also called for other forces supported or controlled by Moscow to cease their military operations, and for Russia to refrain from aggravating or extending the dispute.
Ukraine filed a dispute on Feb. 26 against Russia on the basis of the 1948 Convention on the Prevention and Punishment of the Crime of Genocide. It asked the ICJ to deliberate on Russian claims that Ukraine was committing genocide in the Donbas.
The hearing took place in the Peace Palace in The Hague, where presiding Judge Joan E. Donoghue read out the Court's order. The preliminary decision was confirmed by a 13-2 vote. A Russian and a Chinese judge were the two to vote against the decision.
"The court is acutely aware of the extent of the human tragedy that is taking place in Ukraine," Donoghue said. "The court is profoundly concerned about the use of force by the Russian Federation in Ukraine which raises very serious issues of international law."
ICJ rulings are considered binding, though the court lacks an enforcement mechanism. 
Russia boycotted a previous ICJ hearing on March 7.
4 hr 27 min ago
Attacks on health systems are "becoming part of the strategy and tactics of war," WHO says
From CNN's Naomi Thomas
The World Health Organization slammed the unprecedented numbers of attacks on global health care systems Wednesday. 
"This issue is more important than bricks and mortar. This isn't just about the destruction of buildings," Dr. Mike Ryan, executive director of WHO's health emergencies program, said while discussing Ukraine.
"This is about the destruction of hope. This is about taking away the very thing that gives people the reason to live. The fact that their families can be taken care of, that they can be cured if they're sick, that they can be treated if they're injured. This is the most basic of human rights, and it has been directly denied to people and we are then in a position where we can't send assistance to those people, because the very act of attacking those facilities or not taking care to avoid those facilities means we can't send the appropriate help when it's needed," he said.  
Ryan said that attacks on health care, encompassing workers and facilities, means health systems are "becoming a target." 
"We're only a very short part into this year, we have never seen, globally, never seen this rate of attacks on health care," Ryan said. "Health is becoming a target in these situations; it's becoming part of the strategy and tactics of war. It is entirely, entirely unacceptable. It is against international humanitarian law."
Of the 89 attacks on health systems around the world this year so far, 43 have been in Ukraine, according to WHO Director-General Tedros Adhanom Ghebreyesus. 
"More than 300 health facilities are along conflict lines or in areas that Russia now controls. And a further 600 facilities are within 10 kilometers of the conflict line," Tedros said, adding, "WHO condemns all attacks on health care wherever they occur." 
The Ukrainian health system is "teetering on the brink," warned Ryan. 
WHO is working with its partners to get emergency medical teams on the ground in Ukraine, but officials said they are concerned the emergency medical teams will get attacked or bombed. 
"How can you do that in all conscience if the very infrastructure that those people will go into support is being under direct attack?" Ryan said. 
4 hr 28 min ago
Theater in Mariupol where hundreds were taking refuge has been bombed, according to city council
From Tim Lister and Olga Voitovych in Lviv, Ukraine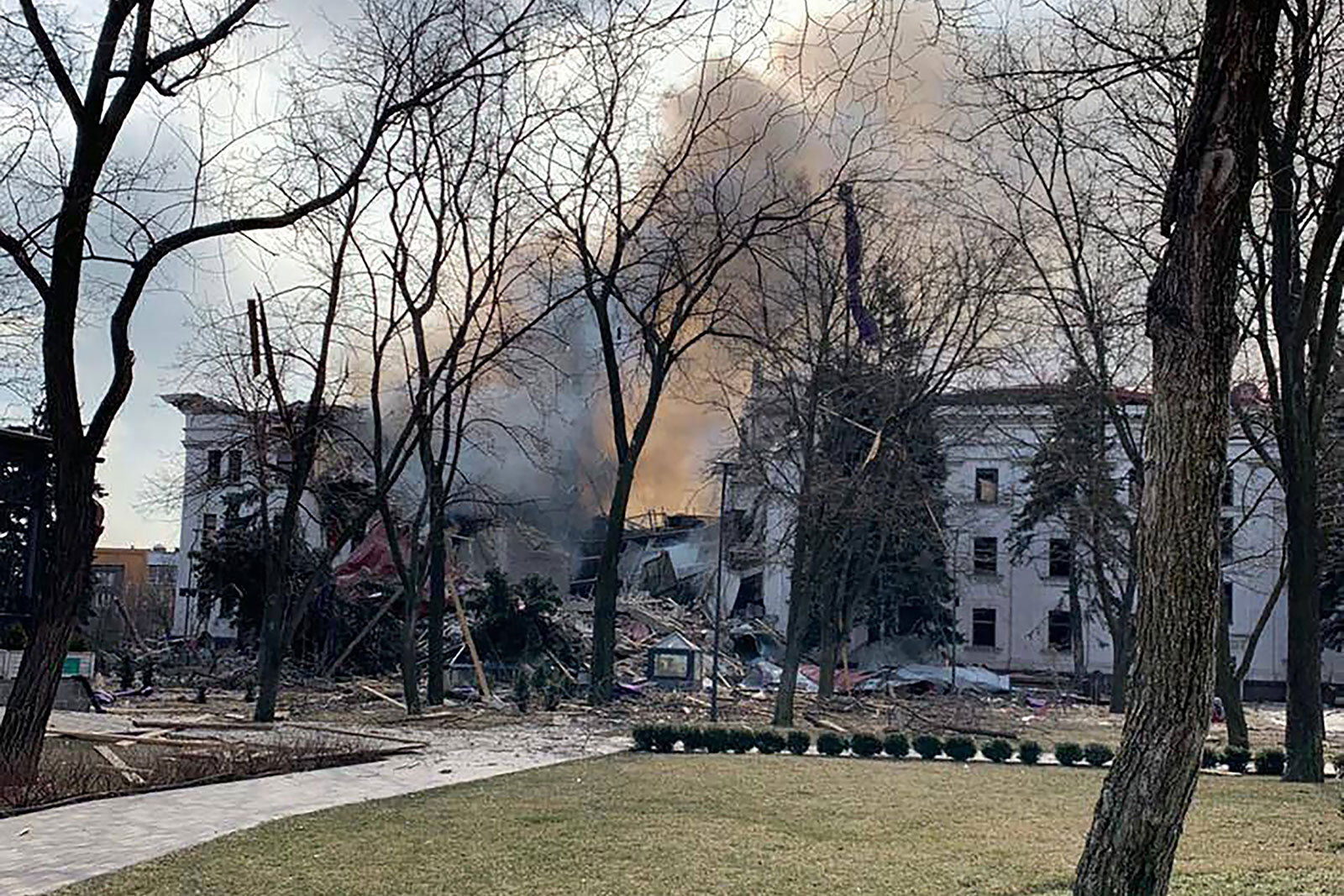 The Mariupol City Council has posted an image of the Ukrainian city's theater — where hundreds of people are said to have taken shelter — after it sustained heavy damage in a bombing Wednesday.
CNN has geolocated the image and confirmed it is of the theater. Videos showed a fire raging in the theater's ruins.
The city council said that Russian forces had "purposefully and cynically destroyed the Drama Theater in the heart of Mariupol. The plane dropped a bomb on a building where hundreds of peaceful Mariupol residents were hiding."
The council added on its Telegram channel: "It is still impossible to estimate the scale of this horrific and inhumane act, because the city continues to shell residential areas. It is known that after the bombing, the central part of the Drama Theater was destroyed, and the entrance to the bomb shelter in the building was destroyed." 
It said casualty numbers were still being confirmed.
"It is impossible to find words that could describe the level of cruelty and cynicism with which the Russian occupiers are destroying the civilian population of the Ukrainian city by the sea. Women, children, and the elderly remain in the enemy's sights. These are completely unarmed peaceful people," it said.
"We will never forgive and never forget," it added.
Separately, Petro Andriushchenko, an adviser to mayor of Mariupol, said the theater's shelter was "the largest in number and size shelter in the city center."
"According to preliminary data, more than a 1,000 people were hiding there. The number of dead and injured is unknown. The probability of getting there to dismantle the rubble is low due to constant shelling and bombing of the city," he said.
3 hr 29 min ago
Here's Ukraine's actual wish list for assistance, according to sources
From CNN's Kylie Atwood
The Ukrainians put together an extensive list of requested military and technological assistance they are still requesting to share with the US government on Wednesday, according to two sources familiar with the list.
The list is organized based on levels of necessity, ranging from urgent needs to low priority, the sources said. 
Included in the top priority section are: anti-aircraft systems including the S300 and Stinger missiles and launchers, anti-tank weapons, including American-made Javelins, different kinds of artillery ammunition, planes, armored vehicles and helicopters, sources said.
The list also includes highly-advanced US drones — called Switchblade systems — which can be flown remotely and blow up targets miles away. These weapons were added to the list after the Ukrainians consulted with congressional partners over the weekend on a draft of the list. The US would have to provide training for the Ukrainian troops if the US gives them those weapons, but the sources said that could be done remotely. 
Beyond weaponry Ukraine's asks also include: radar stations, automated control for anti-aircraft systems, radios, medical kits and body armor.
The key is that the Ukrainians need secure communications systems that the Russians cannot get into, the sources said. The US has previously provide Ukraine with that kind of communications technology and is poised to provide more of that support, the officials said.
4 hr 29 min ago
Biden announced $800 million more in aid to Ukraine. Here's what is in the package.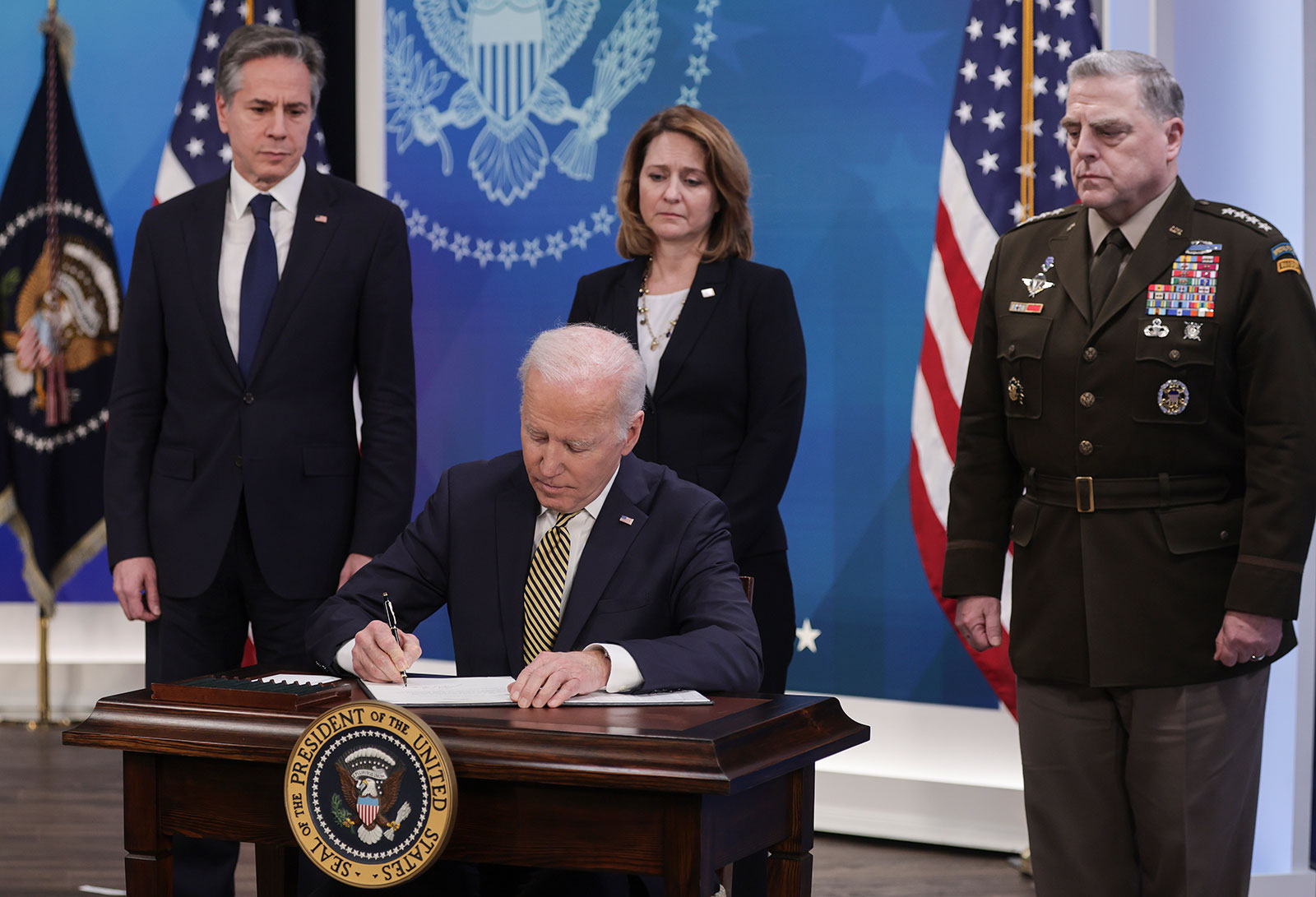 President Biden announced $800 million in additional security assistance to Ukraine during remarks from the White House on Wednesday. This brings the total to $1 billion in aid announced in just the last week.
"The world is united in our support for Ukraine and our determination to make (Russian President Vladimir) Putin pay a very heavy price," Biden said as he made the announcement. "America is leading this effort, together with our allies and partners, providing an enormous level of security and humanitarian assistance that we're adding to today and we're going to continue to do more in the days and weeks ahead."
The package of military assistance will include anti-tank missiles and more of the defensive weapons that the US has already been providing, including Javelin anti-tank and Stinger anti-aircraft missiles, officials familiar with the plans said. The assistance, however, will stop short of the no-fly zone or fighter jets that Ukrainian President Volodymyr Zelensky has said are necessary to sustain Ukraine's fight against Russia.
"These are direct transfers of equipment from our Department of Defense to the Ukrainian military to help them as they fight against this invasion. I thank the Congress for appropriating these funds," Biden said.
Biden went on to detail what is in the package and how it will be used.
"This new package, on its own, is going to provide unprecedented assistance to Ukraine. It includes; 800 anti-aircraft systems to make sure the Ukrainian military can continue to stop the plans and helicopters that have been attacking their people and to defend their Ukrainian airspace," Biden continued.
"At the request of President Zelensky, we have identified and are helping Ukraine acquire additional longer-range anti-aircraft systems and ammunitions for those systems. The new assistance package also includes 9,000 anti-armor systems. These are portable… high accuracy shoulder-mounted missiles that Ukrainian forces have been using with great effect to destroy invading tanks and armored vehicles. It will include 7,000 small arms, machine guns, shot guns, grenade launchers to equip the Ukrainians including the brave women and men defending their cities as civilians and they're on the country side as well," Biden said.
Biden added, that the aid will also include drones, "which demonstrates our commitment to sending our must cutting edge systems to Ukraine for its defense."
Biden noted that security assistance will be in partnership with allies.
"And we're not doing this alone. Our allies and partners have stepped up to provide significant shipments of security assistance and will continue to help facilitate these deliveries as well. The United States and our allies and partners are fully committed to surging weapons of assistance to the Ukrainians. More will be coming as we source additional stocks of equipment that we're ready to transfer," he said.
CNN's Kaitlan Collins, Kevin Liptak, Phil Mattingly and Paul LeBlanc contributed reporting to this post.
WATCH: