By Susan Hegger Special to the Post-Dispatch
Even before we left for Iceland, we'd seen the photos and the videos of the wild, erupting Fagradalsfjall volcano, with its blazing red rivers of dangerous molten lava streaming down the mountain. We've got to see that when we go, we thought, even though it looked daunting and vaguely terrifying.
Who knew that visiting an active volcano would be so easy? Civilized, even.
For starters, this volcano is conveniently located, only a 45-minute or so drive from the capital Reykjavik (and just minutes away from Iceland's No. 1 tourist attraction, the Blue Lagoon). You could conceivably hike the volcano in the morning and luxuriate in the geothermal waters of the Blue Lagoon in the afternoon. The volcano's easy accessibility is, no doubt, one reason it's so popular.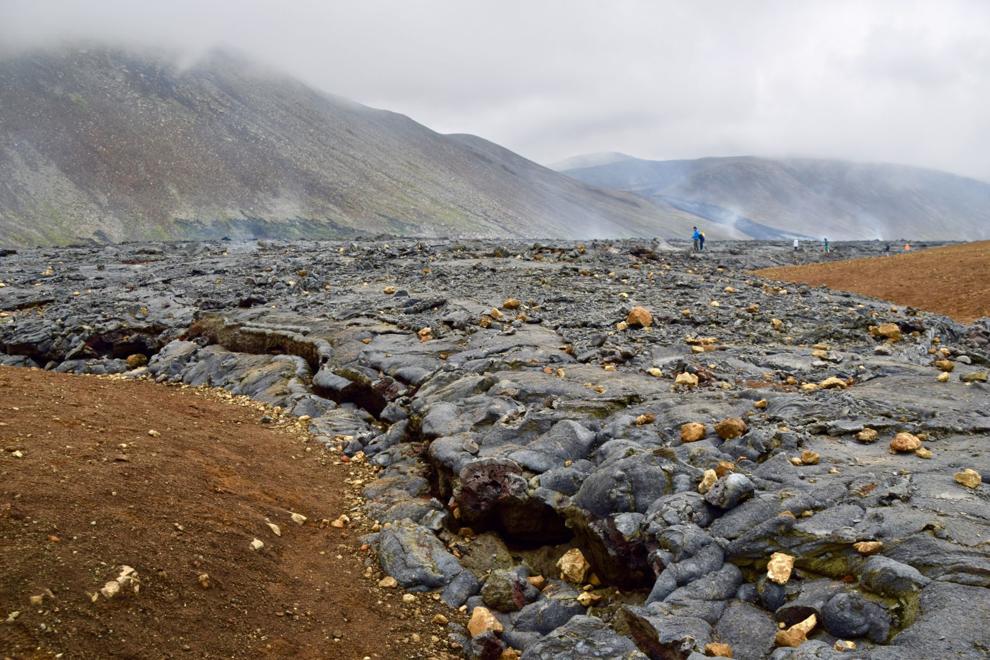 Beyond that, though, a helpful website, visitreykjanes.is/en, actually provides a map of the parking lots and trails as well as a link to a live webcam at the crater. (That way, you can spare yourself the roughly 6-mile round trip hike to the crater if it's not actively spewing lava or if it's too foggy to see anything.)
About mid-morning on our second day in Iceland, we pulled into an almost full parking lot. This being a modern, technologically advanced country, we had to pay for parking online. (Good thing we had a hot spot with us!) We also took note of the portable toilets. No hikers would apparently be answering those calls of nature in nature. We'd scoped out the website in advance and opted for trail C to a lava field. But how would we find C? No problem. Signs identified the trails and guided us to the connector to C. Easy peasy.
And then we were gob-smacked as we came around a mountain and saw the black tip of a steaming lava field covering what seemed to be an entire valley. It was immense — and it didn't take much to imagine molten lava scorching everything in its way.
We followed a trail alongside the lava field, occasionally feeling the heat. Some people walked obliviously on the lava itself — at least until a loudspeaker pierced the air. A man wearing a safety vest warned everyone of the dangers, and that was enough to send everyone scampering off the field. And enough to make us remember that Mother Nature is the one with the upper hand.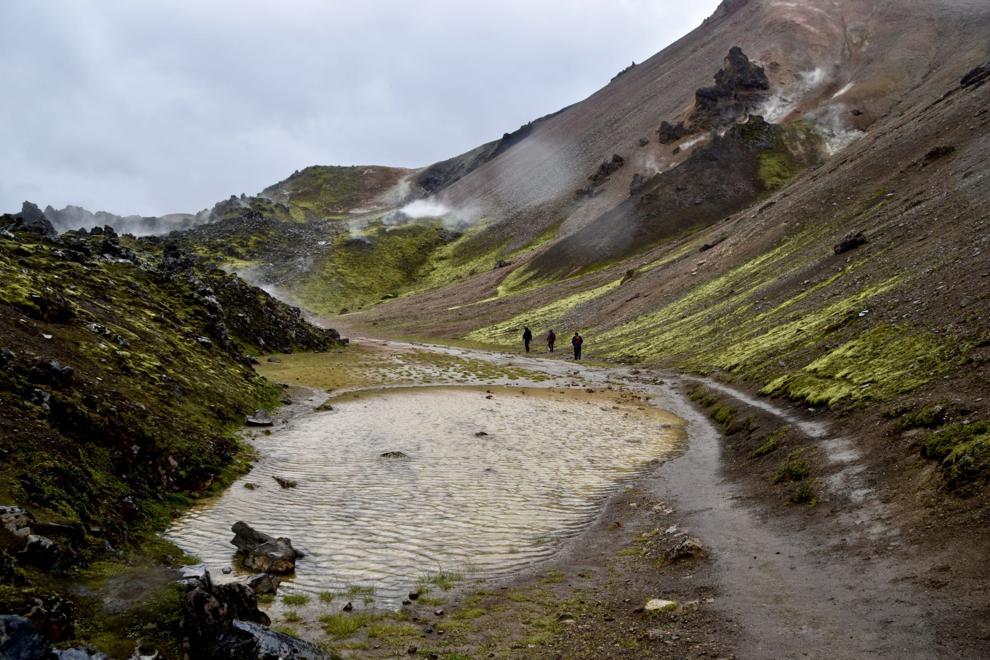 One of our other must-sees was Landmannalaugar in the southern highlands, known for its geothermal features and its multicolored mountains of rhyolite, a volcanic rock. It's a a difficult place to get to. Twelve-hour tours leave mostly from Reykjavik, but the drive itself takes three or four hours one way. Not very appealing. We were in Vik, and the road from there had some rough spots, including water crossings, and we didn't want to risk our rental car.
I was lucky to find a guide in Vik who would take us in his nicely souped-up bus with humongous tires, which he inflated and deflated as needed. We drove through lava fields covered with velvety moss, stopping for waterfalls and whatever views struck our fancy. Ingo knew all the scenic spots and made sure we saw them.
Landmannalaugar itself is a hiker's paradise, with multiday trails and overnight huts. We got a taste of its wonders on the Laugahraun Loop, a short hike through a lava field and past steaming vents. As if the scene weren't enchanting enough, we were awed by a rainbow arching across the red, green and rust mountains.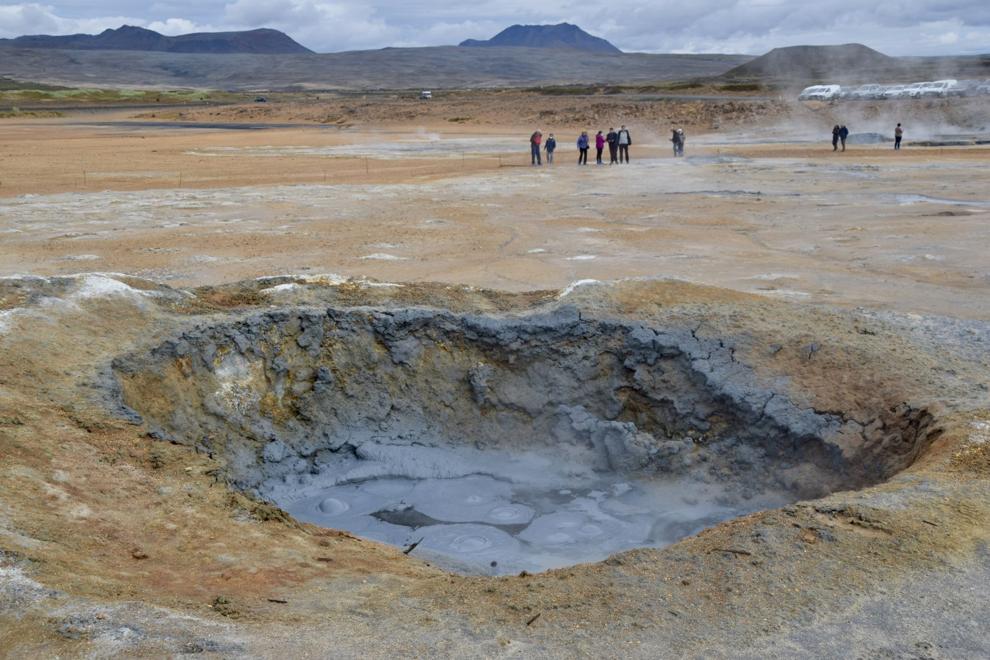 There is virtually nowhere in Iceland where the fire of volcanoes hasn't left its mark. In fact, most of our vacation involved volcanos. We climbed the Eldfell crater in the Westman Islands and the Saxholl crater on the Snaefellsnes Peninsula; we wandered among bizarre rock formations in the Dimmuborgir lava fields around Lake Myvatn and Thingvellir National Park along the Golden Circle; we ogled the Londrangar rock towers off the Snaefellsnes Peninsula; we marveled at the phenomenal basalt columns created by cooling lava at the cave at Reynisfjara beach and along the coastline around Arnastapi; and in otherworldly Hverir, we were surrounded by steaming vents, boiling mud pots and smoking fumaroles, suffused in the smell of sulphur.
The tip of the iceberg
It was a rare sunny day — the Norse god Freyr must have been smiling on us — when we boarded our zodiac for an hour's cruise of Jokulsarlon, a glacial lagoon dotted with icebergs. The day seemed warm, but that might have been because we wore heavy flotation suits (and life vests).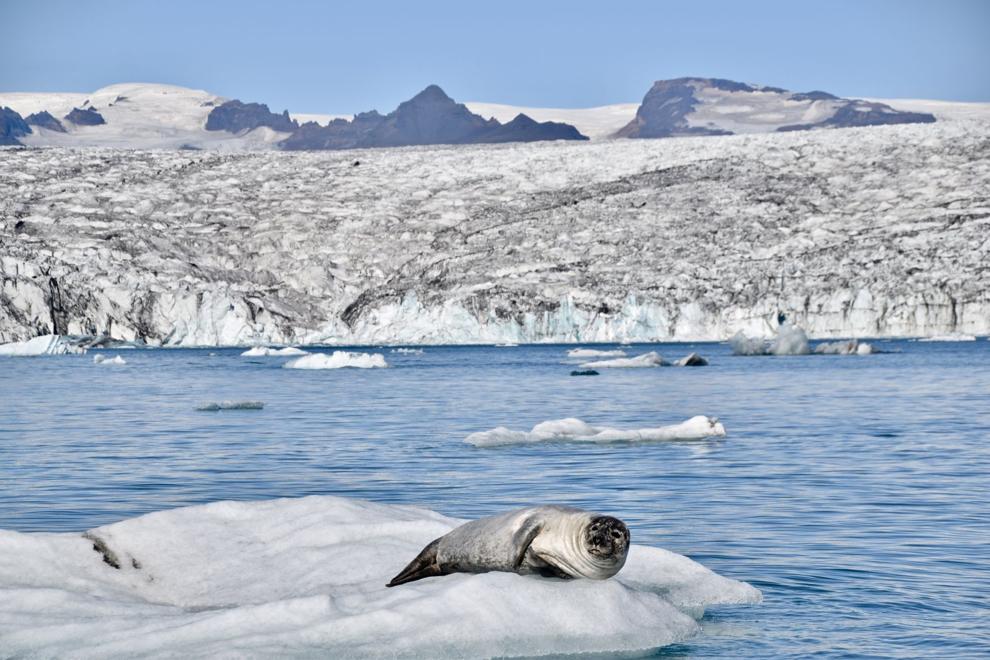 It was also a perfect day for the seals basking in the warm sun while stretched out on a cool iceberg. Our guide knew just how close he could get without the seals diving into the water. The seals were definitely ready for their close-up, and cameras in hand, we obliged.
As we neared the icy glacial wall, we heard a loud, crackling sound and saw slices of glacier crashing down into the lagoon, shooting up water and revealing a sheet of pale blue ice. It was magnificent — and we were just far enough away not to be rocked and rolled by the wave action. Amazing as it may sound, the rest of the cruise, sailing alongside some seriously big icebergs, seemed almost anti-climactic.
After the boat ride, we walked across the highway to Diamond Beach, a dramatic black sand beach "littered" with sparkling chunks of icebergs. We walked along the beach, looking for the perfect shot, but somehow I could never quite capture the glittering quality of the jewel-like ice.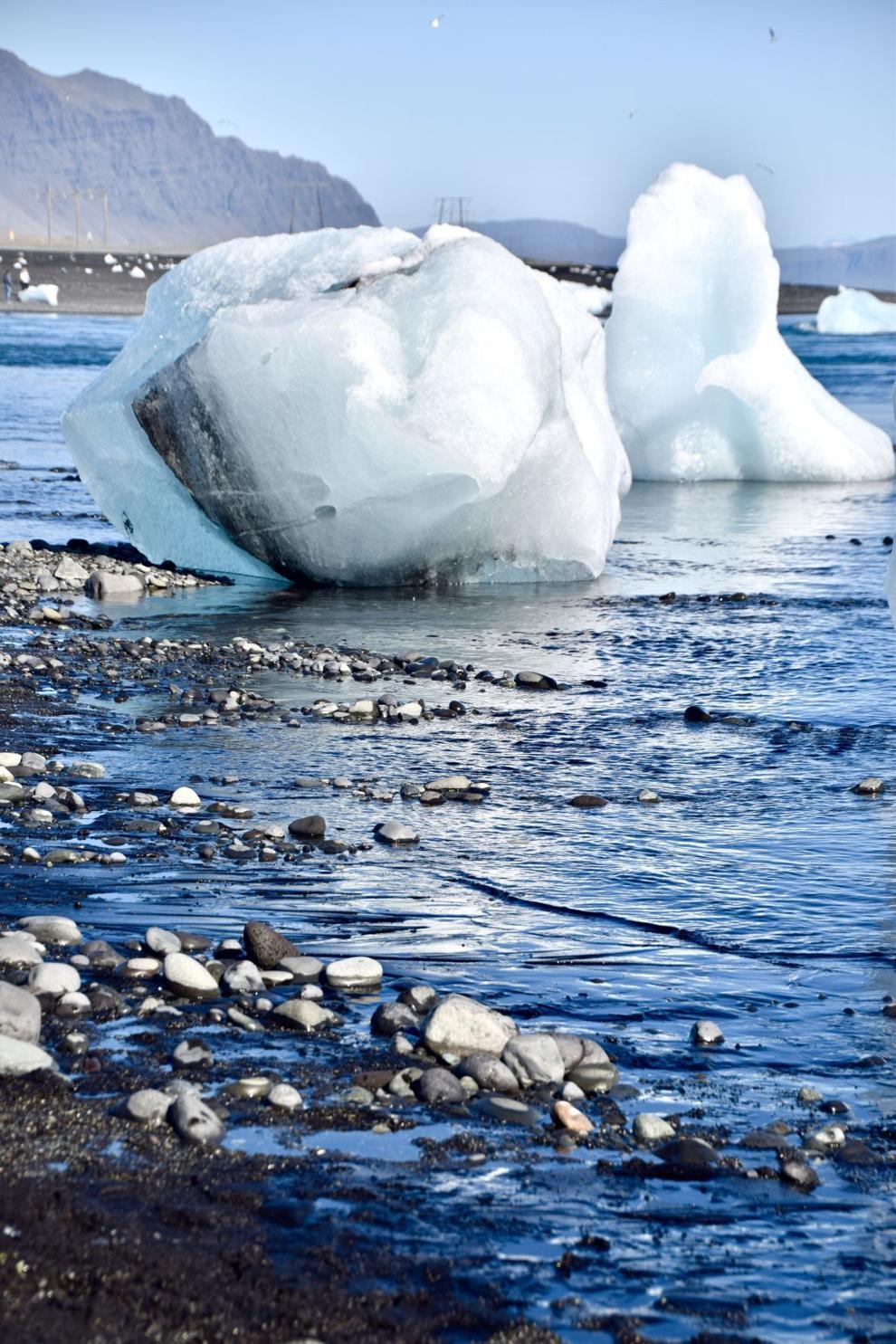 Jokulsarlon is extremely popular, one of the highlights of any trip to Iceland. But about 20 minutes away is less-visited Fjallsarlon. What a contrast! Fjallsarlon lagoon is definitely smaller, and the icebergs not nearly as big. But we had it to ourselves, so we actually felt like we were in the wilderness.
A few days before, we'd been even more up close and personal with a glacier when we hiked across a part of Myrdalsjokull to an ice cave in Mount Katla — in the pouring rain. At times, we felt like we were in a black-and-white movie: The sky, rocks and rivulets were gray; the glacier white streaked with black volcanic ash. Our guide used a pick axe to carve steps in the ice, making it easier to navigate the terrain. Of course, the crampons also provided security.
The ice cave itself was small but enchanting. We each got a chance to walk in and explore, take pictures and have our pictures taken, and just generally soak up the magic.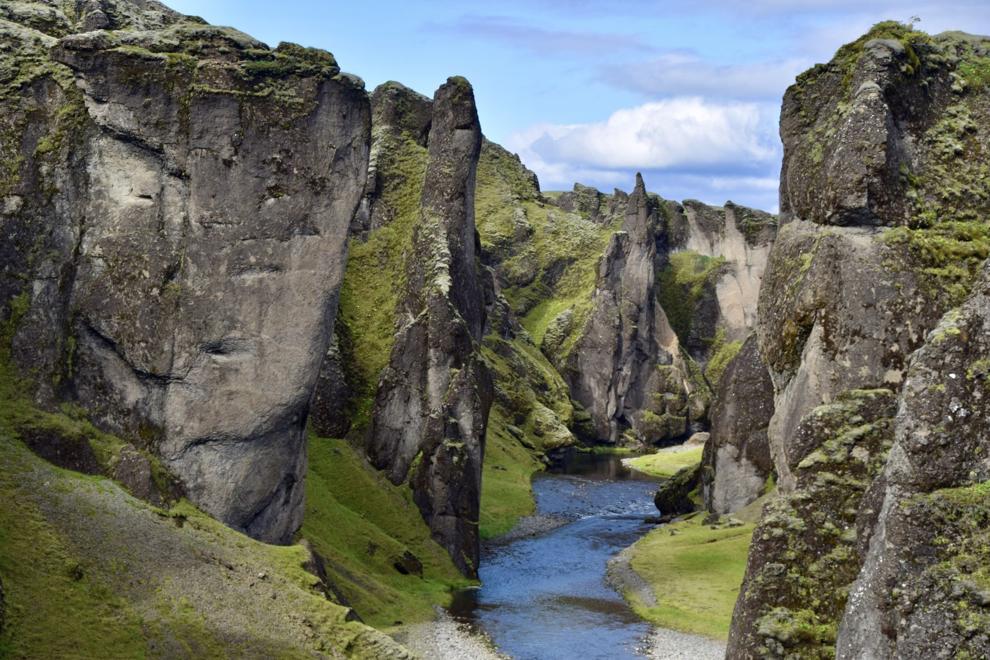 Speaking of the power of water, a glacial river is said to have created Fjadrargljufur Canyon, which proved to be one of our favorite places. A 1.2 mile path winds along the top of the canyon to its end, marked not surprisingly by a gushing waterfall. Erosion sculpted the canyon's walls into fanciful, otherworldly shapes, exotic enough to have had "Game of Thrones" dragons soar through. (Oh, and Justin Bieber used it in his "I'll Show You" video.)
One side benefit of all these glaciers (plus the rain) is the astounding number of waterfalls. But it isn't just the sheer number that is so impressive. It's the waterfalls' astonishing beauty and variety. (Tip to visitors: Even if it's sunny, rain pants are great for visiting waterfalls, especially the major ones where mist and spray can be overwhelming.)
Of course, we saw the major ones on the most heavily traveled tourist circuit: Gullfoss off the Golden Circle where we were drenched by rain, spray and mist; Seljalandsfoss, where we could walk behind the waterfall; Skogafoss where one thoughtless couple spent almost 20 minutes taking selfies, preventing anyone else from getting a clear shot of the thundering falls. (Incidentally, a staircase next to the falls leads to an observation deck with great views of the surrounding countryside but not necessarily the falls.)
I'd long wanted to visit Dettifoss, one of the most powerful waterfalls in Europe. (It was in the opening of the movie "Prometheus.") It was hard to get a complete view, but we felt and heard its power in its deafening sound, palpable vibration and deluge of spray. About a kilometer's walk away is Selfoss, a lovely horseshoe shaped series of waterfalls, which we liked better. (We visited the west sides of these falls, which has a better — i.e., paved — road, bigger parking lot and facilities than the east side access.)
The highlight of our time in the Westfjords was the Dynjandi waterfall, actually six tiered waterfalls with Dynjandi at the top. A short but rocky and sometimes slippery trail, with a series of observation decks, leads up the side, allowing views of the individual falls.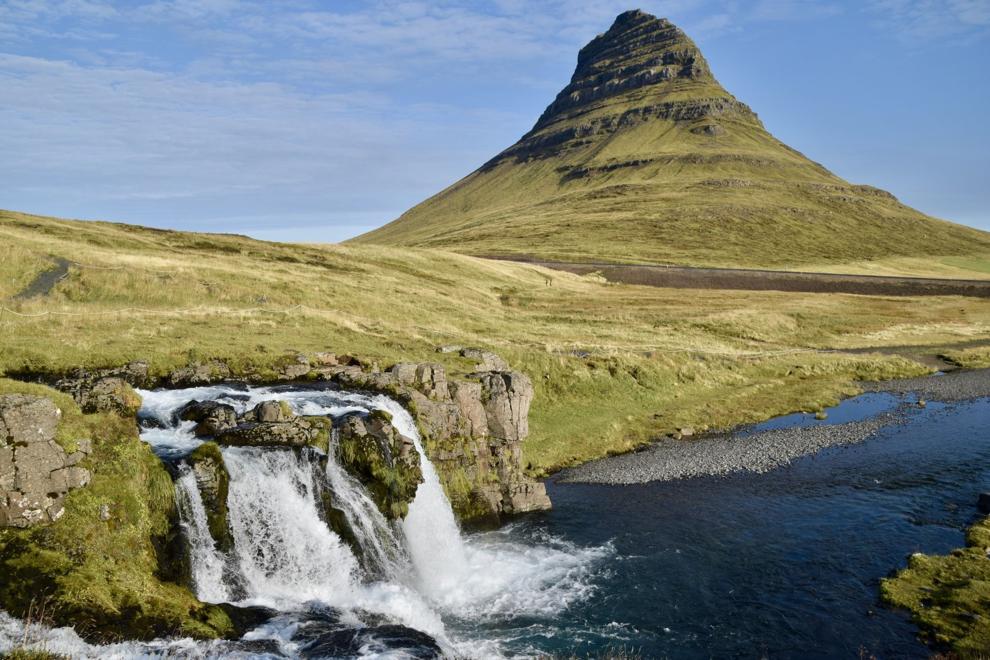 One of the most iconic images of Iceland is Kirkjufell mountain with a waterfall flowing in front. But, as we discovered, you'll never see that image while driving because the mountain is on one side of the road, the waterfall on the other. In fact, we almost didn't stop at the waterfall because it looked so puny in comparison to the others we'd seen. But when we passed a busy, almost full parking lot, we got a sneaking suspicion that it might be something worth seeing. Still, it was only when we crossed a bridge and walked down the steps next to the waterfall that we had that aha moment. Oh, OK, that's the view. Click. Got it.
Travel to Iceland
Travel story on Iceland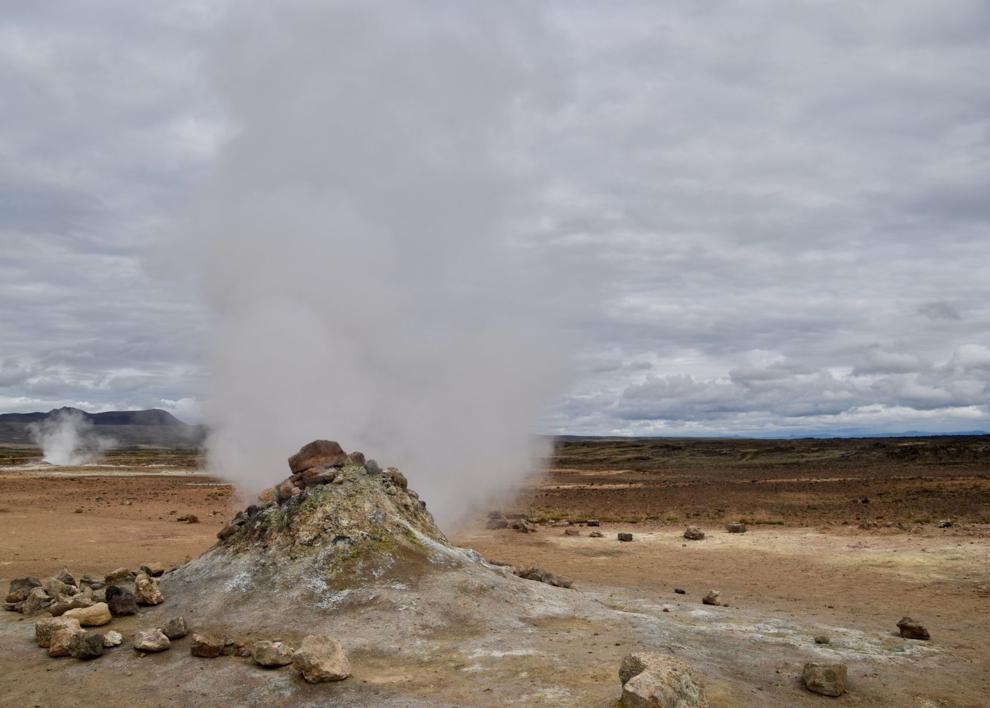 Travel: Iceland — Seydisfjordur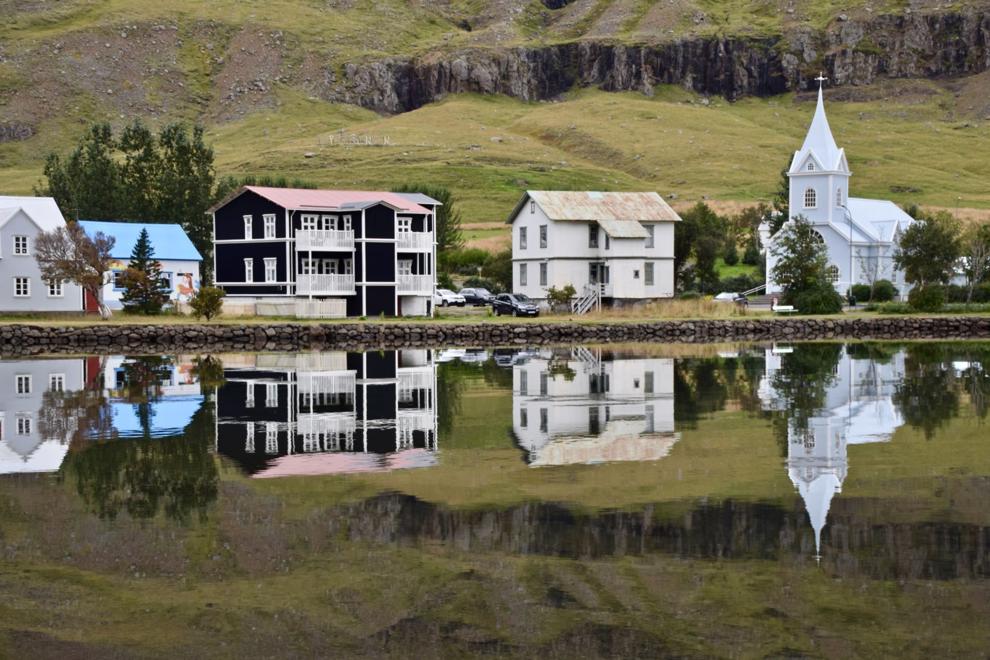 Travel: Iceland — Fjallsarlon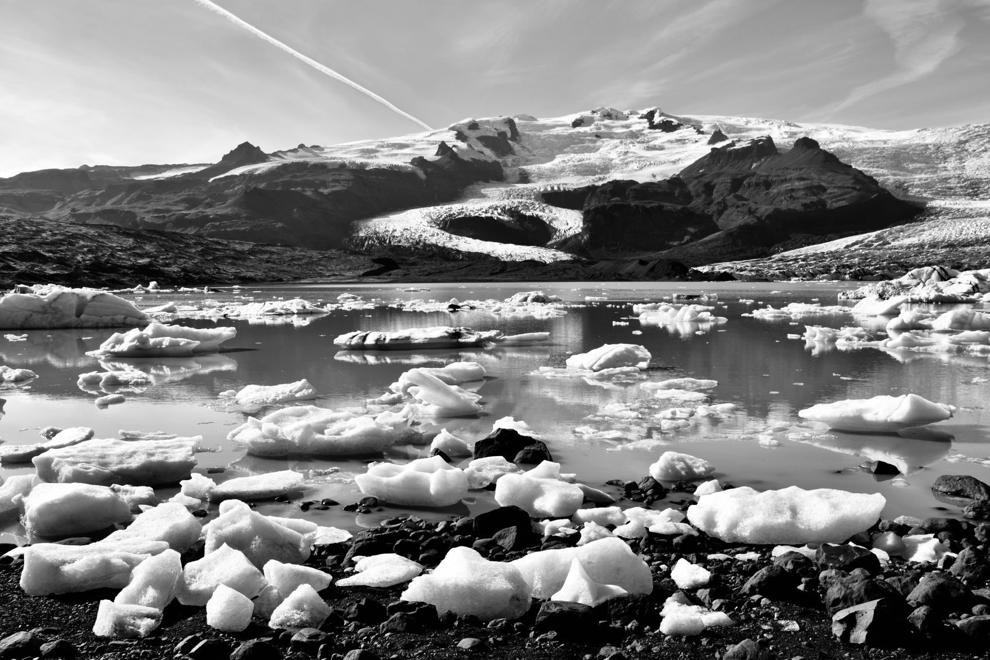 Travel story on Iceland Diamond Beach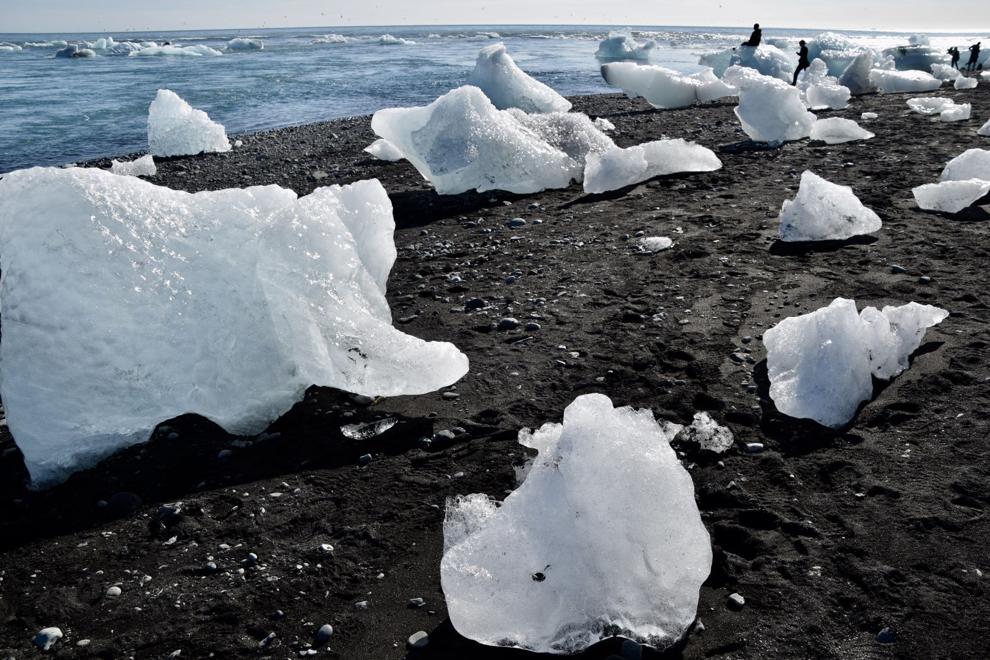 Travel story on Iceland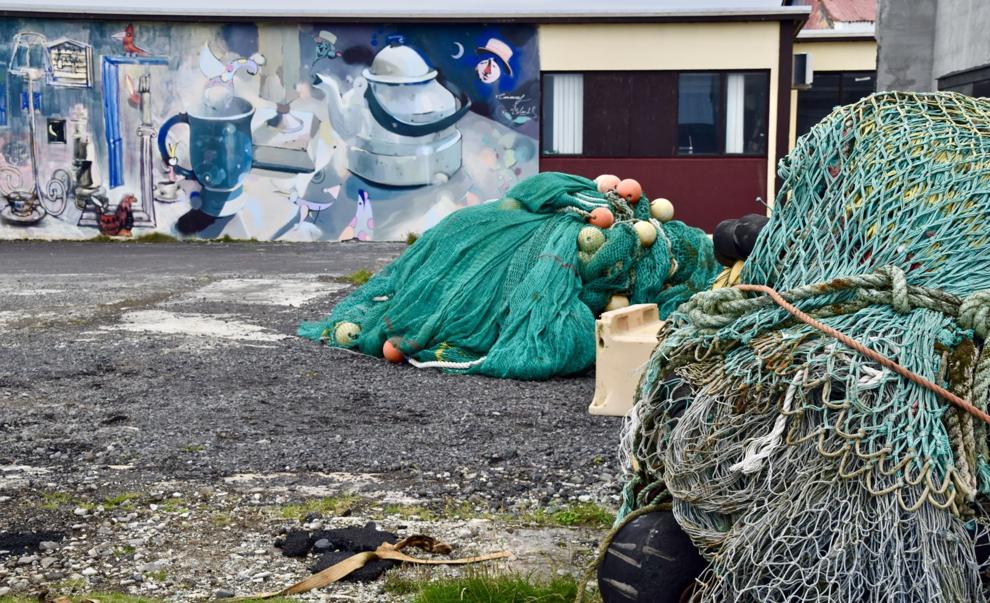 Travel: Iceland — Hellissandur murals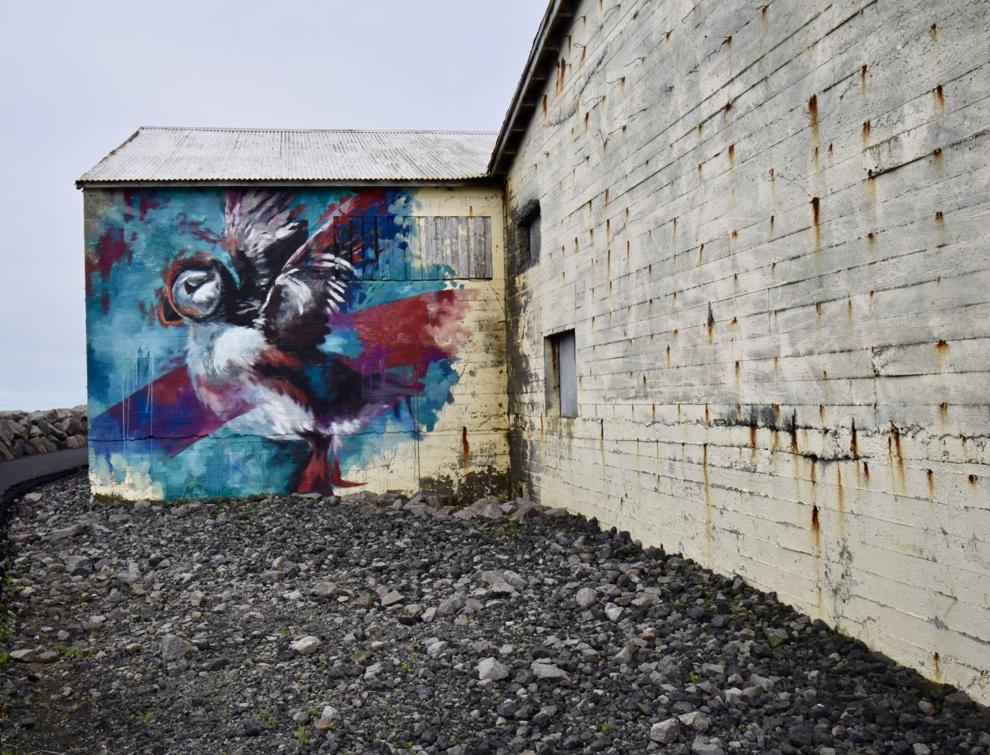 Travel story on Iceland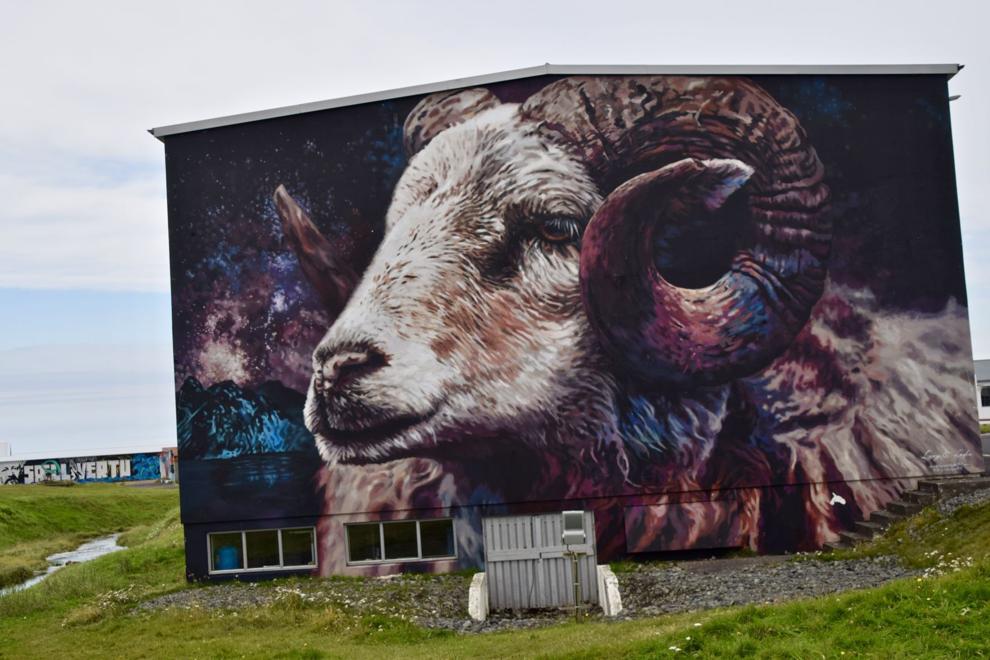 Travel: Iceland — Kirkjufell mountain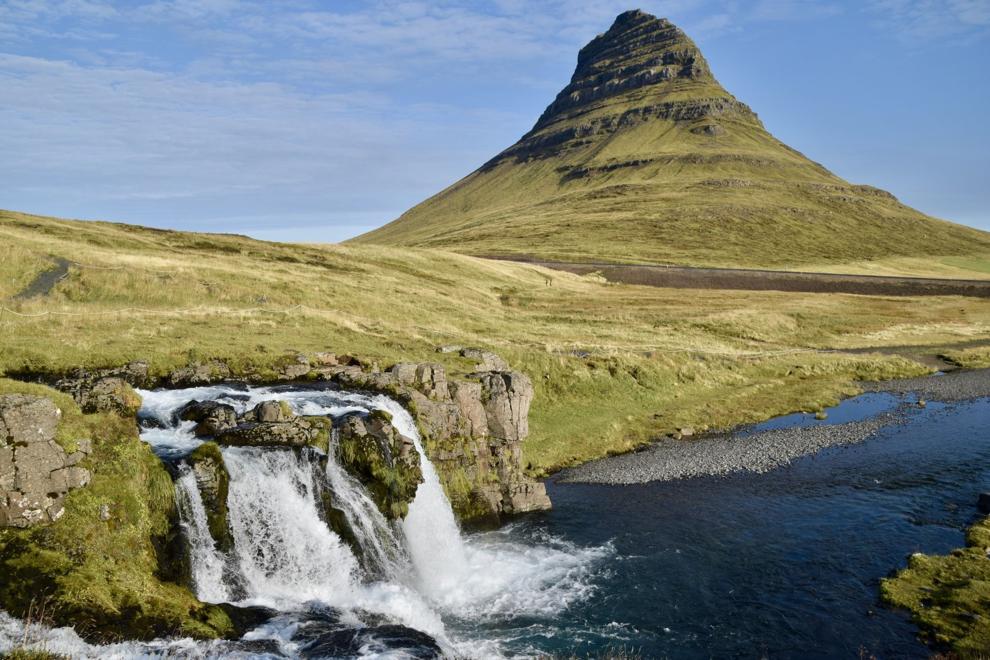 Travel: Iceland — Hverir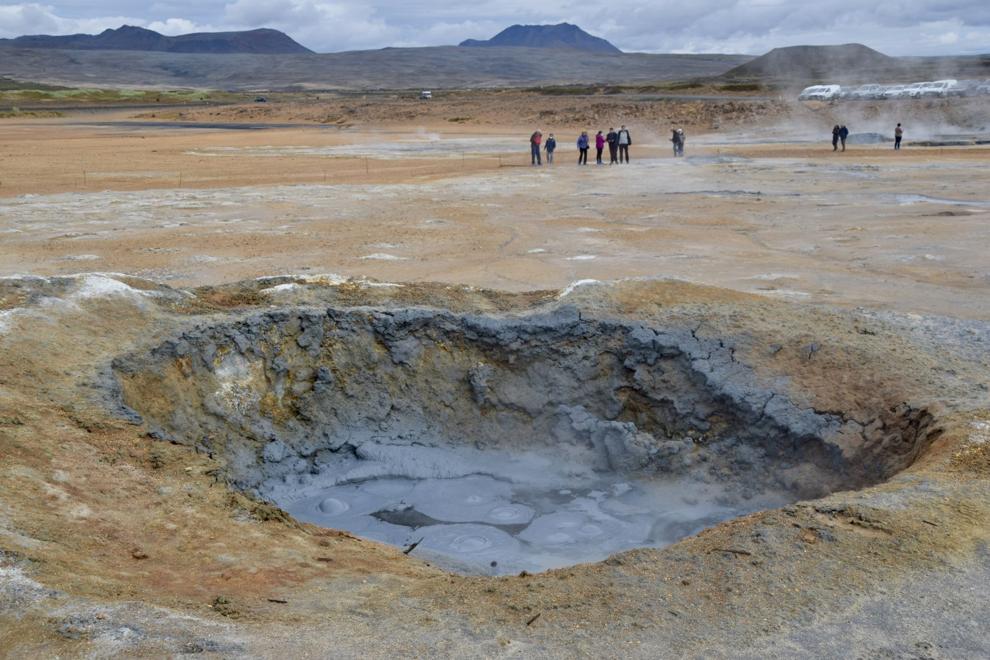 Travel story on Iceland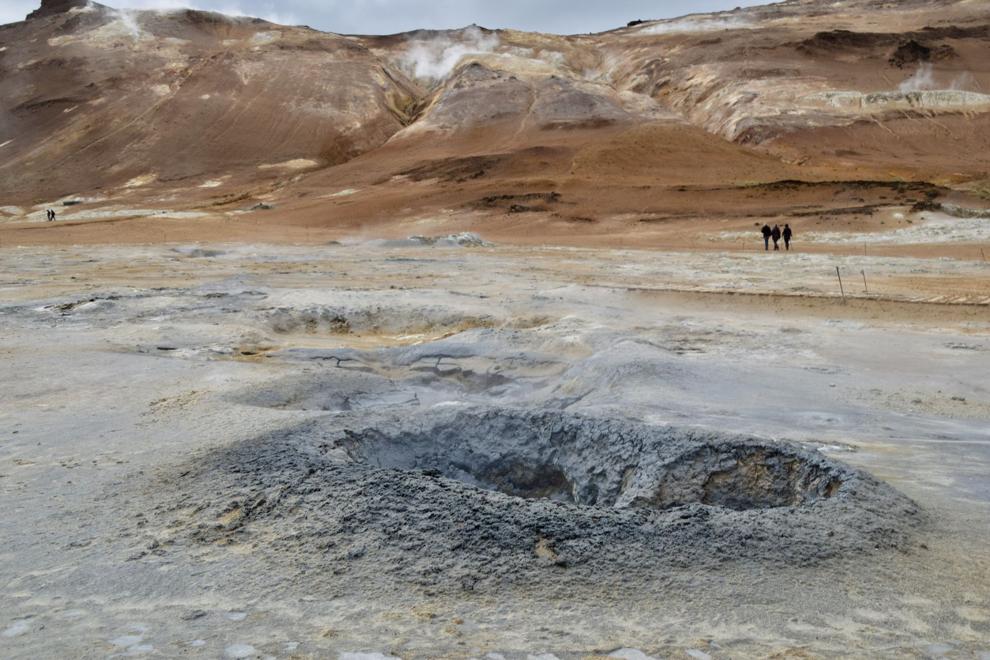 Travel: Iceland — Dettifoss
Travel: Iceland — Diamond Beach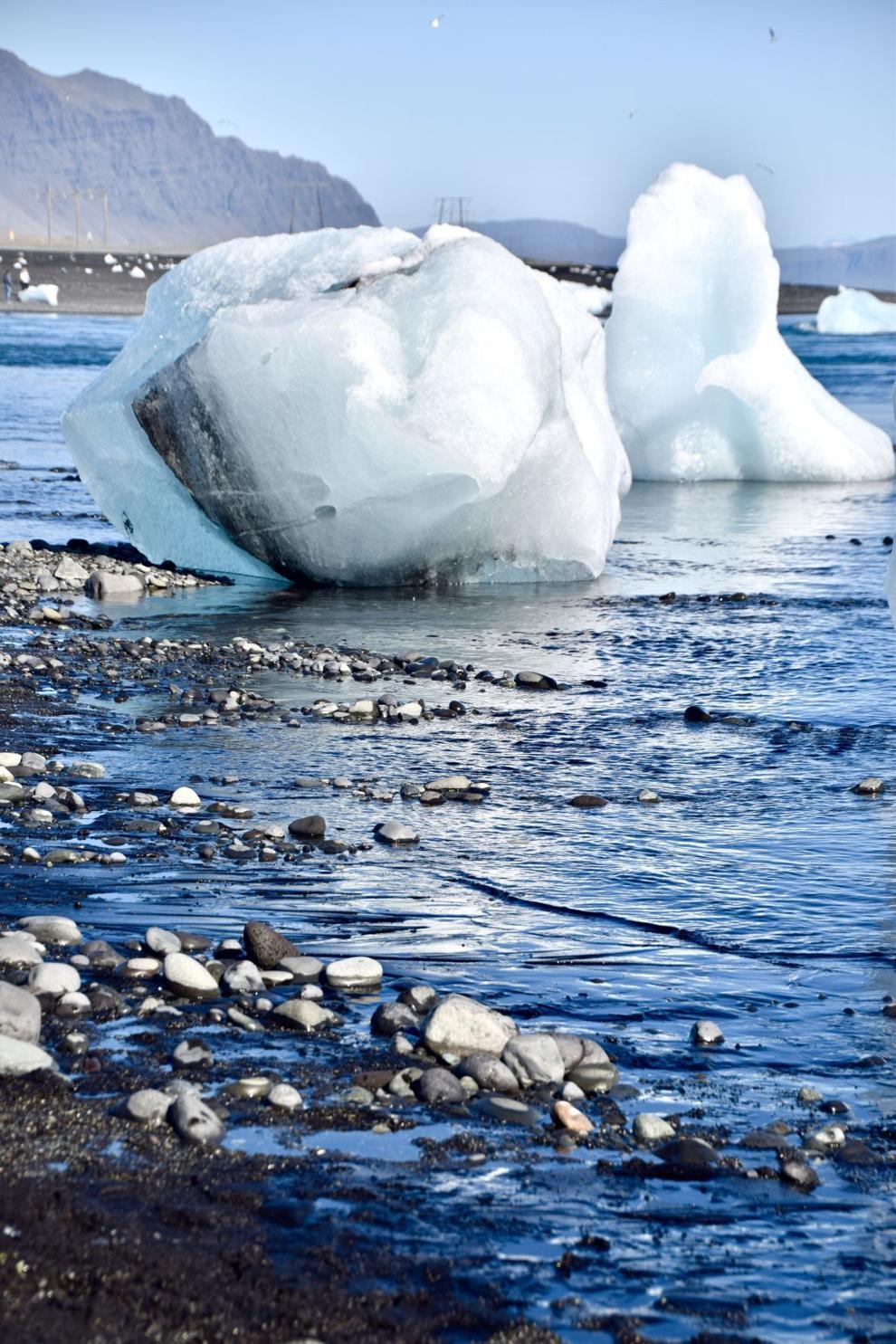 Travel story on Iceland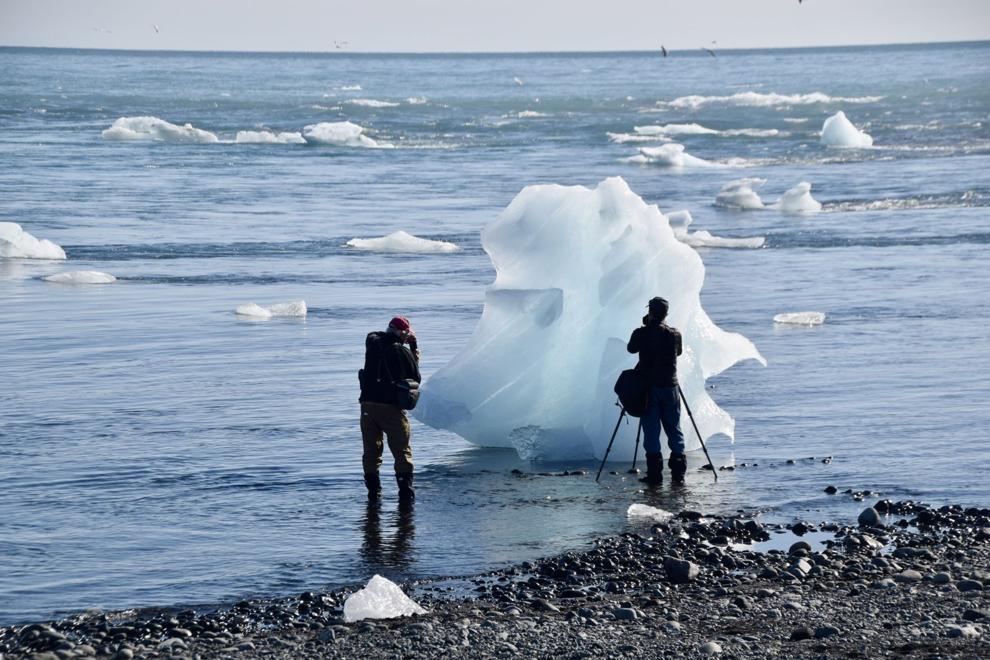 Travel: Iceland — Jokulsarlon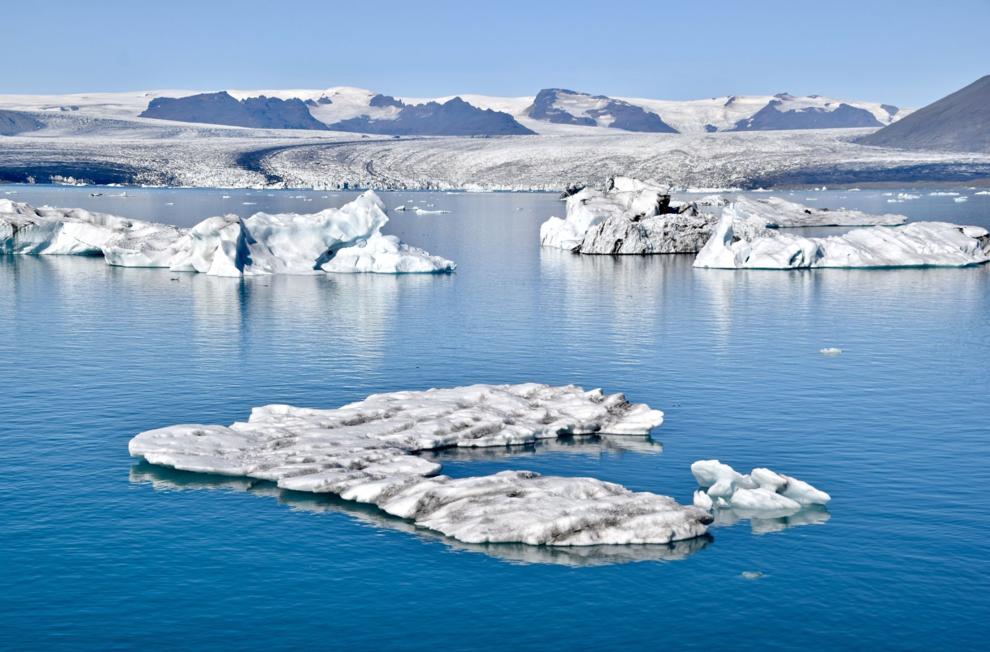 Travel: Iceland — Jokulsarlon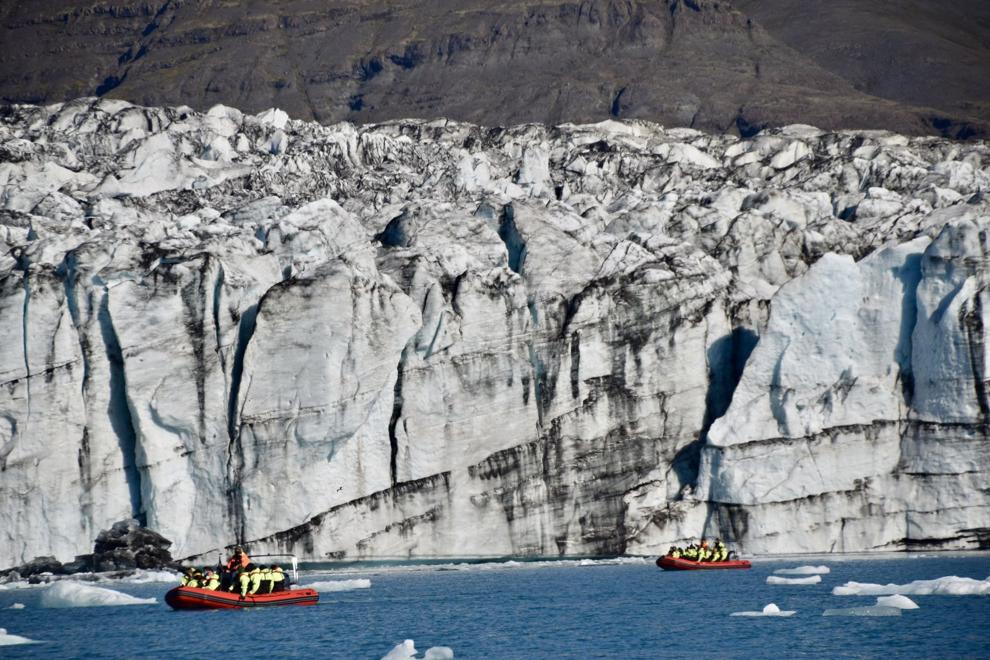 Travel: Iceland — Jokulsarlon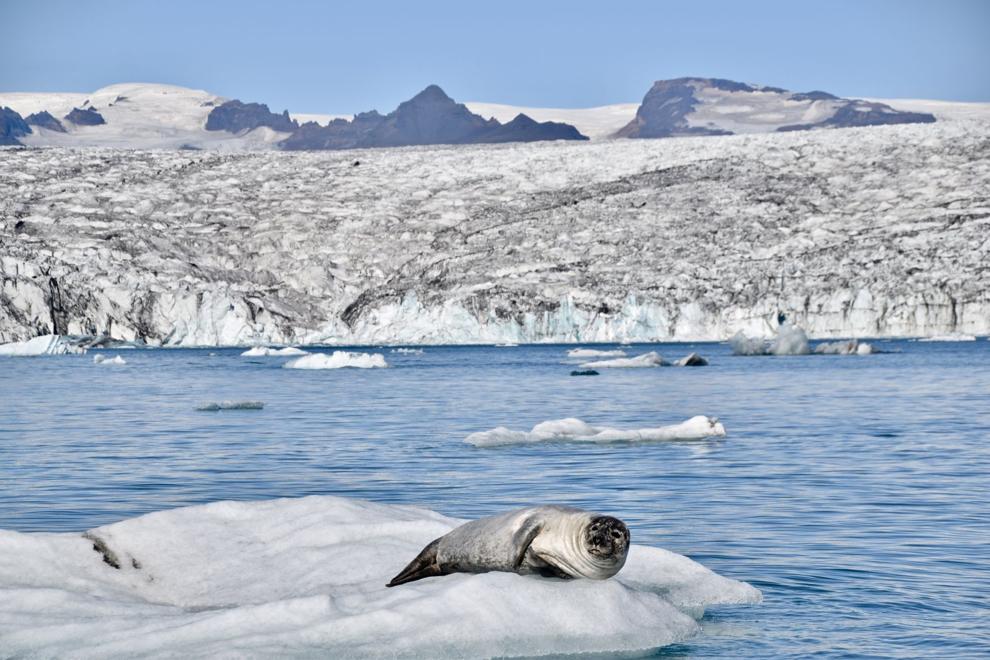 Travel: Iceland — Fjadrargljufur Canyon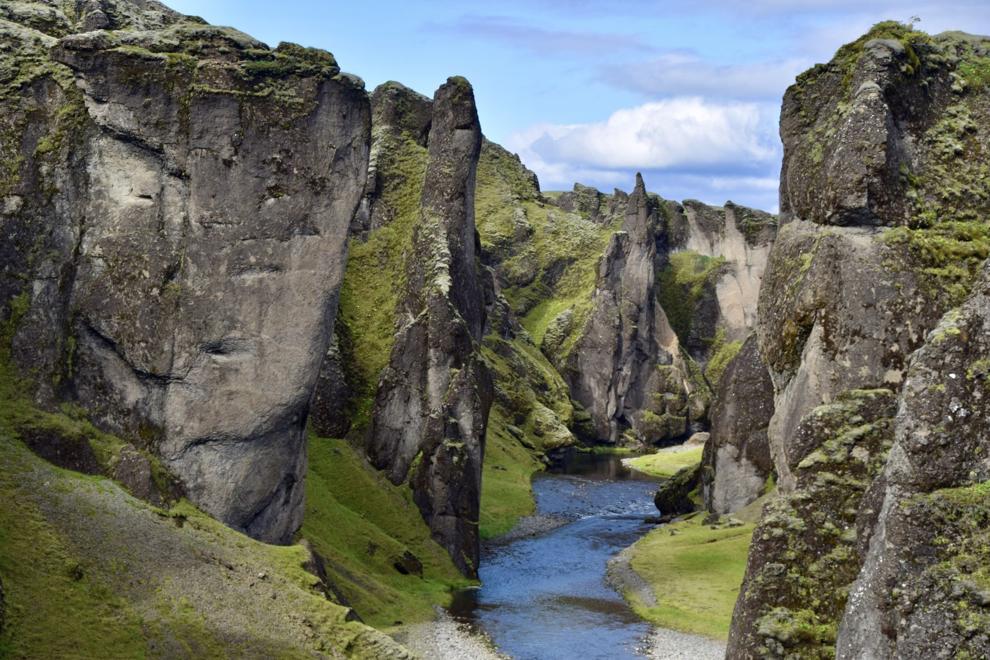 Travel story on Iceland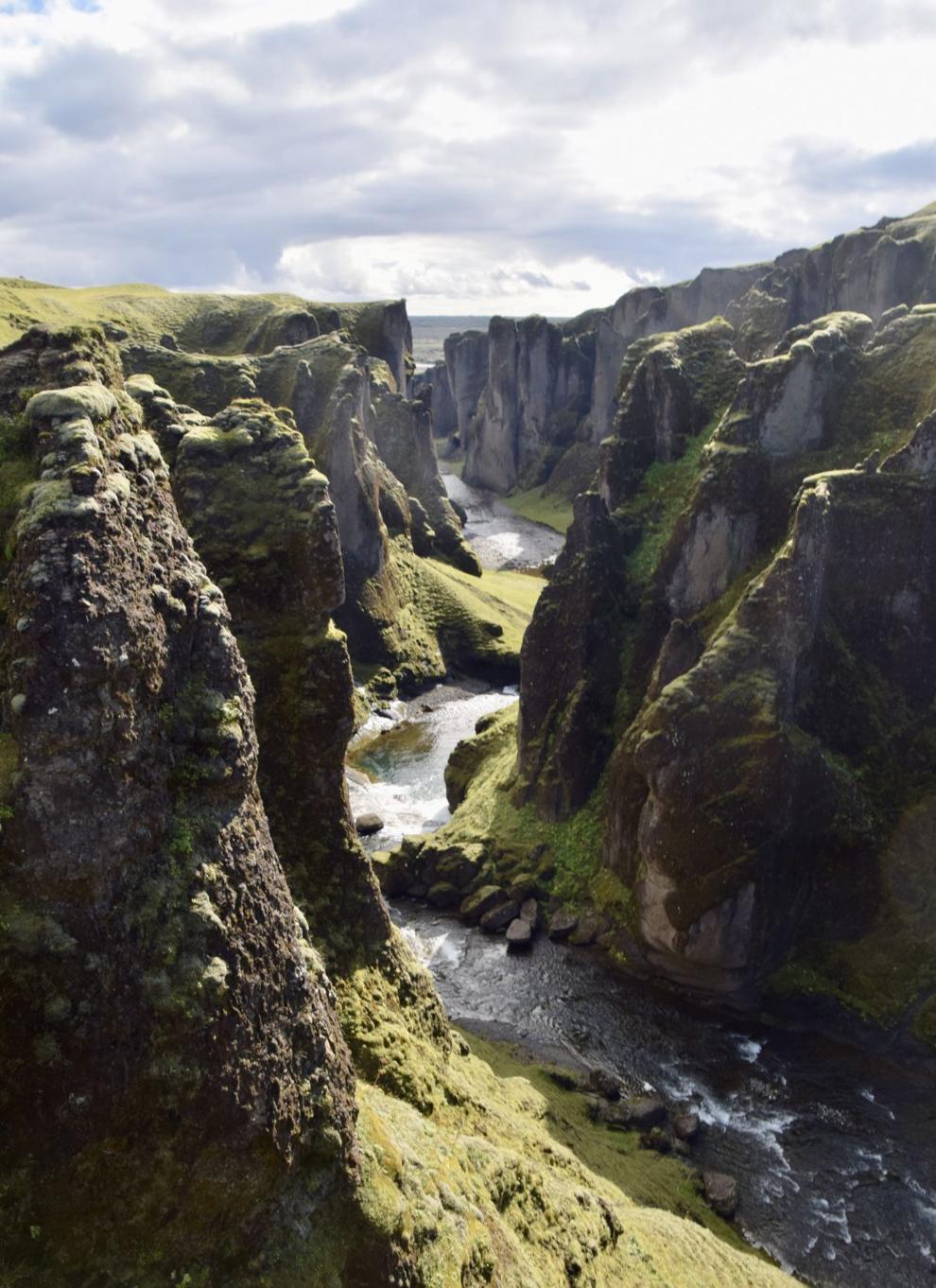 Travel: Iceland — Reynisfjara beach,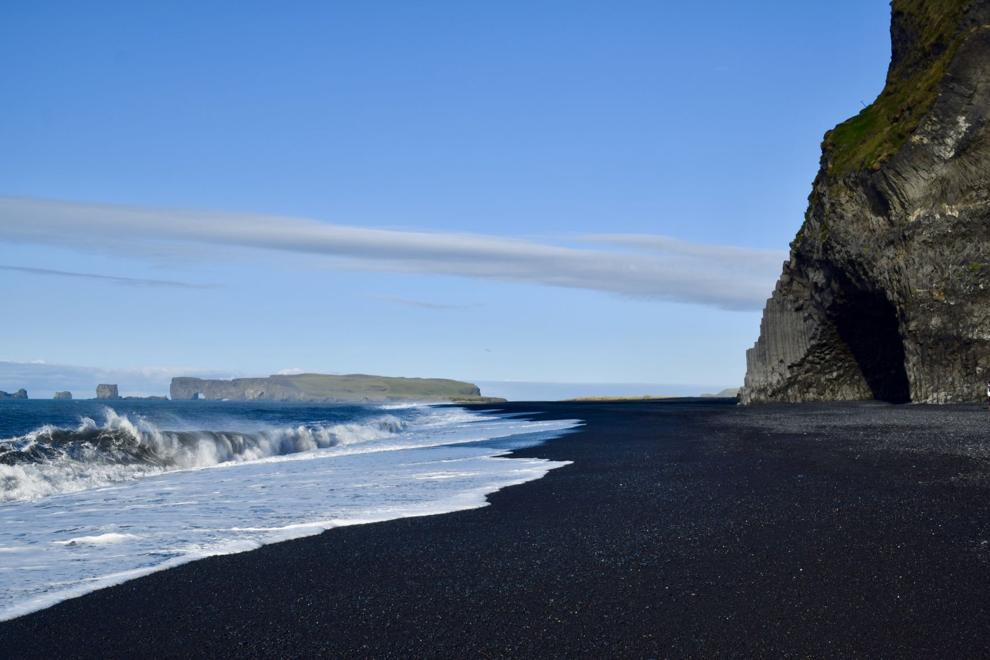 Travel: Iceland — Reynisfjara beach,
Travel story on Iceland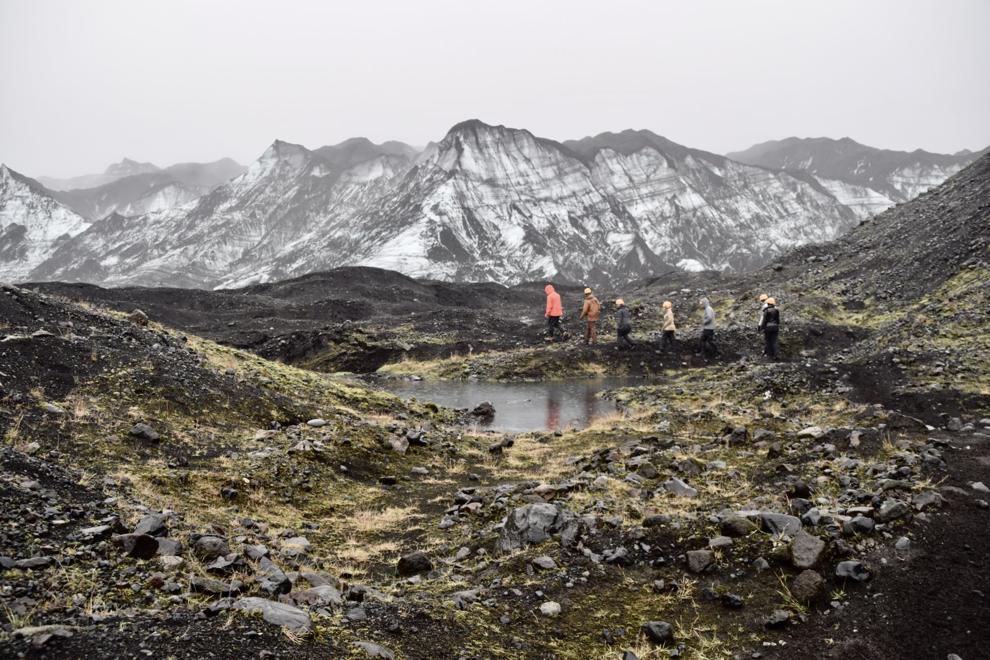 Travel story on Iceland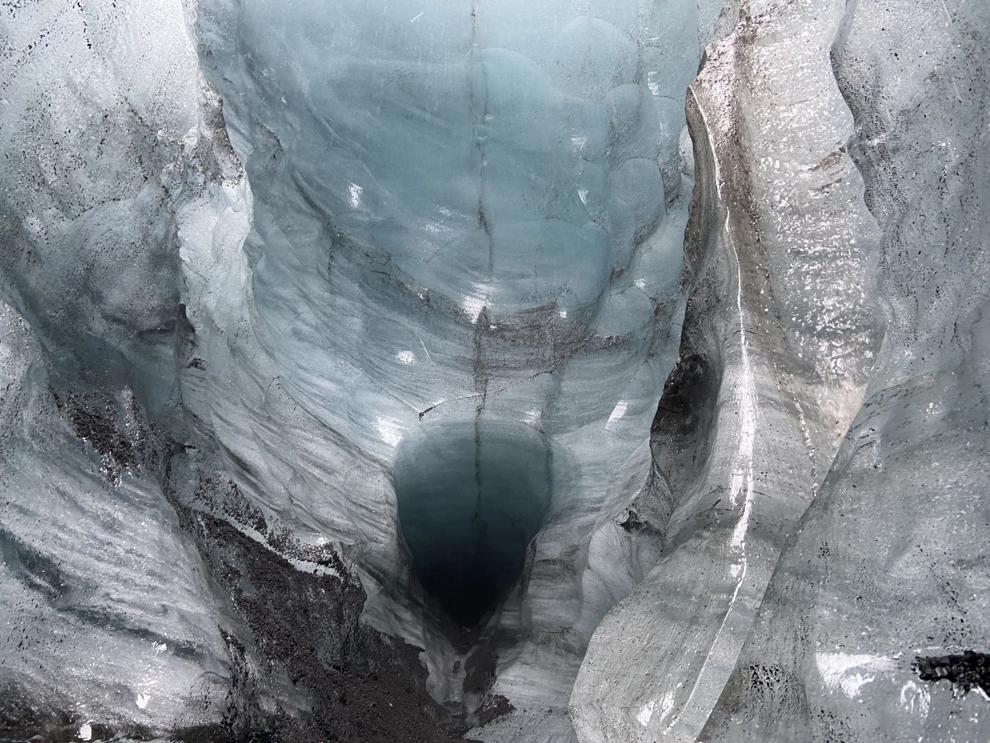 Travel story about Iceland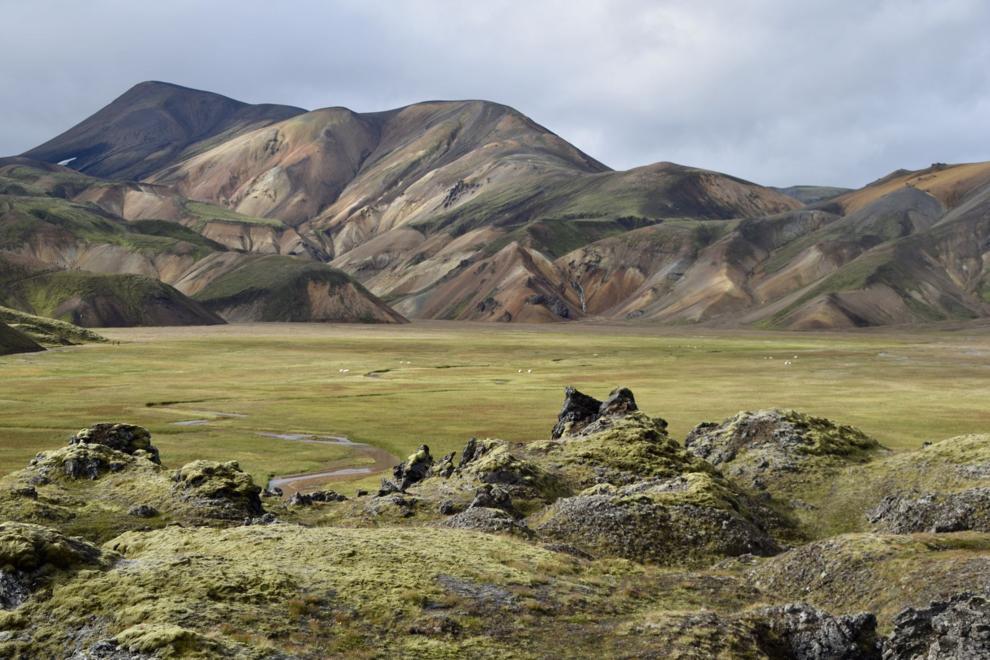 Travel: Iceland — Landmannalaugar,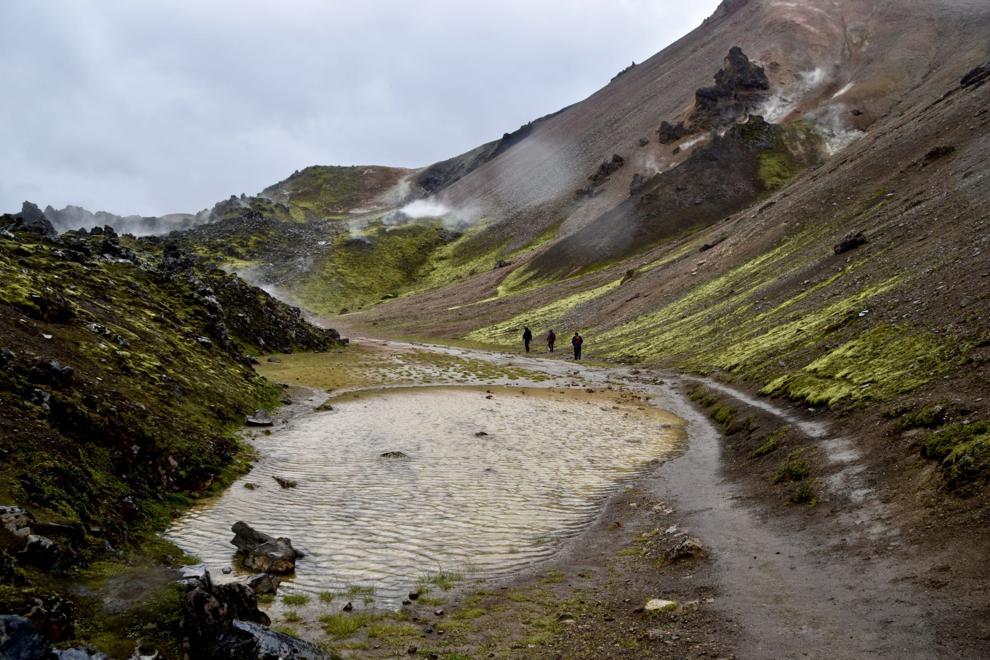 Travel: Iceland — Fagradalsfjall volcano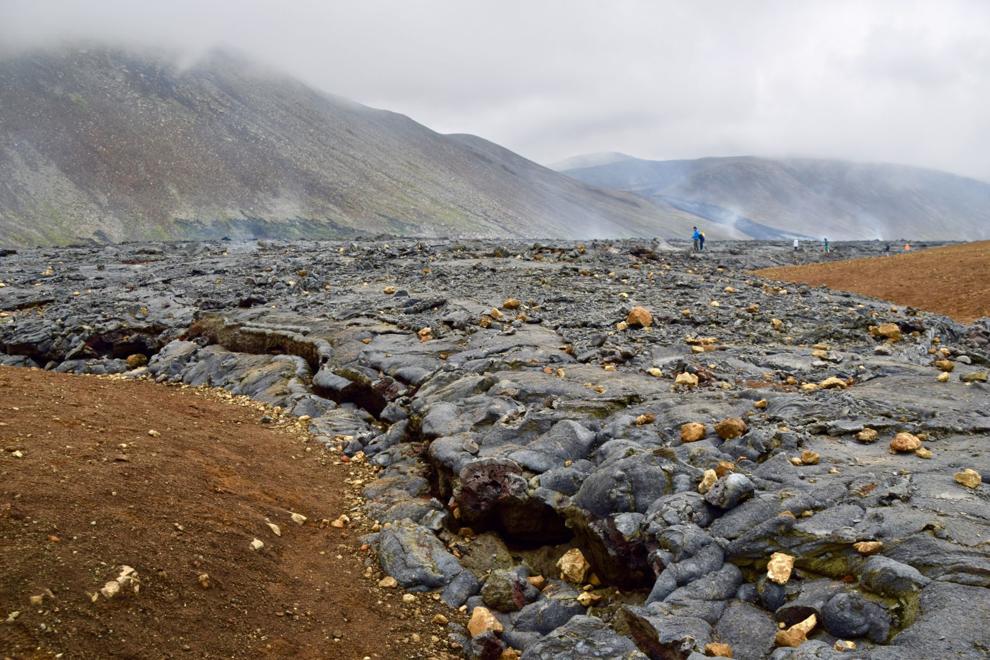 Stay up to date on life and culture in St. Louis.