7 hr 59 min ago
It's just past 11 p.m. in Kyiv. Here's what you need to know.
From CNN's Chris Liakos, Matt Egan, Kaitlan Collins, Katharina Krebs, Amy Cassidy, Kevin Liptak and Olga Voitovych
European ambassadors met in Brussels today to debate the European Commission's proposal on new sanctions against Russia as Russian forces ramped up attacks in Ukraine.
According to an EU source, there is an agreement to adopt this package very quickly, but there are a lot of technical questions, which "is normal as it is a very dense package," according to the source.
Meanwhile, the US also announced a new round of sanctions, including targeting Russian President Vladimir Putin's adult daughters and major Russian financial institutions.
On the ground in Ukraine, civilian casualty numbers continue to rise.
If you're just reading in now, here's what you need to know today:
Civilian casualties: At least 1,563 civilians have been killed since the Russian invasion of Ukraine began, according to the Office of the United Nations High Commissioner for Human Rights.
The UN agency has recorded 3,776 civilian casualties in Ukraine so far: 1,563 killed and 2,213 injured, it said in its latest update posted Wednesday. 
In Kyiv, at least 89 people have been killed, including four children, and 167 homes damaged since the beginning of the Russian invasion, Kyiv City State Administration wrote in a statement on a verified Telegram page on Wednesday. Another 398 people, including 20 children, were injured in the war.  
Since Feb. 24, Russian troops have damaged 44 Kyiv schools, 11 administrative buildings, 26 kindergartens and an orphanage.
The administration urged its residents not to lose vigilance and to take shelter at the first signs of air alarms.  
On the ground: The town of Severodonetsk has been heavily shelled, the head of the Luhansk region's military administration said Wednesday, adding that 10 high-rise buildings in the town were on fire. 
"The Russians fired on Severodonetsk — 10 high-rise buildings are on fire," regional governor Serhii Haidai said on Telegram. "Information about casualties is being clarified."
While the shelling did not hit any strategic or military facilities, it did hit a factory workshop in Lysychansk and a house in Rubizhne, Haidai said.
Russian forces had hit towns and villages of Luhansk region a total of 81 times over the previous night, Haidai added.
The US assesses that Russian forces have completely withdrawn from areas near Kyiv and Chernihiv to "reconsolidate and refit in Belarus and in Russia," according to a senior US defense official.
The official also said Russia has still not "secured" Mariupol despite isolating the city.
Russia has now launched more than 1,450 missiles against Ukraine since the invasion, the official said.
NATO head predicts Ukraine conflict could continue "for a long time": Although Russia is now concentrating its assault on eastern Ukraine, NATO has seen "no indication" that Putin's aim of controlling the whole country has changed, Secretary General Jens Stoltenberg said Wednesday.
Speaking to reporters before a meeting in Brussels of foreign ministers of NATO allies, Stoltenberg also warned the war in Ukraine could last for years.
"We have seen no indication that President Putin has changed his ambition to control the whole of Ukraine and also to rewrite the international order, so we need to be prepared for the long haul," he said. "We have to be realistic and realize that this may last for a long time, for many months or even years."
The foreign ministers of NATO countries are meeting Wednesday and Thursday to discuss ramping up support for Ukraine.
Sanctions: The US is taking additional actions to increase economic pressure on Russia and Putin following horrific images from the Ukrainian city of Bucha, announcing new sanctions Wednesday on Russian financial institutions, as well as some people, including Putin's adult daughters and the wife and daughter of his foreign minister. 
"Today we're dramatically escalating the financial shock by imposing full blocking sanctions on Russia's largest financial institution, Sberbank, and its largest private bank, Alfa Bank," a senior administration official briefing reporters said. 
Sberbank holds nearly one-third of Russia's total banking sector assets, the official noted, adding that the US has now fully blocked "more than two-thirds of the Russian banking sector."  
Second, the senior official announced, "In alignment with the G7 and the EU, we're announcing a ban on new investment in Russia." That will be implemented with an executive order signed by US President Joe Biden. 
The United States won't participate in G20 meetings that Russia is participating in, US Treasury Secretary Janet Yellen said Wednesday.
Speaking at the House Financial Services Committee, Yellen said she'd made that position clear to other finance ministers in the group.
7 hr 54 min ago
Here are Wednesday's figures on evacuations, according to Ukraine's deputy prime minister
From CNN's Josh Pennington and Hira Humayun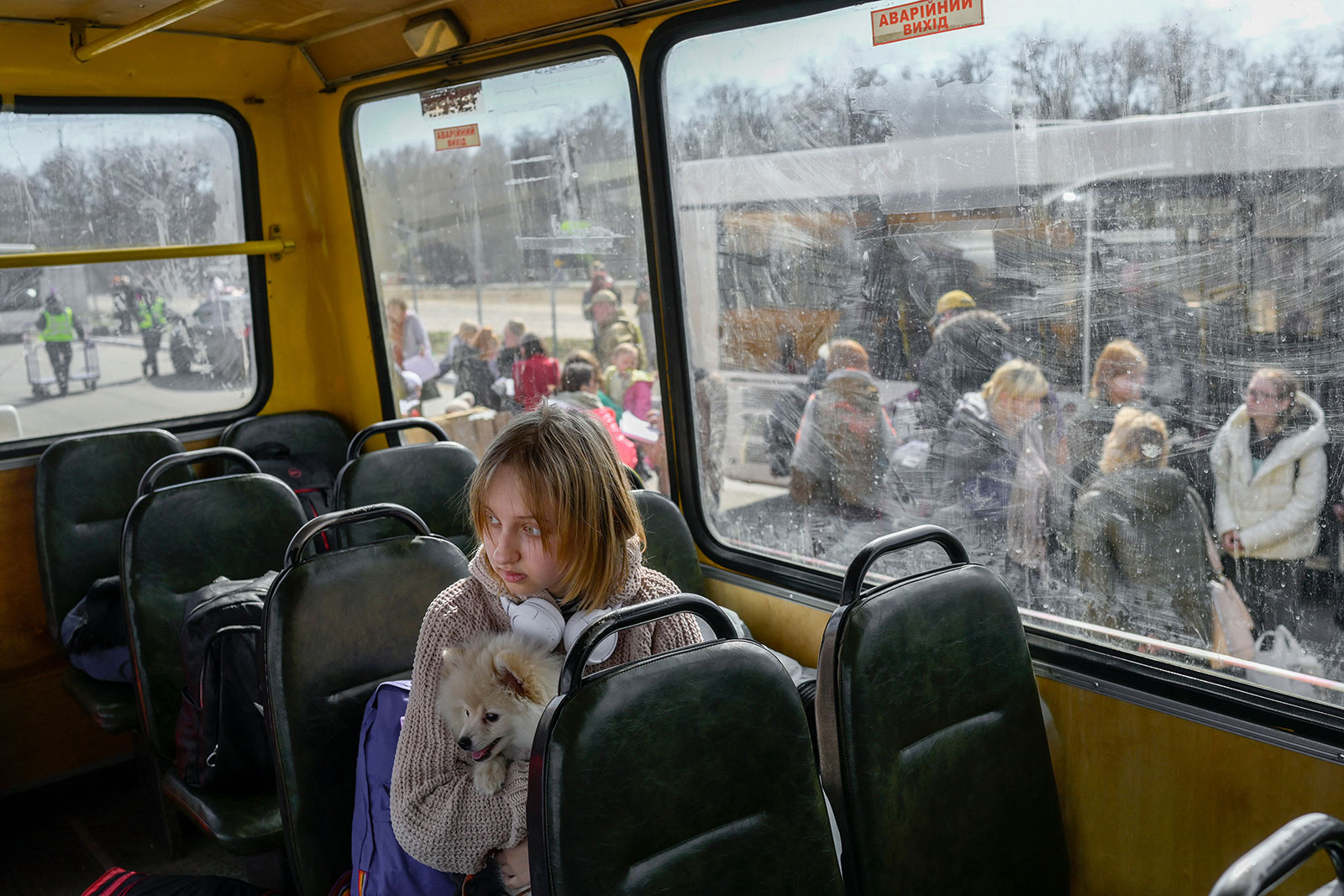 Ukrainian Deputy Prime Minister Iryna Vereshchuk said 4,892 people were evacuated through evacuation corridors Wednesday.
In a Facebook post on Wednesday night, she said 3,686 people arrived in Zaporizhzhia from Mariupol and Berdiansk. This included 1,171 people from Mariupol and 2,515 people from the towns of Polohy, Vasylivka, Berdiansk, Melitopol and Huliaipole.
She said 11 buses left Zaporizhzhia on Wednesday, headed for the city of Vasylivka, carrying residents from the towns of Melitopol and Tokmak. The buses will continue onward on Thursday. 
Also on Thursday, buses carrying residents from Berdiansk will depart Zaporizhzhia, she said.
Vereshchuk added that 1,206 people were evacuated from the towns of Lysychansk, Severodonetsk, Rubizhne, Kreminna and the village Hirske — all in the Luhansk region.
8 hr 20 min ago
Pentagon: "impossible" to know how long the war will go on, but Ukraine can win
From CNN's Mike Conte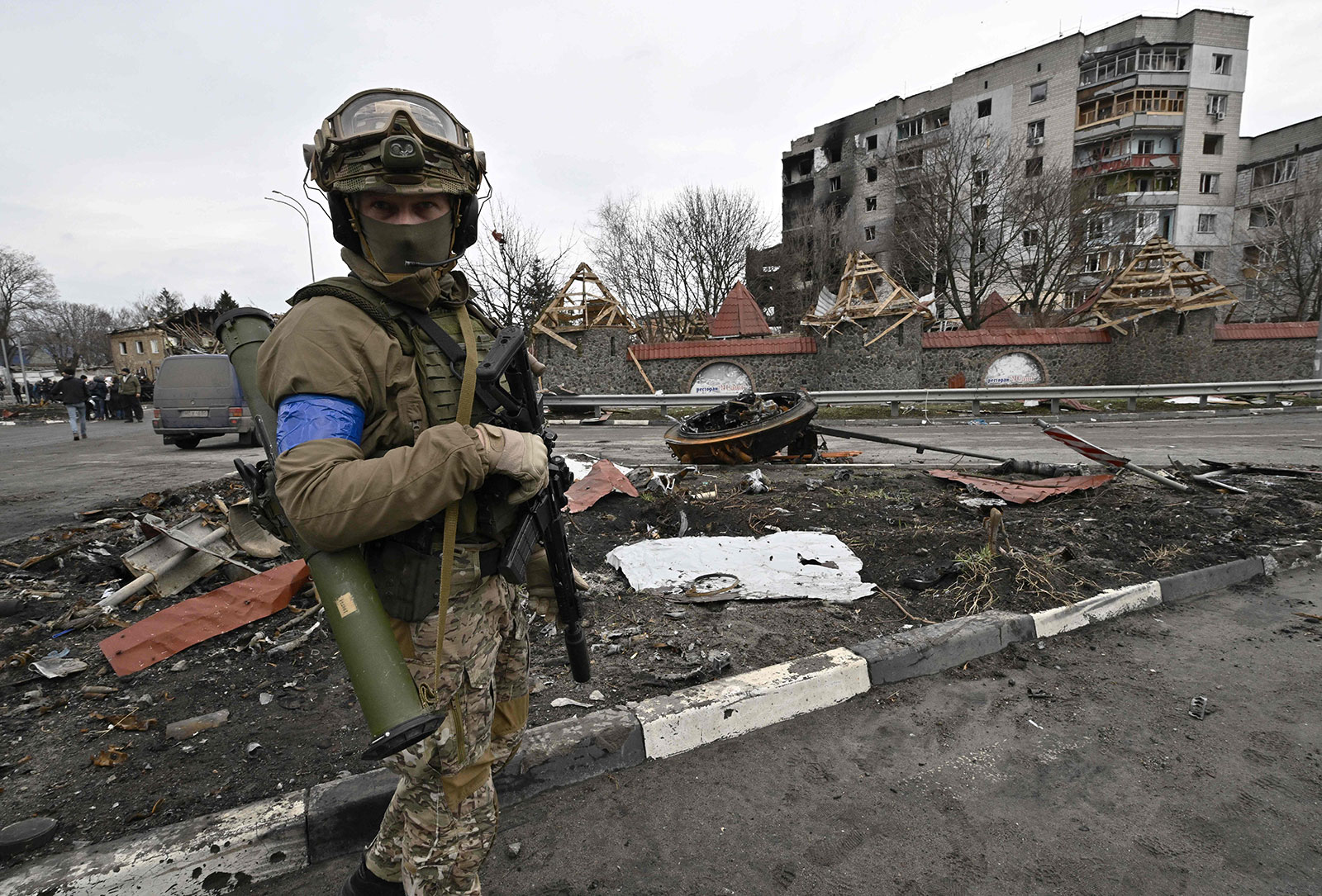 The US Defense Department says it's "impossible" to know how long the war in Ukraine will go on if not ended through diplomacy, but that Ukraine "of course" can win the war.
"The fact that [Russian President Vladimir Putin] is going to concentrate in a smaller geographic area certainly present the possibility that the violence will continue," Pentagon press secretary John Kirby said. "It could even intensify in that part of Ukraine."
Kirby reiterated that Ukraine can "absolutely" win the war as demonstrated by Putin's inability to achieve his strategic objectives.
"Mariupol is still not taken. He's moved his forces out of Kyiv. He's moved his forces out of Chernihiv. They haven't taken Kharkiv. They haven't taken Mykolaiv in the south," Kirby said. "So I think the proof is literally in the outcomes that you're seeing every day.
8 hr 55 min ago
The US has now sent 100 switchblade drones to Ukrainian military, Defense Department official says
From CNN'a Michael Conte
The US has sent the 100 switchblade drones that they said would be provided to the Ukrainian military, and "they'll be getting into Ukraine quickly if they aren't already there," said a Defense Department official.
"We're in discussions with the Ukrainians about future usages of switchblade drones, and of course we'll keep that option open going forward," said Pentagon press secretary John Kirby.
The small, portable, so-called kamikaze drones carry warheads and detonate on impact. The smallest model can hit a target up to six miles away, according to a company that produces the drones.
Kirby also said that the US has trained "a very small number of Ukrainian soldiers who were already in the United States and had been since the fall" on the drones before they returned to Ukraine to train others. 
"An individual could be suitably trained on how to use the switchblade drone in about two days or so," said Kirby.
He also said that the US would "look at other suitable opportunities if needed to provide more training on the switchblades if it's necessary."
9 hr 45 min ago
US believes it can "identify the Russian units" that carried out Bucha atrocities, official says
From CNN's Barbara Starr
The US now believes "it will be able to identify the Russian units" that carried out the atrocities in Bucha, Ukraine, according to a US official familiar with the latest information. 
Identification of those involved "is an extremely high priority now" for the US intelligence community, the official said.
Collecting and analyzing streams of intelligence using all available tools and assets has been underway since the atrocities came to light, and the US is at the point of "narrowing down" responsibility the official said. 
It's not certain the US would announce its findings publicly and a decision could be made to leave it to Ukraine, the official said. The US is also analyzing possible indicators that more than one Russian unit or group of fighters was in Bucha during the time the atrocities occurred. The US is trying to determine if some of this happened as one Russian unit was withdrawing and another came in, the official added.
8 hr 58 min ago
International leaders condemn Russia for the atrocities in Bucha
From CNN's Mia Alberti, Simon Bouvier, Elias Lemercier, Amy Cassidy, Manveena Suri and Rhea Mogul
Leaders from around the world are strongly condemning Russian President Vladimir Putin and Russian forces following horrifying images of civilian casualties from Bucha, Ukraine.
Some leaders are labeling Putin a "war criminal" and consider the violence that occurred in the town of Bucha "genocide."
While Ukrainian President Volodymyr Zelensky has repeatedly accused Russian forces of committing genocide in his country, other leaders have stopped short. The claim carries a complex legal weight and investigations are underway into war crimes alleged to have been committed by Russian forces.
Evidence of civilian deaths in Bucha at the hands of Russian forces have nonetheless sparked global condemnation and triggered fresh responses from the West. 
Here are how some leaders are reacting to the civilian casualty reports coming out of Bucha:
Polish President Andrzej Duda on Wednesday called Putin a war criminal, saying no world leader should speak to him again after the many "massacres" carried out by the Russian forces in Ukraine, including the violence in Bucha which he said, "fulfill the feature of a genocide." 
"We hear about the de-Nazification of Ukraine, it is nonsense, rubbish, blatant Russian propaganda looking for a false pretext in order to carry out a massacre and kill people, and the fact that civilians are being killed shows best what the goal of Russian invasion is: To extinguish the Ukrainian nation," Duda told CNN's Dana Bash in an interview in Warsaw.  
The Polish leader said the scenes from Ukraine are unseen since World War II and they echo the "same model of Soviet crimes," adding that war crimes were committed by Moscow not only in Bucha "but all over Ukraine." 
"I hope that nobody in the international community, after what we have seeing in Ukraine, will never again talk to Vladimir Putin. I hope nobody will consider him a decent and fair leader or politician simply," he said. 
France has called the deaths of civilians in Bucha "a new step in horror" and has vowed to ensure such an act "does not remain unpunished."
France is also in favor of a tougher sanctions regime against Russia, French government spokesperson Gabriel Attal said during a news conference on Wednesday.
"After these massacres, we must go further," he said. "President [Macron] has told President Zelensky that we have no taboos in terms of sanctions, and he repeated that we are ready for drastic measures on imports of Russian coal and oil."
UK Prime Minister Boris Johnson suggested Russia's atrocities in Bucha and elsewhere are close to resembling "genocide" and vowed more sanctions are on the way. 
"I'm afraid that when you look at what's happening in Bucha, the revelations that we're seeing from what Putin has done in Ukraine, which you know, doesn't look far short of genocide to me, it is no wonder that people are responding in the way that they are," Johnson told reporters today. 
Israeli Foreign Minister Yair Lapid described the killings in Bucha as "war crimes."
"Once again, a large and powerful country has invaded a smaller neighbor without any justification," he tweeted. "Once again, the ground is soaked with the blood of innocent civilians. The images and testimony from Ukraine are horrific. Russian forces committed war crimes against a defenseless civilian population. I strongly condemn these war crimes."
As has been the case since Russia invaded Ukraine on February 24, Lapid's comments — first made while speaking alongside his Greek and Cypriot counterparts — were in marked contrast to those of Israel's Prime Minister Naftali Bennett. While Bennett also condemned the killings in Bucha, he did not blame Russia. 
"We are shocked by the horrific pictures coming out of Bucha, terrible scenes, and we strongly condemn them," Bennett said after addressing Israeli soldiers in the West Bank. "The images are very harsh. The suffering that the Ukrainian people are facing is huge and we are doing all that we can to help."
India's ambassador to the United Nations condemned the killings of civilians in Bucha, marking a noticeable shift in Indian officials' public approach to the invasion of Ukraine by its long-time partner Russia. 
T.S. Tirumurti, India's permanent representative to the UN, called reports of the killings "deeply disturbing" during a UN Security Council meeting Tuesday. 
"We unequivocally condemn these killings and support the call for an open investigation," Tirumurti said, without naming Russia. 
"The situation in Ukraine has not shown any significant improvement since the Council last discussed the issue. The situation has only deteriorated, as well as its humanitarian consequences," he said. 
10 hr 27 min ago
UNGA plans to hold a vote on whether to suspend Russia from Human Rights Council
From CNN's Liam Reilly, Emmet Lyons and Claire Calzonetti
A vote on whether or not to suspend Russia from the Human Rights Council will happen on Thursday, the spokesperson for the president of the United Nations General Assembly said.
The UN General Assembly will resume its Emergency Special Session Thursday morning. The meeting will be open and speeches will be available on camera through UNTV, Paulina Kubiak Greer said.
The United States ambassador to the United Nations made a case for seeking the suspension of Russia from the Human Rights Council in front of the UN Security Council Tuesday, something she and other UN member states are calling for. 
"Russia should not have a position of authority in a body whose purpose — whose very purpose — is to promote respect for human rights," Ambassador Linda Thomas-Greenfield said addressing the council Tuesday. "Russia's participation on the Human Rights Council hurts the council's credibility. It undermines the entire UN. And it is just plain wrong."
The Human Rights Council sits in Geneva. The UN General Assembly would need to vote in favor by two-thirds to remove Russia from the HRC.
The US Ambassador to the United Nations told CNN on Wednesday that she is confident that the US has the support from other member states required to suspend Russia from the UN's Human Rights Council. 
"We've been working very hard since this war started to build a coalition of countries who are prepared to condemn Russia," Ambassador Linda Thomas-Greenfield told CNN's Christiane Amanpour. "I know that we'll get the two thirds required to win this."
10 hr 31 min ago
Blocking Russian oil exports would send prices "skyrocketing," US Treasury secretary says
From CNN's Matt Egan
Treasury Secretary Janet Yellen warned lawmakers on Wednesday that a complete ban on Russian oil would cause significant pain for consumers around the world.
"The issue with blocking oil exports from Russia is that many countries, especially in Europe, are very dependent on that oil," Yellen said during the hearing. "And we're likely to see skyrocketing prices if we did put a complete ban on oil."
Yellen said that because demand for oil is generally steady, too many restrictions on supply can have "very large price effects."
"In designing sanctions, we want to impose the maximum pain we can on Russia, but also taking care not to impose undue pain on Americans" and our partners, Yellen said.
Meanwhile, oil company executives pledged during the hearing Wednesday to move quickly to cut ties with Russia and defended their investments in the country. 
Exxon CEO Darren Woods reiterated that his company plans to terminate its final project in Russia, a promise it made a month ago.
"It's rather complex because we are operating offshore rigs in deep waters and environmentally-sensitive areas," Woods said during the hearing. "We are working our way through that as expeditiously as possible." 
Chevron CEO Mike Wirth was asked to commit to terminating all operations in Russia, including supplying Russian companies with lubricants and other materials. "We've halted all those sales, and for the foreseeable future, there is no way those will resume," Wirth said. 
David Lawler, the president of BP America, said that within 96 hours of the invasion, his company announced its intention to exit its stake in Russia's Rosneft, taking a write down of up to $25 billion. "BP was horrified with the military action in the war against Ukraine," Lawler said. "The company is quite serious about our response." 
Gretchen Watkins, the president of Shell USA, said Shell has stopped buying all spot crude and all spot liquefied natural gas (LNG). Watkins said the company is moving as "fast as we possibly can" to fully divest from Russia
CNN's Anneken Tappe contributed to this report.
10 hr 23 min ago
Countries to release an additional 60 million barrels of oil from storage, IAE says
From CNN's Zeena Saifi and Chris Liakos
Countries are moving ahead to release an additional 60 million barrels of oil storage — in addition to 60 million barrels contributed by the US — as part of its overall draw from its Strategic Petroleum Reserve, said Fatih Birol, the Executive Director of The International Energy Agency (IEA.)
Last week, the US released a record-shattering 180 million barrels of oil. 
US Presidential Coordinator for Global Energy Security Amos Hochstein told CNN earlier that the United States and Europe are working "around the clock" to make sure pressure continues to build on Vladimir Putin, but that all costs can't be mitigated.
"President Biden has been very clear that when you're in a war like this, initiated by Putin and Russia, there are going to be costs. We can't mitigate all the costs, but what we're doing is working together as an international community to do as much as we can to mitigate," he told CNN's Becky Anderson in an interview.
Hochstein highlighted the unity between the US and Europe in the response to Russia's invasion of Ukraine, but said both sides don't need to enact the same sanctions package, because of "different circumstances", alluding to Europe's heavy reliance on Russian gas. 
Executive Director of the IEA Fatih Birol tweeted:
"The @IEA is moving ahead with a collective oil stock release of 120 million barrels (including 60 million barrels contributed by the US as part of its overall draw from its Strategic Petroleum Reserve). More details of specific contributions will be made public soon." 
Washington has so far tapped oil reserves from its emergency stockpile twice this year, but that has done little to cool prices since the start of Russia's invasion. Amos Hochstein told CNN prices are now back to $100 a barrel, down from $130, which marks a "significant reduction in price".
"Just a few weeks ago, some of the leading banks in the United States and around the world predicted $185 a barrel of oil, which would have been very disruptive to our economy, and we're now talking about lower prices. So it's not about bringing the price down to where we wish it was, but making sure that it is lower than it was before and changing the trajectory from increasing to holding steady," said Hochstein.
"We will continue to work to make sure that we have diversified our resources away from Russia, and we have to use every crisis as an opportunity to realize where our threats are. We're vulnerable, and we need to start reducing our demand on oil altogether," he continued.