By FOX 7 Austin Digital Team
Published 
AUSTIN, Texas – Crude oil prices have been fluctuating due to concerns over the Omicron COVID-19 variant, causing gas prices to drop. 
The average gas price in Texas is at $2.93 for a gallon of regular unleaded, which is the 2nd lowest average in the country, according to gasprices.aaa.com. Oklahoma has the lowest gas price average in the country at $2.91 per gallon. On the opposite end of the spectrum, Californians are paying the highest gas price average, at $4.68 per gallon. 
Texas' current gas price average is four cents down from this day last week, and is $1.07 more per gallon compared to this time last year. The highest average in the state is in El Paso, where drivers are paying $3.11 per gallon. Amarillo drivers are paying the least in the state, at $2.74 per gallon. The national average is down four cents this week, and is $1.18 more than this day last year, at $3.34.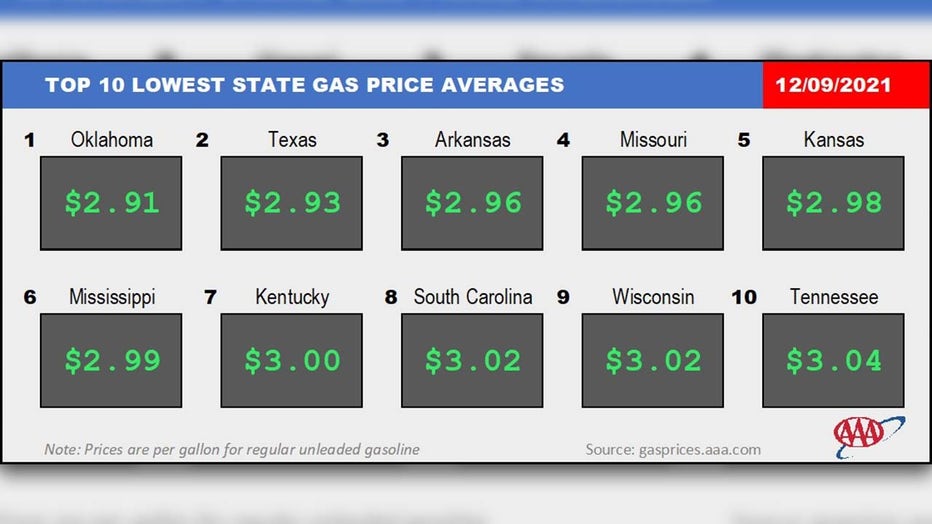 For the week ending December 3, the U.S. gasoline demand slightly increased by around two percent week-to-week and has remained elevated from this time last year, according to the Energy Information Administration. Despite the elevation, concerns of another potential economic slowdown have caused oil barrel prices to lower. Last week, oil prices were down to the mid-$60s per barrel. That low of a price has not been seen since August. 
West Texas Intermediate crude has bounced back to $70 per barrel since the recent decrease. Oil production is not stopping anytime soon for OPEC, in hopes to ease upward pricing pressure. 
"Prices at the pump have been falling as crude oil prices have been fluctuating due to concerns over the COVID-19 Omicron variant," said AAA Texas spokesperson Daniel Armbruster. "On December 2, OPEC+ announced it would stick to its plan, for now, to raise production by 400,000 barrels per day in January, which has also helped keep a lid on oil prices."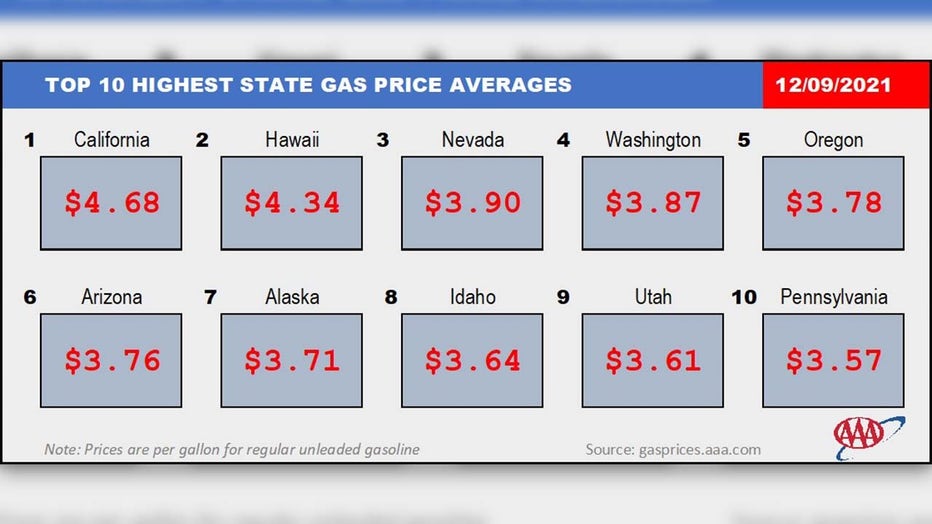 As gas and oil prices continue to fluctuate, it's important to be aware of your fuel usage. 
AAA has some tips on how to save money on fuel:
Make sure your tires are properly maintained and inflated to the correct level.

Maintain your car according to the manufacturer's recommendations. Regular service will ensure optimum fuel economy.

Avoid "jackrabbit" starts and hard acceleration. These actions greatly increase fuel consumption.

Slow down and drive the speed limit. Higher speeds result in more aerodynamic drag.

Use cruise control on the highway to help maintain a constant speed and save fuel. However, never use cruise control on slippery roads because a loss of vehicle control could result.

Minimize your use of air conditioning.

Avoid extended idling to warm up the engine, even in colder temperatures. It's unnecessary and wastes fuel.

Remove unnecessary and bulky items from your car.

Minimize your use of roof racks and remove special carriers when not in use.

Download the AAA App to find the cheapest prices near you.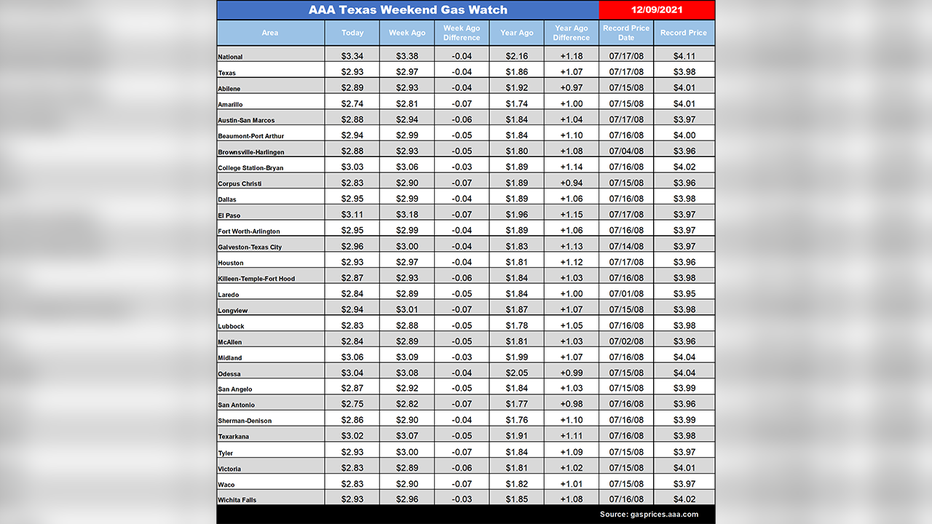 The AAA app offers information on current gas prices in your area. It can also map routes, show current traffic conditions, help you request road side assistance and more. Learn more at www.AAA.com/mobile. 
Members and non-members of AAA can also seek assistance in identifying quality auto repair shops via AAA's Approved Auto Repair program, which is a free public service. To search for an AAA-Approved Auto Repair shop, visit www.AAA.com/Repair.
___
MORE HEADLINES: 
Cases of COVID-19 omicron variant believed found in Travis County
Omicron variant may be less dangerous than delta, US health officials say
Pfizer: COVID-19 pill remains effective against severe disease, omicron variant
___
DOWNLOAD: FOX 7 AUSTIN NEWS APP
SUBSCRIBE: Daily Newsletter | YouTube
FOLLOW: Facebook | Instagram | Twitter