Power outages are very possible and could last for several days, Duke Energy says
Ice, wind are major concerns as winter storm moves into South Carolina
Power outages are very possible and could last for several days, Duke Energy says
CHRIS: HERE WE ARE THE STORM IS HE,RE THE TIME TO PREPARE IS OVER. YOU NEED TO HUNKER DOWN, STAY WHERE YOU'RE GOING TO BE FORHE T NIGHT, TOMORROW AND REALLY EVEN INTO MONDAY, BECAUSE THIS STORM IS JUST NOT GOING TO LET UP ONCE IT SETS IN. LET ME GET IN CLOSER, SHOW YOU WHERE WE'RE TALKING WITH. THE INITIAL BAND IS LIGHTER, BUT THE STUFF BACK TOWARD THEES WT IS HEAVY AND IT'S SPILLING INTO COOLING AIR AND I'VE GOT TO TELL YOU,HIS T INITIAL BAND IS OVERPERFORMING, OUR MODELS ARE PICKING UP ON THAT. I THINK WE'LL GET A COUPLE OF INCHES OUT OFHE T INITIAL BAND JUST OUT OF THE GE.AT YOU CAN SEE SNOW NOW BEING REPORTED IN PARISOU MNTAIN. STRETCHING BACK THROUGH THE CHERRYVILLE AREA, BEREA, WEST OF THE HOSPITALS RIGHT THERE AND YOU GO BACK INTO PICKENS COUNTY, PUMPKINTOWN, LEAK JOECASSIE AND NORTHERN OCONEE COUNTY AND PARTS JOFACKSON, HAYWOOD, MONAS COUNTY, HENDERSON COUNTY SEEING SNOW. IT'S ALL SPREADING IN AND I EXPECT THIS RADAR TO LOOK A LOT DIFFERENT IN JUST AN HOUR OR O.TW PARELLA WILL BE WATCHING THIS FOR YOU THROUGHOUT THE OVERNIGHT HOURS AND WE'LL BE WATCHING THIS CLOSELY HOUR-BY-HOUR, BECAUSE THESE TEMPERATURES ARE GOING DOWN, THE MOISTURE IS GOING UP AND I'VE GOT A DANGEUSRO TREND I'M TRACKING IN THE WIND SPEEDS. THOSE WIND SPEEDS ARE NOW EXPECTED TO BE ORDER OF 60 MILES PER HOUR VSUERS THE 40 OR SO THAT TSEHO MODELS WERE SHOWING EARLIER. LET ME SHOW YOU HOW THIS UNFOLDS. 1:30 A.M., WE HAVE SNOW IN MANY AREAS, ESPECIALLY BY 3:00 A.M., AND THE ISRE HEAVY SNOW. THIS WILL GIVE US AN INITIAL COATING TO AS MU ACHS A COUPLE OF INCHES ESPECIALLY WHERE SOME OF THE HEAVIER BANDS SET UP. THINK ABOUTHE T SUMMERTIME WHETHER YOU GET A HEAVY BD ANOF RAIN, SOME AREAS GET A WHOLE LOT MORE THAN THE OTHS.ER THAT'S THE SAME THING THAT'S GOINGO T HAPPEN TONIGHT WITH THE SNOW. SOME AREAS WILL GET MORE THAN OTHERS BUT A GOOD CHANCE YOU'LL SEE SOME SNOW ON THE TREES AND THE GROUND WHEN YOU'RE WAKING UP AND THAT'S THE PROBLEM HE,ER BECAUSE THE SNOW TRANSITIONS TO ICE AND THAT ICE WILL JUST GRIP ON TO EVERYTHING THAT IS OUT THERE, WHETHER IT BE THELE SET AND SNOW ON THE GROUND OR WHATEVER IS ON THERE, YOU'RE GOING TO SEE THAT ICE PILE UP QUICY.KL AND THAT'S WHEN THE WIND PART OF THE STORM CRANKS UP. 9:00 A.,.M 10:00 A.M., 11:00 A.M., THE WINDS CRANKING UP AT 60 MILES PER HOUR HERE AND THAT'SHE T DANGEROUS PART OF THIS STORM HERE. SNOW STARTS TO BREAK OUT ON THE BACK SIDE OF THIS BETWEEN 3, 4, 5, TT'HAS NOT THE MOST SEVERE PART OF THE STORM, THAT'S AS IT'S WINDING ON DOWN, BUT STILL GOOD FOR A LITTLE MORE ACCUMULATION. I'M REALLY CONCERNED ABOUT THE ICE ON TOP OF THE SLEET AND FREEZING RAIN. THERE'S A SWATH THAT'S CONTINUED TO BE PAINTED BY OUR COMPUTER MODELS BETWEEN THE EAST SEID OF GREENVILLE THROUGH SPARTANBURG AND INTO UNION AND CHEROEKE COUNTY. THIS AREA COULD HEAV OVER A HALF INCH OF I,CE BE IT SLEET AND FREEZING RAIN AND THAT. WNO GETTING A SNOW REPORT OUT OF MOUNTAIN REST. THIS IST I COMING ON IN FOLKS AND I EXPECT YOU'LL BE REPORTING TO US MORE OF THIS ACTIVITY. NOW IN OUR SWNO FORECAST, I'VE HIGHLIGHTED THE AREA I EXPECT TO SEE ICE, BECAUSE I DON'T WANT YOU TO TNKHI WE'RE JUST GETTING SNOW OUT OF THIS. THIS IS GOING TO BE SIGNICAFINT ICE WITH THAT SNOW. SO TAKING THE ICE PART AWAY. I'M SHOW YOU THE SWNO EXPECTATIONS. A DUSTING TO AS MUCH AS AN INCH AT THE ON SET COULD BE POSSIBLE IN SOME OF THE AERIS.AL 1-3 INCHES QUICKLY COULD FALL BETWEEN NOW AND 4:00 M.A. AND THEN YOU'LL HAVE THE ICE ON TOP OF THAT, WHICH IS GOING TO COMPRESS THAT BACK DOWNO T MAYBE 50% OF WHAT YOU HAD,S BUT THEN YOU GET MORE SNOW ON TOP OF IT. I THINK WE'LL KIND OF LAND HERE BY THE END ANYWAY AND IN WESTERN NORTH CAROLINA AND THE NORTHERN PART OF THE UPSTATE HERE, I'VE TGO 3-6 PLUS INCHES FROM TRAVELERS REST UP AND A GOOD STICKS-12 ACROSS THE MOUNTAINS, WITH MOUNT MITCHELL, EASTERN AND SOUTHERN FACING SLOPES OF THE MOUNTAINS THERE WITH OVER A FOOT OF SNOW. THE WIND GUSTS, LET ME SHOW YOU THAT, THAT'S THE BIG STORY HEER RIGHT? I SHOWED YOU THE MODEL AT THE SA TMEIME IT USED TO SHOW 40 OR SO MILES PER HOUR, IT'S BEEN TRENDING CLORSE TO 50 TO 60 MILES PER HOUR AND THAT CONTINUES FOR A COUPLE OF HOURS TOMORROW. IT WILL STILL BE BREEZY IN THE EVENING, JUST NOT TO THE LIKES OF WHAT WE HAD EARLY IN THE DAY. HERE'S THE TIMING. SNOW DEVELOPING AND BECOMING MORE WIDESPREAD NOW BETWEEN NOW DAN MIDNIT.GH HEAVY SNOW IN MANY AREAS SUNDAY MORNING, MIXING WITH ICERO AUND 8:00 A.M., AND TNHE WINDY, 40 TO 60-MILE-PER-HOUR WIND, THAT'S WHEN POWER OUTAGES GO UP ANDHE T ROADS ARE DANGEROUS, AND ROADS WILL BE RYVE DIFFICULT, IF NOT IMPOSSIBLE TO DRIVE ON IN SOME LOCATIONS TOMORROW. THIS IS STORM NUMBER ONE, IT LEAVES OUR AREA. STORM NUMBER TWO, KNOC OKSN THE DOOR AS WE GET INTO LATE WEEK, THURSDAY, COLD FRONT PUSHES THROUGH, AND IT LOOKS LIKE A LOW PRESSURE IS GOING TORY T TO RIDE ON THAT. WE COULD BE DEALING WITH MORE SNOW BY FRIDAY FOLKS. ALL RIGHT. THE FOUR DAY LOOKS LIKE THIS. WE'VEOT G A SNOW AND ICE STORM TOMORROW, HIGH OF 29. UP TO 46, YES, ON MONDAY, SO TH WILATL THAW US OUT, BUT WE HAVE A PRETTY HARSH REFRI.ES 18 BY — REFREE.EZ 18 BY TUESDAY MORNING. I DON'T THINK KIDS WILL BE OUT ON TUE
Ice, wind are major concerns as winter storm moves into South Carolina
Power outages are very possible and could last for several days, Duke Energy says
Ice and wind are the major concerns with this winter storm. (Watch your latest forecast for more specific timing and accumulations above) A winter storm warning and an ice storm warning for parts of our area is in effect until Monday morning. A winter storm warning indicates that heavy snow of at least 6 inches in 12 hours, or at least 8 inches in 24 hours, is expected. It can also be issued if sleet accumulation will be at least half an inch. An ice storm warning indicates that ice accumulation of at least 1/4 inch is expected.Click here to see what warning your area is under. QUICK LINKS: Forecast, closings, traffic updates, power outages, live cameras, etc. Latest maps, graphics show timing, accumulations, temps, winds speeds for winter stormMuch of the area will wake up to snow Sunday morning. It will continue to be steady until 6 a.m. or 7 am.For southern counties of the Upstate including Elberton, Abbeville and Greenwood, a dusting or very light accumulation is possible early Sunday, but freezing rain will overtake these areas first. The line slowly pushes north into the rest of the Upstate with sleet and freezing rain mixing into the area by the mid-morning timeframe. Some areas in the northern part of the Upstate could see 3 to 6 inches. Areas in the North Carolina mountains will see much more. Once the low-pressure area pulls east, we will end up on the colder, backside of the system.This will change any sleet and freezing rain to snow before it tapers off later afternoon into the evening hours. The system moves out between 4 and 7 p.m. What we can expect as far as snow accumulation:Mountains of North Carolina: 6" to 12″Northern portions of Upstate: 3" to 6"Along Interstate 85: 1" to 3"South of Interstate 85: 1"-3What to expect as far as ice accumulation:Along Interstate 85 and north of I-85: .10" to .25"Along and south of Interstate 85: .25" to .50"RELATED:Winter storm safety reminders: What to do if power goes out, what to avoid when drivingSend us your snow pictures when it beginsLive radar below: The ice storm warning carries the biggest concern with anywhere from .1 of an inch to 1 inch of ice accumulation possible.Gusty winds add to the concern as power lines and trees get weighed down by ice.Spotty power outages are likely, so please prepare ahead of time. Extra blankets, water, non-perishable food items and medications filled. Duke Energy says the winter storm could cause an estimated 750,000 customers to lose power in North Carolina and South Carolina based on the storm's current forecasted track, and power outages in some of the hardest-hit areas could last several days.Winter storm safety reminders: What to do if power goes out, what to avoid when drivingRELATED: Gov. Henry McMaster holds Saturday news conference ahead of stormGov. Roy Cooper holds Saturday news conference ahead of storm Latest videos: Folks in Spartanburg getting ready: North Carolina preps: Duke Energy prepares for outages: Monday will be dry but much, much colder. With snow and ice on the ground looks for temperatures to be chilled all around you in the 30s for most. RELATED: What does that mean? Explanation of weather words you will hear a lot this weekHow to make homemade ice melt
GREENVILLE, S.C. —
Ice and wind are the major concerns with this winter storm.
(Watch your latest forecast for more specific timing and accumulations above)
A winter storm warning and an ice storm warning for parts of our area is in effect until Monday morning.
A winter storm warning indicates that heavy snow of at least 6 inches in 12 hours, or at least 8 inches in 24 hours, is expected. It can also be issued if sleet accumulation will be at least half an inch.
An ice storm warning indicates that ice accumulation of at least 1/4 inch is expected.
Click here to see what warning your area is under.
Much of the area will wake up to snow Sunday morning. It will continue to be steady until 6 a.m. or 7 am.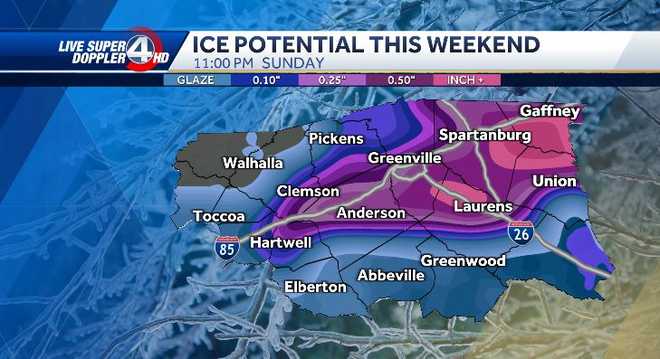 For southern counties of the Upstate including Elberton, Abbeville and Greenwood, a dusting or very light accumulation is possible early Sunday, but freezing rain will overtake these areas first.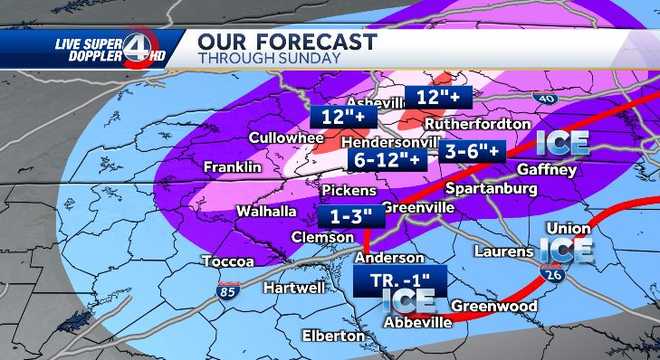 The line slowly pushes north into the rest of the Upstate with sleet and freezing rain mixing into the area by the mid-morning timeframe.
Some areas in the northern part of the Upstate could see 3 to 6 inches. Areas in the North Carolina mountains will see much more.
Once the low-pressure area pulls east, we will end up on the colder, backside of the system.
This will change any sleet and freezing rain to snow before it tapers off later afternoon into the evening hours. The system moves out between 4 and 7 p.m.
What we can expect as far as snow accumulation:

Mountains of North Carolina: 6" to 12″
Northern portions of Upstate: 3" to 6"
Along Interstate 85: 1" to 3"
South of Interstate 85: 1"-3

What to expect as far as ice accumulation:

Along Interstate 85 and north of I-85: .10" to .25"
Along and south of Interstate 85: .25" to .50"
RELATED:
Live radar below: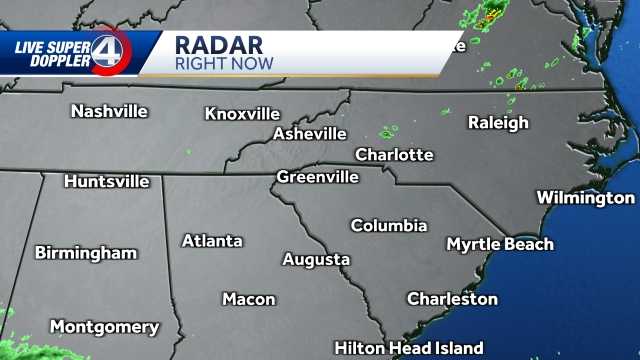 The ice storm warning carries the biggest concern with anywhere from .1 of an inch to 1 inch of ice accumulation possible.
Gusty winds add to the concern as power lines and trees get weighed down by ice.
Spotty power outages are likely, so please prepare ahead of time. Extra blankets, water, non-perishable food items and medications filled.
Duke Energy says the winter storm could cause an estimated 750,000 customers to lose power in North Carolina and South Carolina based on the storm's current forecasted track, and power outages in some of the hardest-hit areas could last several days.
Winter storm safety reminders: What to do if power goes out, what to avoid when driving
RELATED:
Latest videos:
Folks in Spartanburg getting ready:
North Carolina preps:
Duke Energy prepares for outages:
Monday will be dry but much, much colder. With snow and ice on the ground looks for temperatures to be chilled all around you in the 30s for most.
RELATED: