5 hr 3 min ago
It's 2 p.m. in Kyiv. Here's what you need to know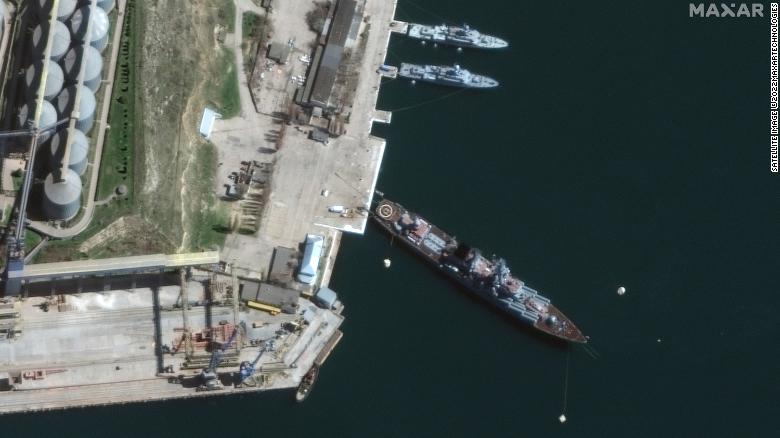 Today marks 50 days since the Russian invasion of Ukraine, and there has been a marked shift in Moscow's approach. Ukrainian officials have warned for days they expect a major offensive by Russian forces in the eastern Donbas region.
French military spokesperson Col. Pascal Lanni said Wednesday Russia is potentially preparing for a "large-scale offensive" in the east in the coming days.
Here are the latest developments:
6 hr 12 min ago
Discussions with Russia "ongoing," Ukraine presidential advisor says, with focus on guarantors
From CNN's Olga Voitovych in Lviv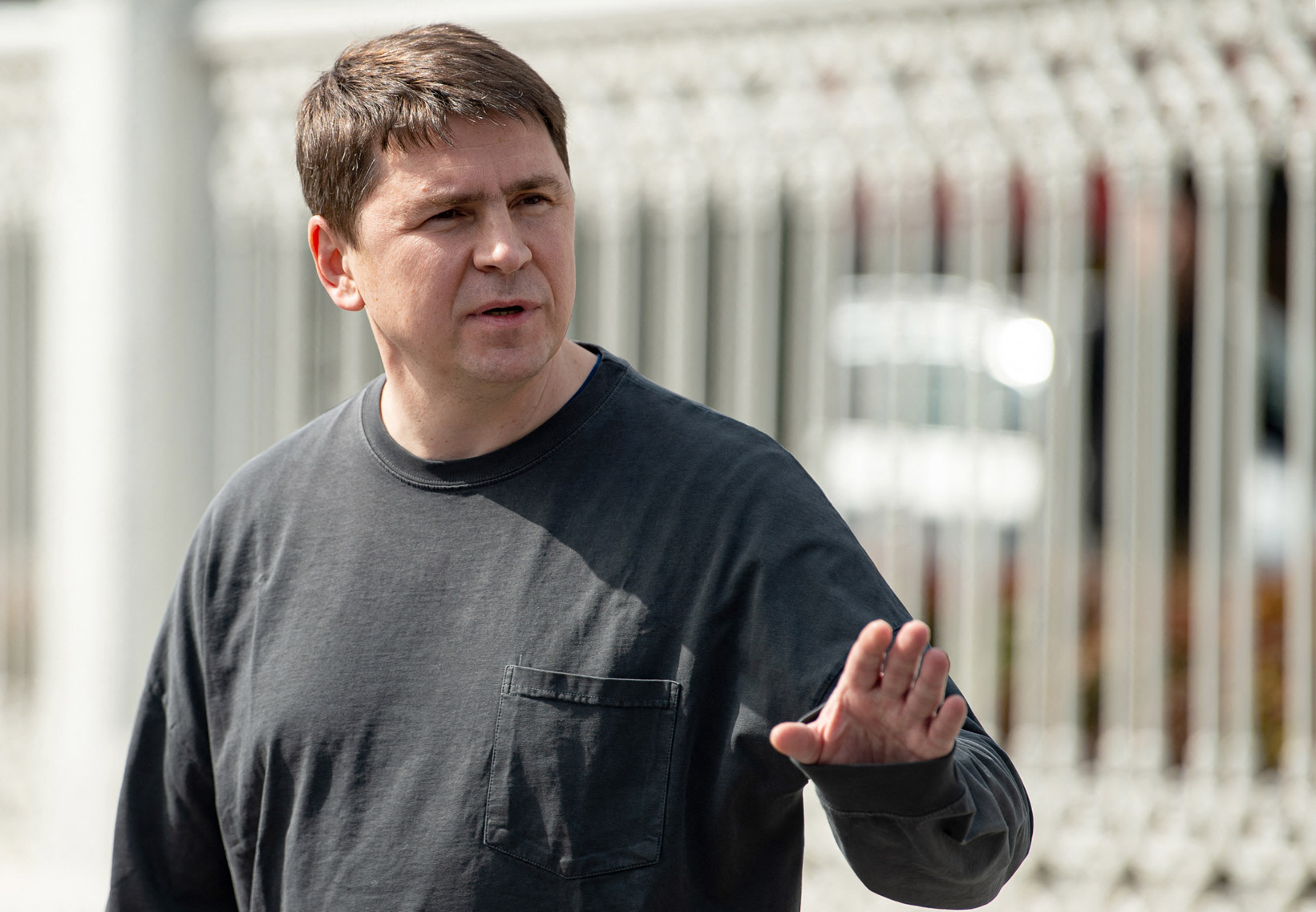 Ukrainian presidential adviser Mykhailo Podolyak said in televised remarks that consultations were "ongoing" on a potential roadmap to peace, but added that a sticking point remains the number of countries that would act as security guarantors for Ukraine.
"Consultations on what legal obligations need to be made, how it will be in terms of a multilateral treaty are ongoing now," he said in televised remarks.
Podolyak added: "We have to understand that the Russians categorically do not want to increase the number of countries that can be guarantors of security. It is important for us to have as many of those countries as possible."
Some background: At a recent meeting in Istanbul between Ukrainian and Russian teams, negotiators hammered out very preliminary agreements about the possibility of neutral status for Ukraine, but protected by international security guarantees.
Russian President Vladimir Putin earlier this week described that negotiating process as being at a "dead end," but Podolyak said work has continued.
6 hr 35 min ago
197 children killed in Russia's war on Ukraine, Ukrainian officials say
From CNN's Olga Voitovych in Lviv
Some 197 children have died and 351 have been injured during the war in Ukraine, the country's prosecutor general said Thursday, citing figures from juvenile prosecutors.
Bodies of children aged four and 10 were found along with the burnt body of a 17-year-old boy in Hostomel and Bucha, in the Kyiv region, the statement said.
The statement added that a father and his minor son were killed in the Chernobyl zone near the village Dytiatky in the Kyiv region when Russian servicemen fired at a car stopped at a roadside.
Seven children died as a result of a Russian strike on the Kramatorsk train station, the statement said.
On Wednesday, the Ukrainian Prosecutor General's Office said that the burnt bodies of a 16-year-old girl and a 10-year-old boy had been found in the villages of Borodianka, northwest of Kyiv, and Korolivka, in western Ukraine.
6 hr 59 min ago
Special-operations unit destroys bridge in Kharkiv region as Russian convoy crosses, claims Ukraine
From CNN's Olga Voitovych in Lviv
A Ukraine special-operations unit destroyed a bridge as a Russian convoy crossed it while it headed toward Izium in southeastern Kharkiv region, the Command of the Special Operations Forces of the Armed Forces of Ukraine claimed in a statement Thursday.
Ukrainian officials have reported heavy fighting in the vicinity of Izium in recent days, saying that Russian forces are trying to reach the eastern Donbas region from the direction of the town.
The statement claimed that the Ukrainian unit destroyed the bridge with an explosive charge as a convoy of a Tiger armored vehicle and several trucks crossed it.
CNN could not independently verify the claim. Ukrainian forces destroyed a key bridge in the Kyiv region to slow the advance of Russian forces in the opening days of the war.
Some background: On Wednesday, a CNN team witnessed intense shelling of the residential district of Saltivka, in northeastern Kharkiv, with a local official saying they believed Russia was stepping up attacks amid a new phase of military operations in the region.
Ukrainian officials have warned for days that they expect a major offensive push by Russian forces in the neighboring eastern Donbas region, as Russia repositions troops and equipment following a failed push to take Kyiv, the capital.
7 hr 29 min ago
Australia imposes more sanctions on 14 Russian state-owned enterprises
From CNN's Wayne Chang in Taipei, Taiwan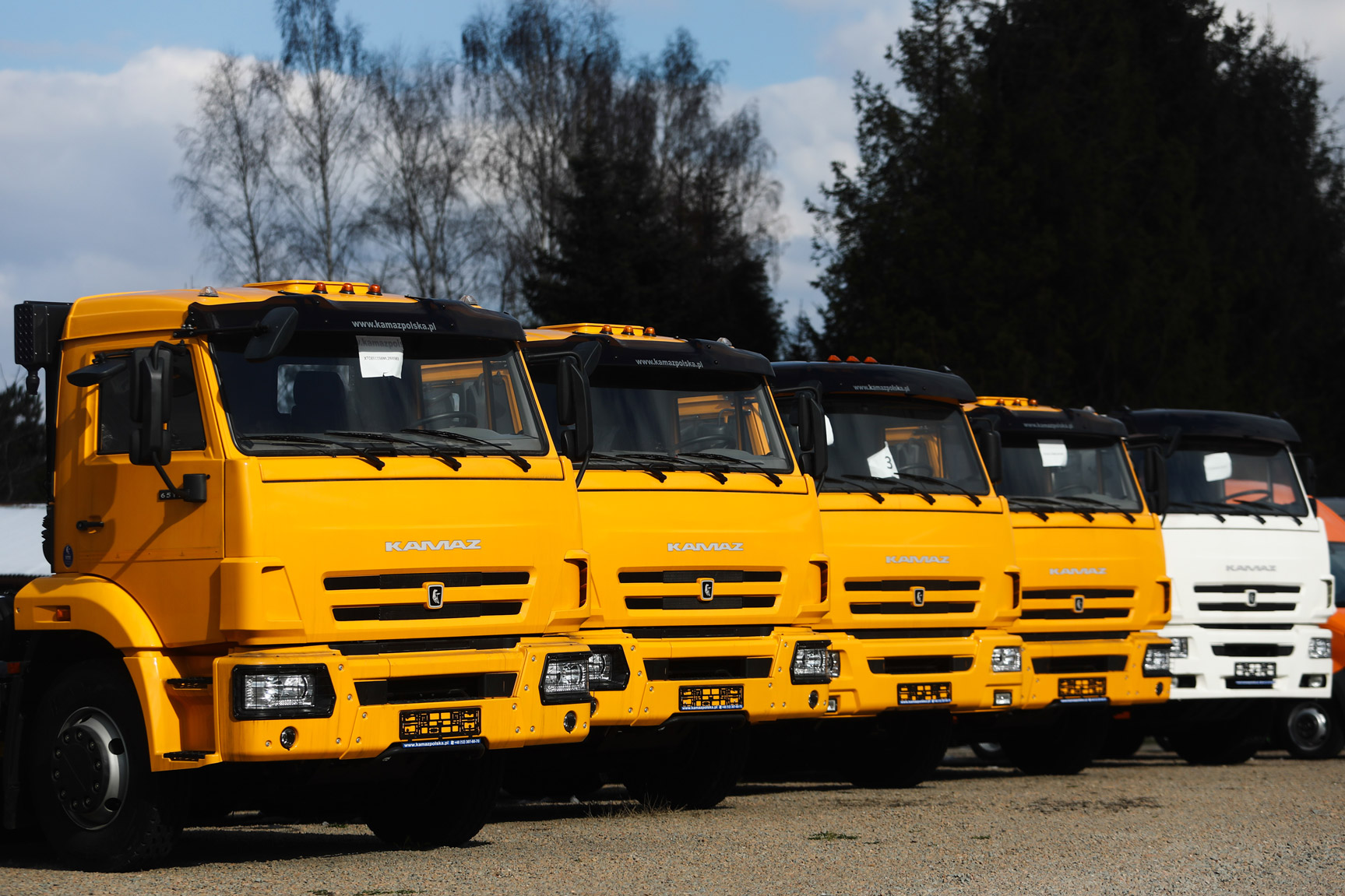 Australia has sanctioned another 14 Russian state-owned enterprises of "strategic and economic importance" to Russia, according to a statement from Australia's Foreign Minister Marise Payne on Thursday.
The latest round of sanctions targets defense-related transportation firm Kamaz, as well as shipping companies Sevmash and United Shipbuilding Corporation.
It also targets electronic component manufacturer Ruselectronics, which produces approximately 80% of all Russian electronics components, and Russian Railways, one of the largest single contributors to Russia's economy.
"Our targeting of Russia's state-owned enterprises in coordination with key partners undermines their capacity to boost the Russian economy," Payne's statement said. 
"By preventing dealings with these important sources of revenue for the Russian Government, we are increasing the pressure on Russia and undercutting its ability to continue funding [Vladimir] Putin's war."
Some background: Australia is one of a number of countries, including the US, that have been continually imposing fresh sanctions on Russia since the invasion of Ukraine began.
In retaliation against Washington blacklisting hundreds of Russian lawmakers last month, Moscow said Wednesday it had imposed sanctions on 398 members of the US Congress.
8 hr 6 min ago
9 evacuation routes agreed for Thursday: Ukraine Deputy PM
From CNN's Nathan Hodge in Lviv
Nine evacuation routes for civilians to leave besieged Ukrainian cities have been agreed for Thursday, Ukraine's Deputy Prime Minister Iryna Vereshchuk said in a Telegram post.
She said four routes have been established to Zaporizhzhia by private transport.
Mariupol to Zaporizhzhia
Berdiansk to Zaporizhzhia
Tokmak to Zaporizhzhia
Energodar to Zaporizhzhia
 In the Luhansk region, five routes will be operational:
Severodonetsk to Bakhmut
Lysychansk to Bakhmut
Popasna to Bakhmut
Rubizhne to Bakhmut
Hirske to Bakhmut
Vereshchuk said there were no evacuation routes on Wednesday. "In Zaporizhzhia region, the occupiers blocked evacuation buses, and in Luhansk region, they are violating the ceasefire," she said.
9 hr 20 min ago
50 days since Russia's invasion began, the war in Ukraine is entering a pivotal new phase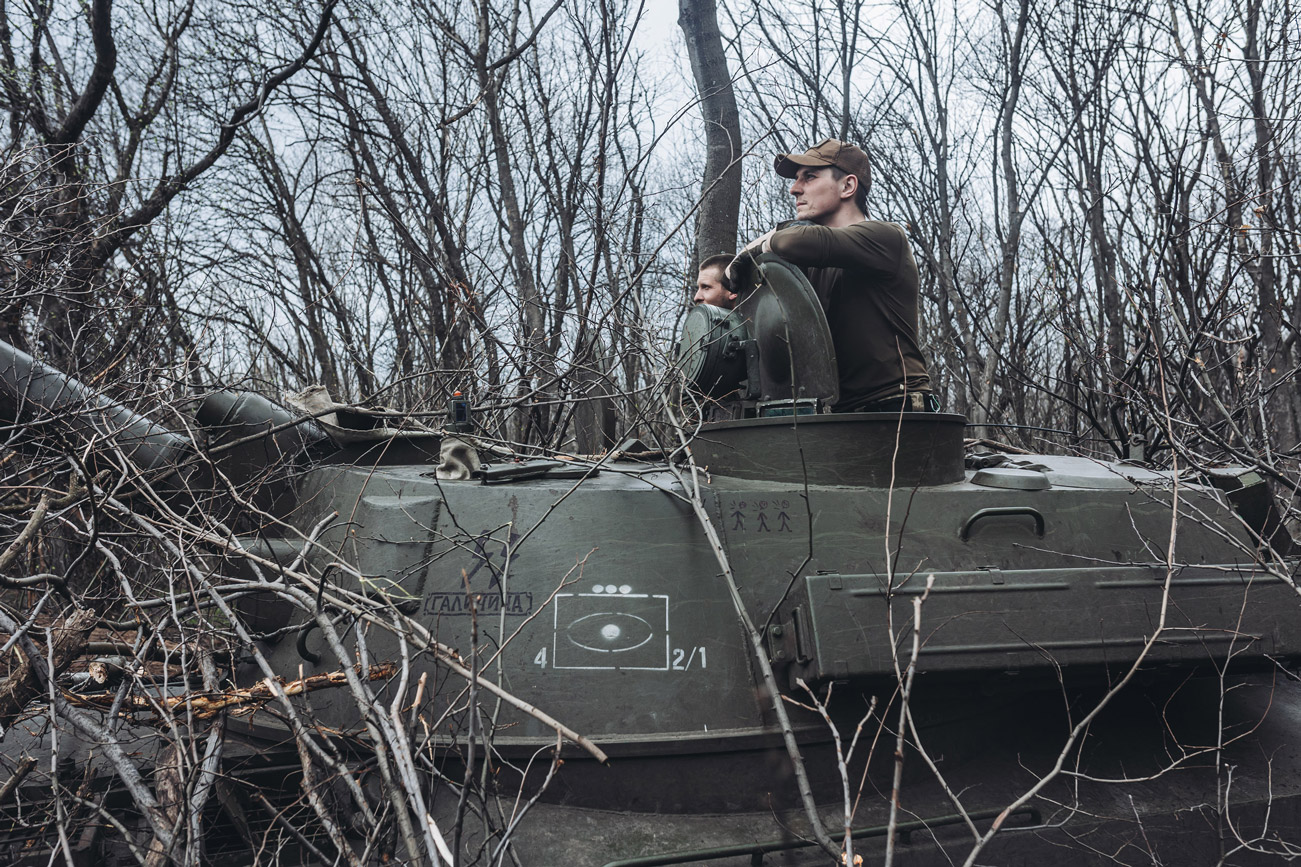 Thursday marks 50 days since Russia began its unprovoked invasion of Ukraine on Feb. 24.
The initial assault started before dawn with a series of missile attacks and the use of long-range artillery, before quickly spreading across central and eastern Ukraine as Russian forces attacked the country from three sides.
But Russian President Vladimir Putin's plan to quickly topple Kyiv failed in the face of strong Ukrainian resistance, a failure to achieve air superiority in Ukraine, command, control and supply problems and through heavy losses of personnel.
As Russian forces withdraw from areas near Kyiv to refocus on the east, the horrors of their occupation have been made clear with reports of widespread civilian casualties and killings, torture, disappearances, and other atrocities. Cities across the country continue to be relentlessly bombarded as Russia deploys a devastating array of aerial assaults, creating a humanitarian catastrophe.
After 50 days, the war is poised to enter a critical new stage:
War moves to the east: Putin has revised his war strategy to focus on trying to take control of Donbas and other regions in eastern Ukraine with a target date of early May, according to several US officials familiar with the latest US intelligence assessments. Ukraine is bracing for a massive escalation, with one official warning of a battle that "will remind you of the Second World War." Satellite images show increasing numbers of Russian troops and armored vehicles pouring into eastern Ukraine.
Different terrain: The eastern territory is where Russia holds many more advantages than in its earlier assault on northern Ukraine and the capital, Kyiv. The battle would take place on open terrain rather than the close fighting in urban and wooded areas. The region also borders southwest Russia, allowing Russian forces to avoid the sorts of sustainment, logistics and communication problems that derailed their all-out invasion of the country nearly from the beginning.
Rush for weapons: The US is ramping up its commitment to Ukraine — sending an additional $800 million worth of weapons and ammunition in a package that includes Mi-17 helicopters, Howitzer cannons, Switchblade drones, counter-artillery radar systems and protective equipment to guard against potential chemical attacks. For weeks, Ukrainian President Volodymyr Zelensky has pleaded with world leaders for more arms and equipment.
Human catastrophe: Since the invasion began, more than 4.6 million people have fled Ukraine to neighboring countries and thousands of civilians have died, including children, according to the UN. The World Health Organization has verified nearly 120 attacks on health care since the invasion began. Trapped residents in cities under bombardment from Russian attacks have reported no food, water or medicine, and aid blocked from entering.
Accusations of genocide, war crimes: US President Joe Biden described the atrocities in Ukraine as "genocide" for the first time this week. Ukraine's prosecutor general is investigating 5,800 cases of Russian war crimes and crimes against humanity, including the intentional targeting of civilians. Images of at least 20 bodies strewn across the street in Bucha emerged this month, while dozens of evacuating civilians were killed in a Russian missile strike on a train station. It followed bombings of hospitals, schools and a theater where hundreds of people, including children, were sheltering.
NATO: Putin started the war demanding NATO cease expanding east and admitting new members. While Zelensky has accepted his country will not become a member, the war has united the West against Moscow. Finland and Sweden — nations that are officially non-aligned – are edging ever closer toward joining the US-led military alliance.
9 hr 39 min ago
US stocks of Javelin anti-tank missiles are running low, report says
From CNN's Brad Lendon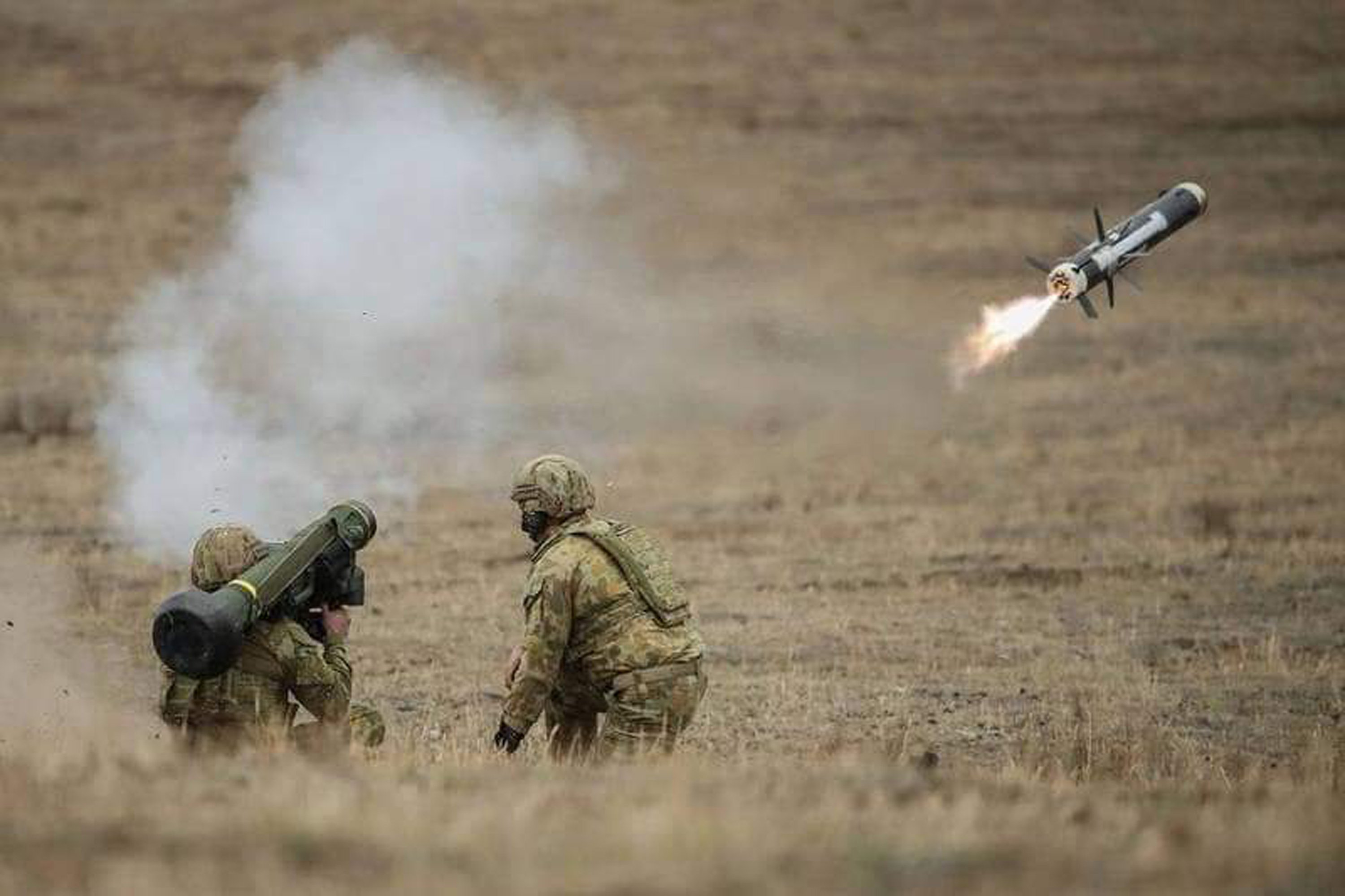 The United States has sent so many of its Javelin anti-tank missiles to Ukraine that its stocks are running low for possible use by its own forces, according a study by the Center for Strategic and International Studies.
Replenishing the US stockpile with new weapons will take years, according to the report from Mark Cancian, a senior adviser with the International Security Program at CSIS.
What is the Javelin? It's a shoulder-fired anti-armor missile made by US defense giants Lockheed Martin and Raytheon. The missile is a so-called "fire and forget" weapon, meaning it guides itself to its target after launch, allowing its operator to take cover and avoid counterfire.
Use in Ukraine: Ukrainian forces have used it to devastating effect against Russian tanks, negating what was, before the war, thought to be an overwhelming Russian advantage.
It could also be very useful to US forces in any unforeseen conflict, but Cancian said the Pentagon needs to keep an eye on the drawdown in its stocks.
"Military planners are likely getting nervous," he wrote.
"The United States maintains stocks for a variety of possible global conflicts that may occur against North Korea, Iran, or Russia itself. At some point, those stocks will get low enough that military planners will question whether the war plans can be executed. The United States is likely approaching that point."
Cancian estimates there may be 20,000 to 25,000 Javelins remaining in the stockpiles and the 7,000 systems sent to Ukraine "represent about one-third of the US total inventory."
"It will take about three or four years to replace the missiles that have been delivered so far. If the United States delivers more missiles to Ukraine, this time to replace extends," Cancian said.
Some context: A senior US defense official said Wednesday the massive shipments of weapons to Ukraine, including thousands of Javelin anti-armor missiles and Stinger anti-aircraft missiles, have not affected the readiness of US forces.
10 hr 31 min ago
The fight for Mariupol is at a critical stage. Here's what we know
Ukraine said its last two remaining units in the besieged southern city of Mariupol have been able to join forces thanks to a "risky maneuver," bolstering their resistance against Russian forces.
Meanwhile, Russia said Mariupol's commercial seaport had been captured and 1,000 Ukrainian marines had surrendered.
Here's what we know about the latest situation in the port city:
Defenders join forces: Commanders of two Ukrainian units defending Mariupol issued a video statement saying they had been able to join forces. Denys Prokopenko, the commander of the Azov Regiment, said his unit had linked up with troops from the 36th Marine Brigade. Serhii Volyna, commander of the Marine Brigade said, "We will do whatever is necessary to successfully complete our combat mission."
"Risky" move: Ukrainian presidential adviser Oleksiy Arestovych had said earlier that the join up was a "risky maneuver." Arestovych said, "This is what happens when officers do not lose their heads, but firmly maintain command and control of the troops." CNN cannot independently confirm the details of the operation. Arestovych said the move has "seriously strengthened their defense area."
Surrounded: Both units have been involved in a last-ditch attempt to resist a Russian offensive against the city that has lasted over a month. The units are surrounded by Russian forces and running low on supplies.
Key sites: The Ukrainian defenders have been fighting to hold parts of the port and Azovstal, a giant steel factory that lies on Mariupol's eastern outskirts.
Crucial moment: Independent analysis of the situation in Mariupol on Sunday by the Institute for the Study of War said the defense of the city had reached a critical stage. The join up of Ukrainian forces came after "Russian forces bisected Mariupol from the city center to the coast on April 10, isolating the remaining Ukrainian defenders in two main locations: the main port of Mariupol in the southwest and the Azovstal steel plant in the east," the analysis said.
Russia claims advances: In a statement Wednesday, Russian Defense Ministry spokesperson Maj. Gen. Igor Konashenkov said Mariupol's commercial seaport had been captured. CNN was not independently able to verify that claim. The Russian military has repeatedly claimed to have taken strategic positions in the city, but has also faced stiff resistance from Ukrainian forces.
Marines surrender: The Russian military claimed in a statement Wednesday that 1,026 Ukrainian marines — including 162 officers and 47 women servicemembers — had surrendered in the vicinity of the Ilyich Iron and Steel Works in Mariupol, a claim that could not be verified. Prokopenko, of Ukraine's Azov regiment, acknowledged that some Ukrainian defenders had surrendered.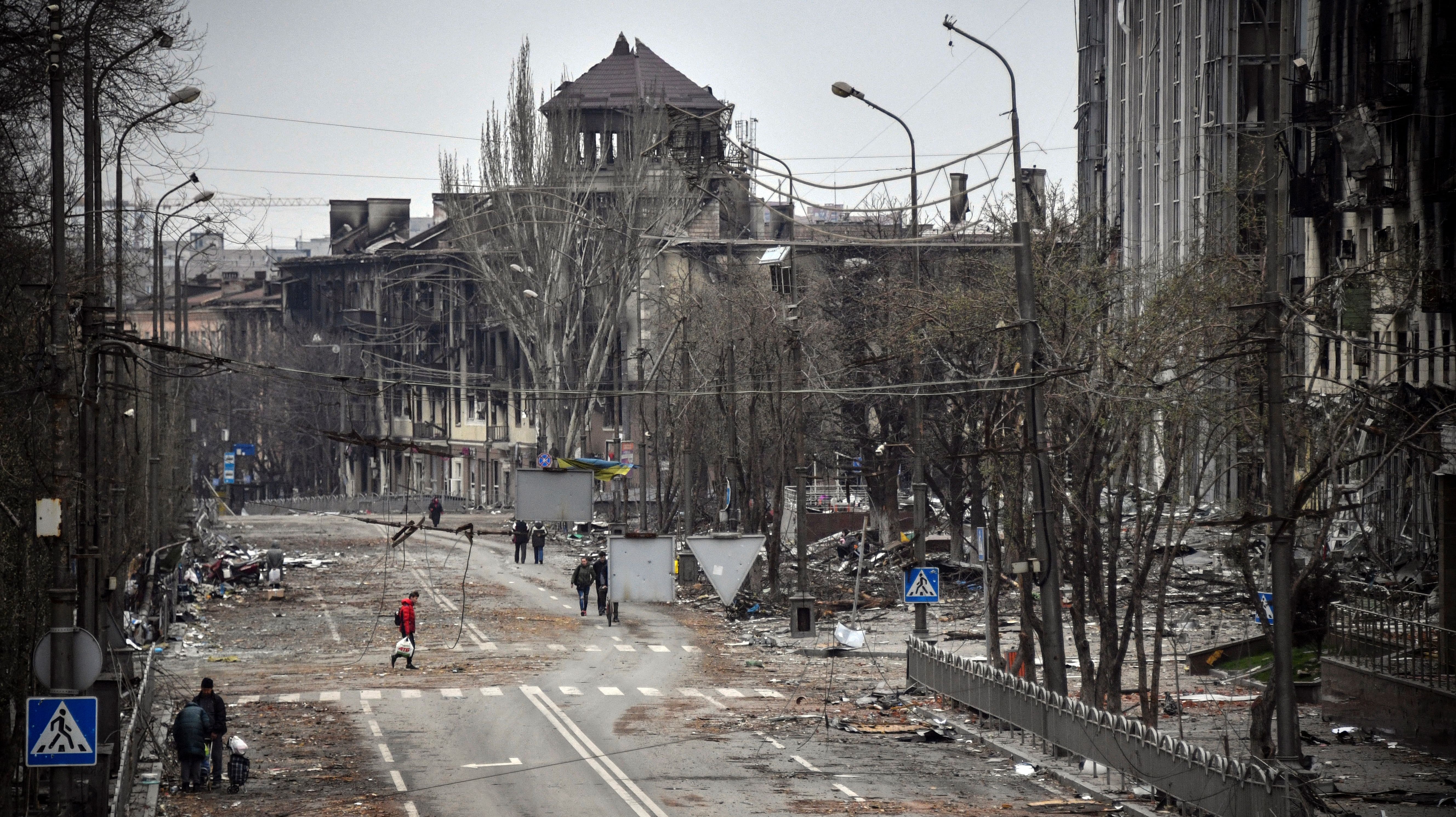 Propaganda battle: Russia has focused an intense propaganda effort around the battle for Mariupol. Russian state TV aired footage Wednesday allegedly showing Ukrainian marines surrendering to Russian forces in the city. Photos have also emerged from AFP photographers on a trip organized by the Russian military in Mariupol. The images show Russian soldiers in the bombed-out theater hit by a Russian strike, and patrolling a street.
Residents can't get out: About 180,000 civilians remain trapped in and around the city amid widespread devastation and relentless bombardment, Mayor Vadym Boychenko said Wednesday. Ukraine's President has said "tens of thousands" have died in Mariupol, a figure that cannot be independently verified.