2 min ago
CNN team reports hearing loud explosions in Kharkiv, Ukraine
The CNN team in Kharkiv, the second-largest city in Ukraine located in the country's northeast, is hearing a "steady stream of loud explosions."
CNN reporters on the ground also reported hearing explosions near the capital Kyiv.
4 min ago
Putin tells Ukrainian forces to lay down arms and go home
From CNN's Nathan Hodge in Moscow
In an address early Thursday on national television, Russian President Vladimir Putin announced military action in Donbas, urging Ukrainian forces to lay down their arms and go home, according to state-run news agencies RIA-Novosti and TASS.
Putin warned that all responsibility for any potential bloodshed will be on the conscience of the Ukrainian government, and said he was confident Russian service members will fulfill their duty.
10 min ago
CNN team reports explosions near Ukrainian capital
The CNN team on the ground is hearing several loud explosions near Kyiv, the capital of Ukraine.
12 min ago
Aviation authorities restrict Ukraine airspace
From CNN's Oren Liebermann and Tim Lister
Ukraine's aviation authorities have issued a notice restricting the country's airspace starting early Thursday morning and lasting until midnight GMT (7 p.m. ET).
The alert, known as a Notice to Airmen (NOTAM), covers all five of the country's flight information regions (FIRS) — restricting aviation in the regions around around Kyiv, Dnipro, Lviv, Odessa and Simferopol.
The flight tracking service FlightRadar24 shows a flight from Warsaw to Kyiv, Lot 755, turned around before entering Ukrainian airspace and is returning to the Polish capital.
The website shows no civil aircraft in Ukrainian airspace. 
14 min ago
BREAKING: Putin announces a "special military operation" in Donbas
From CNN's Nathan Hodge in Moscow
Russian President Vladimir Putin says his troops will take action in the separatist-held region of Ukraine he declared independent this week.
21 min ago
UN Secretary General: "President Putin, stop your troops from attacking Ukraine"
From CNN's Mirna Alsharif
United Nations Secretary General Antonio Guterres told Russian President Vladimir Putin to stop "attacking Ukraine" and to give peace a chance, speaking at an emergency UN Security Council meeting on Wednesday night.
"The day was full of rumors and indications of an offensive against Ukraine was imminent. In the recent past, there were several situations with similar indications, similar rumors. And I never believed in them, convinced that nothing serious would happen," Guterres told the council. "I was wrong. And I would like not to be wrong again today."
"So, if indeed an operation is being prepared, I've only one thing to say from the bottom of my heart: President Putin, stop your troops from attacking the Ukraine. Give peace a chance. Too many people have already died."
22 min ago
US ambassador to the UN urges Russia to "back away from the brink before it is too late"
From CNN's Jennifer Hansler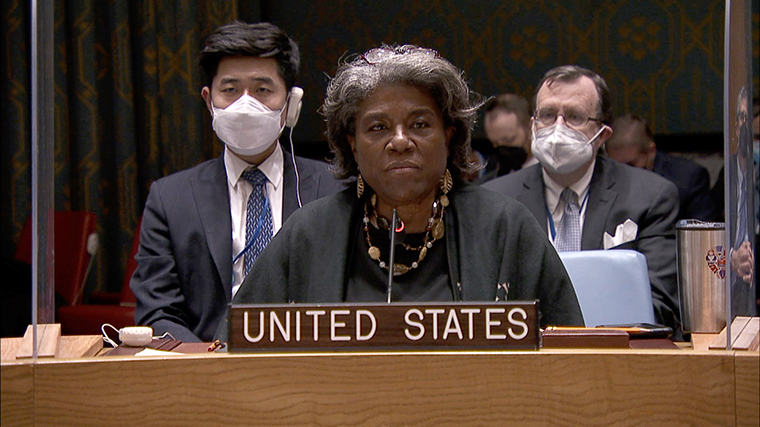 The US Ambassador to the United Nations on Wednesday night called on Russia to "back away from the brink, before it is too late."
"We are here tonight because we believe, along with Ukraine, that a full-scale, further invasion into Ukraine by Russia is imminent," Linda Thomas-Greenfield said at an emergency UN Security Council meeting.
"Tonight, we're seeing the Russians close airspace, move troops into Donbas, and move forces into combat-ready positions," she added, calling this "a perilous moment."
"And we are here for one reason and one reason only: to ask Russia to stop. Return to your border. Send your troops, and your tanks, and your planes back to their barracks and hangars. And send your diplomats to the negotiating table," she said.
Thomas-Greenfield said she had spoken to US President Joe Biden prior to the meeting, and he asked her "to convey in the strongest possible terms his — and our — steadfast support for Ukraine, and support for the urgent meeting this Council has convened tonight."
"Furthermore, he asked me to share that the United States and our allies and partners will continue to respond to Russia's actions with unity, with clarity, and with conviction," she said.
58 min ago
US State Department warns of Russian false flags, including claims that Ukraine is attacking Donetsk
From CNN's Jennifer Hansler
State Department spokesperson Ned Price on Wednesday night reiterated US warnings about potential Russian false flags that Moscow could use to justify an invasion. 
"Beware of the following Kremlin disinformation campaigns seeking to justify military action – no evidence supports any of these false claims," Price tweeted.
Read the tweet:
44 min ago
Blinken says US has imposed sanctions on company building Russian gas pipeline
From CNN's Jennifer Hansler
The United States has terminated waivers and imposed sanctions on Nord Stream 2 AG — the parent company of the Nord Stream 2 gas pipeline — and its top executives, US Secretary of State Antony Blinken said in a statement Wednesday night.
US President Joe Biden said earlier in the day he had authorized the sanctions "in response to Russia's actions in Ukraine." 
The waivers: Last year, the Biden administration waived the sanctions on the company behind the controversial gas pipeline between Russia and Germany, claiming "it was in the national interests of the United States."
However, Blinken said Wednesday that following Russia's actions this week, those waivers were no longer in the US' national interest. The newly imposed sanctions and visa restrictions target the company, its CEO Matthias Warnig, and its corporate officers.
"All property and interests in property of those sanctioned that are in or come within the United States or are in the possession or control of U.S. persons must be blocked and reported to the U.S. Department of the Treasury's Office of Foreign Assets Control (OFAC)," Blinken said in the statement.
"Individuals and entities knowingly engaged in sanctionable conduct related to Nord Stream 2 face similar sanctions risks."