3 hr 50 min ago
US and European officials working to come up with "deliverables" for NATO summit, sources say
From CNN's Kevin Liptak 
US and European officials are currently discussing potential announcements for Western leaders to make at next week's NATO summit in Brussels, according to people familiar with the plans, though as of right now there is no agreement on "deliverables" to come from the crisis talks.
US President Joe Biden hopes to use the session to illustrate western unity amid Russia's invasion of Ukraine, and having a major announcement could help underscore cooperation among the allies. 
But one European official said the discussions haven't yet settled on a single decision or takeaway for the summit to produce. 
Major items that Ukraine wants, like establishing a no-fly zone or providing fighter jets, appear for now off the table.
That means any announcement coming out of the meetings would likely focus more on ramping up smaller-scale assistance that's already being provided, financial aid or new sanctions on Russia.
3 hr 54 min ago
Russian prisoners of war voice disquiet, shame over the invasion of Ukraine: "We all will be judged"
From CNN's Tim Lister and Sebastian Shukla
"I want to tell our commander-in-chief to stop terror acts in Ukraine because when we come back we'll rise against him."
Russian President Vladimir Putin "has given orders to commit crimes. It's not just to demilitarize Ukraine or defeat the Armed Forces of Ukraine, but now cities of peaceful civilians are being destroyed."
"The crimes that we committed; we all will be judged."
These are the voices of Russian prisoners of war now held by Ukraine.
Nearly a dozen have appeared in news conferences held by the Ukrainian authorities, just a few of the 600 that Ukrainian President Volodymyr Zelensky says have been captured.
Their public appearances may be questionable under the Geneva Conventions, which forbid states from causing unnecessary humiliation to prisoners of war. And it is possible that they felt pressure to express views sympathetic to those of their captors.
But three captured Russian air force pilots who spoke to CNN did not suggest they were speaking under duress.
Read the full report here.
3 hr 19 min ago
It's 11 p.m. in Kyiv. Catch up on the latest developments on the war in Ukraine.
From CNN staff
Ukrainian President Volodymyr Zelensky criticized the effectiveness of NATO's Article 5 provision, calling it "weak," during an address Tuesday. His comments came as key cities in Ukraine, including around Kyiv and Mariupol, reported extensive damage and dire situations.
Here's a catch up of key developments that took place today:
On the ground: Fatalities were reported after shelling hit buildings in residential areas across Kyiv on Tuesday, according to Ukrainian authorities and new satellite images show widespread destruction across Ukraine, including damaged houses in a village near Kyiv.
In the besieged city of Mariupol, smoldering homes could be seen, where more than 2,500 civilians have died, Ukrainian officials estimate.
Captive situation in Mariupol: A Ukrainian official has accused Russian troops of holding people captive at a Mariupol hospital on Tuesday.  
Pavlo Kyrylenko, the Head of Donetsk regional administration, said doctors and patients were being held against their will in the Mariupol regional intensive care hospital, also referred to as Hospital No. 2.  
Sergei Orlov, deputy mayor of Mariupol, said Russian forces are "destroying" the besieged Ukrainian city and that patients in a hospital were used as captives.
"There are a lot of fights on our streets, and the situation yesterday was terrible," he told CNN's Bianna Golodryga.
Evacuation corridors: US Deputy Secretary of State Wendy Sherman said there are reports of cars leaving Mariupol, noting that if this is in fact the beginning of an evacuation corridor, such a development would be a "step forward."
Negotiations between Russia and Ukraine: Talks between Russian and Ukrainian negotiators have ended for the day and will resume Wednesday, according to Ukrainian negotiator Mykhailo Podoliak. He noted the negotiation process has been "very difficult and viscous." "There are fundamental contradictions. But there is certainly room for compromise," he said in a tweet.
Prime ministers from Poland, Slovenia and the Czech Republic arrive in Ukraine: The prime ministers of Poland, Slovenia and the Czech Republic arrived by train on Tuesday in Kyiv to meet with Zelensky and Ukrainian Prime Minister Denys Shmyhal.
The prime ministers arrived in the city on behalf of the EU council, Shmyal said on Twitter, praising the "courage of true friends."
Zelensky to address US Congress on Wednesday: The Ukrainian president is set to deliver a virtual address to the US Congress tomorrow. The address by Zelensky comes amid Russia's ongoing unprovoked and deadly invasion of the country and as Ukraine continues to press the United States for more assistance as it fights back.
US President Joe Biden to deliver his own address on Wednesday after signing into a law a massive aid package for Ukraine: Biden plans to detail US assistance to Ukraine in a speech on Wednesday, hours after Ukraine's president is expected to lay out new requests for help in a speech to Congress, the White House said.
A massive spending bill was signed into law by Biden Tuesday, which will provide a, one-time, $13.6 billion infusion of military and humanitarian aid to Ukraine as it fights back against Russia's invasion.
Biden is also is set to travel to Europe next week for an extraordinary meeting of NATO and show of US support for Ukraine, the White House has confirmed. Biden will join NATO world leaders in person in Brussels, Belgium, next Thursday, March 24. 
Here's a look at the Russian-occupied areas in Ukraine: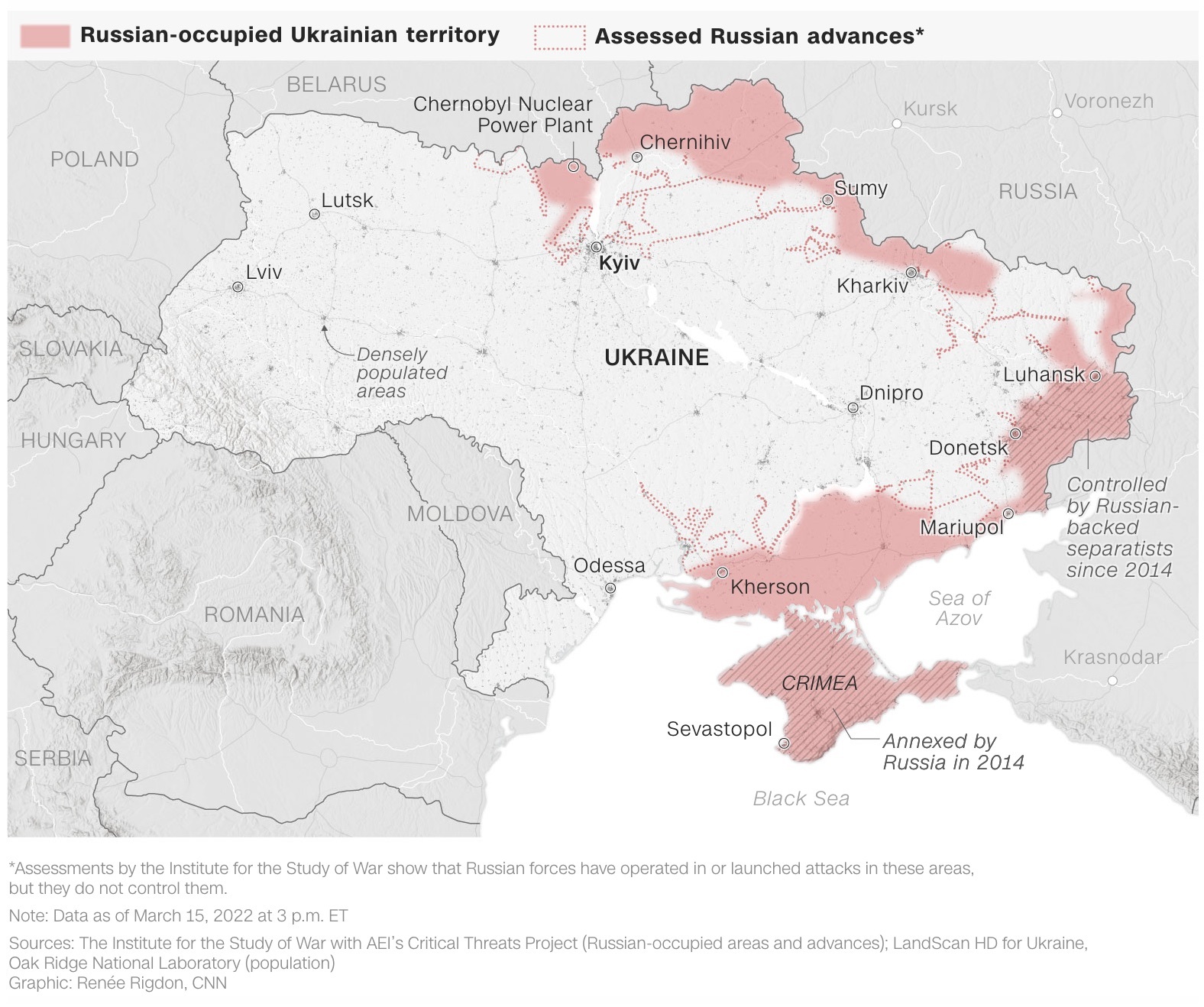 3 hr 52 min ago
US secretary of state announces $186 million more in humanitarian assistance for Ukrainians
From CNN's Kylie Atwood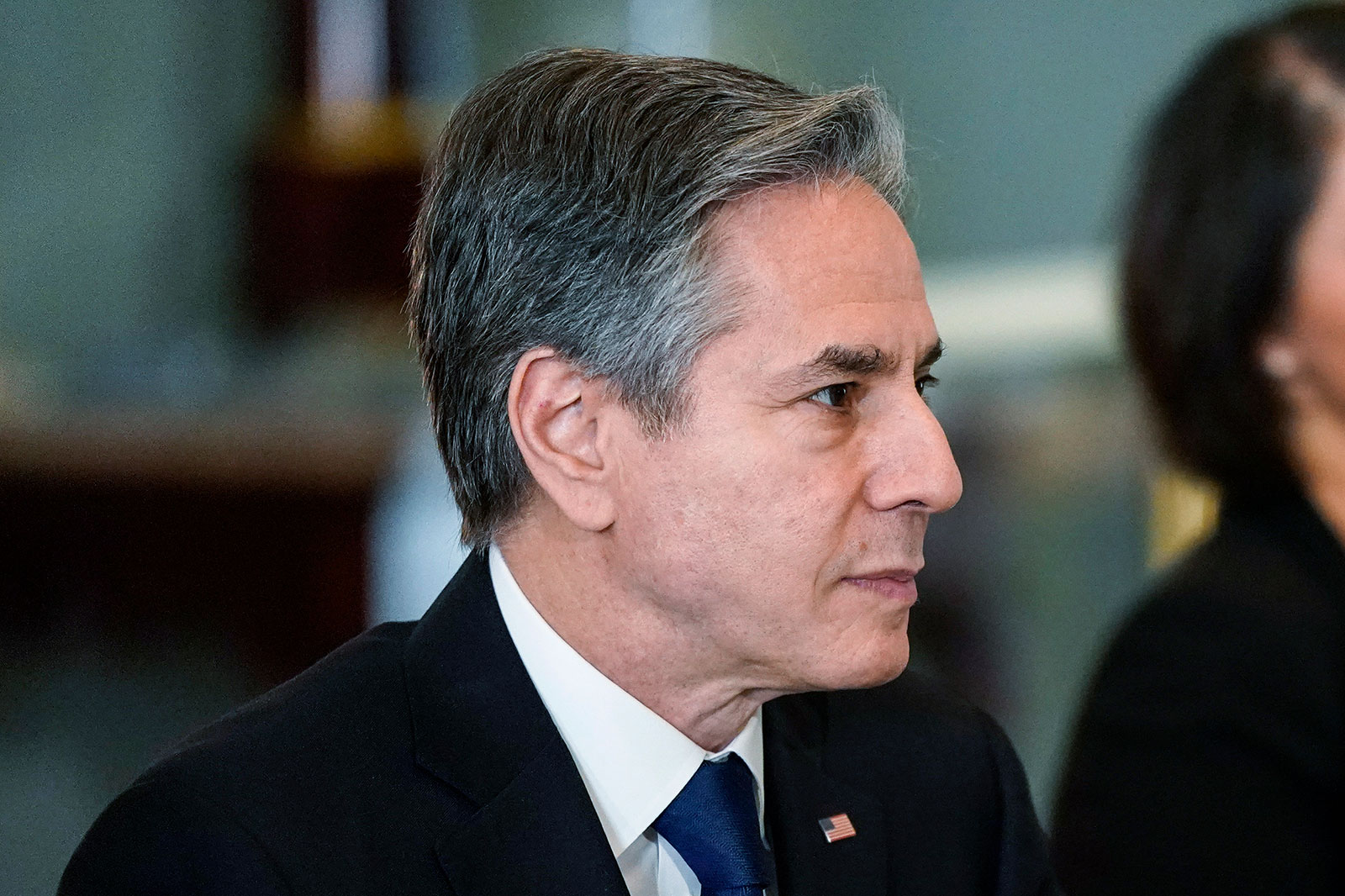 US Secretary of State Antony Blinken announced $186 million in additional humanitarian assistance to support Ukrainian refugees and internally displaced people due to the war in Ukraine.
"The United States is providing over $186 million in additional humanitarian assistance to support internally displaced persons and the more than three million refugees affected by Russia's premeditated, unprovoked, and unjustified war in Ukraine. This will provide further support for humanitarian organizations responding to the crisis and complement the generosity of the neighboring countries that are welcoming and supporting refugees," Blinken said.
Blinken added, the US "commends the hospitality of the neighboring countries that are hosting those fleeing Ukraine." The additional US financial support will go to backing the basic necessities that the refugees need, and will be channeled through humanitarian organizations on the ground, he said.
"The additional humanitarian assistance for refugees in Ukraine's neighboring countries supports the provision of food, safe drinking water, protection, accessible shelter, and emergency health care through the support of our international and non-governmental partners. This funding will also help victims of this conflict maintain contact with family members who have been separated and promote family reunification when possible," Blinken said.
He also reiterated the need for the safe passage of humanitarian support into the country.
"We call for an immediate end to Russia's continuing war against Ukraine and for Russia to facilitate unhindered humanitarian access in Ukraine and safe passage for those who seek to leave the cities where they are trapped. Humanitarian aid deliveries must be allowed to continue without interference, and humanitarian workers must have safe passage to deliver aid and assistance to those in need," Blinken said.
CNN has reported Biden administration is considering expediting the resettlement of Ukrainian refugees with US ties, including family already living in the US. State Department spokesperson Ned Price would not comment on any efforts to expedite that process during the department briefing on Tuesday.
4 hr 4 min ago
Chernobyl power plant has reconnected to national electricity grid, UN nuclear watchdog says
From CNN's Niamh Kennedy in London 
Ukraine has informed the UN's nuclear watchdog, the International Atomic Energy Agency (IAEA), that the Chernobyl nuclear power plant has reconnected to the national electricity grid after losing on site power last Wednesday. 
"Ukrainian specialist teams succeeded on the weekend to repair one of two damaged lines linking the plant to the power network," the IAEA said Tuesday.
As of Monday, the site has been receiving all required power from the repaired line, enabling the staff to switch off the emergency diesel generators they were relying on since March 9, it said in a statement.
Since Russian troops took control of the nuclear plant on Feb. 24, the plants' 211 technical personnel and guards haven't been able to leave, meaning they have been "in effect living there for the past three weeks," according to the watchdog.  
The Ukrainian regulator told the IAEA that the information it received regarding Chernobyl was "controlled by the Russian military forces" and that consequently it could not "always provide detailed answers to all" questions posed.
The Ukrainian regulator also told the IAEA that staff at Europe's largest nuclear power plant, Zaporizhzhia in southeastern Ukraine, "confirmed reports that the Russian military had detonated unexploded munitions left on the site following events on 4 March," the news release said. 
Staff were not informed before the detonations took place, the watchdog said, adding that the "regulator has in recent days told the IAEA about ongoing work to detect and dispose of unexploded munitions found at the damaged training center and elsewhere at the nuclear power plant."
"The episode apart. What this indicates is that the situation is extremely volatile, extremely fragile. What you have there is a site containing six nuclear reactors, which is under the control of the Russian Armed Forces. The operators are the Ukrainian operators. But of course, this leads to possibilities of friction," IAEA chief Rafael Grossi warned in an interview with France 24.
In Ukraine, there have been "several situations" where "basic security guidelines or norms" have been "compromised, if not completely violated" over the past week, Grossi said.
The Ukrainian regulator told the IAEA that "eight of the country's 15 reactors remained operating, including two at the Zaporizhzhya NPP, three at Rivne, one at Khmelnytskyy, and two at South Ukraine," adding that the "radiation levels at all nuclear power plants are in the normal range."
4 hr 9 min ago
In new letter, Republican lawmakers urge Biden to supply air defense systems and fighter jets to Ukraine
From CNN's Zachary Cohen and Jeremy Herb
According to a new letter sent to the Biden administration on Tuesday, top House and Senate Republicans are calling on the administration to provide Ukraine with Soviet and Russian-made air defense systems to help defend against Russia's invasion.
The unclassified letter does not specify which air defense system should be provided, but Ukrainian President Volodymyr Zelensky has urged the US to help it acquire both S-300 air defense systems and MiG-29 fighter jets.
The State Department has been working to identify which countries currently have the Soviet-made S-300 air defense systems and is currently examining how they could be transferred to Ukraine, sources told CNN on Tuesday.
On Wednesday, Zelensky will give a virtual speech before the House and Senate in which he's expected to renew his requests for more weapons, as well as a no-fly zone over Ukraine.
The lawmakers said that the new $3 billion in funding Congress approved in an emergency supplement should be used to deliver the military aid to the Ukrainians and also help reimburse US allies who have provided equipment and depleted their own stocks. 
In addition to the strategic and tactical air defense systems, the Republicans are pushing the Biden administration to immediately deliver additional Stinger anti-air missiles and Javelin anti-tank missiles to the Ukrainians.
On Monday, CNN reported that the Biden administration's $200 million aid package announced this past weekend includes funding for both Stingers and Javelins.
The GOP lawmakers also pressed the Biden administration to reconsider its position on transferring Polish MiG-29 fighter jets to Ukraine, arguing that the Biden administration reached a "flawed conclusion" when it decided that such a step would be escalatory.
Last week, the Pentagon said it was opposed to Poland's proposal to transfer jets to Ukraine via the United States because it could escalate tensions with Russia, arguing also that the jets wouldn't make a major difference in Ukraine's fight because it's not currently flying many aircrafts.
In addition to the air defense systems and MiG jets, Republican lawmakers are calling on the Defense and State Departments to deliver a host of other weapons and additional aid to Ukraine, including:
Grenade launchers and ammo
Small arms and ammo
Artillery systems, multiple launch
Rocket Systems, mortars and ammo
Machine guns and ammo
First aid kits
Small UAS
Secure communications
Binoculars and thermal imaging
Rangefinders
Generators
Potable water systems
Field feeding equipment and MREs m.
Gas masks and chemical protective equipment
Tractors, loaders, and excavators cameras
Additionally, the letter urges, the administration should begin to engage with industry leaders in the near term to ramp up production of non-lethal military equipment.
That equipment includes, but is not limited to:
gas masks and chemical protective equipment
body armor
helmets
medical kits
secure communications devices
potable water systems
logistics capabilities including vehicles
various spare parts
 The letter was signed by the following six Republicans:
Senate Armed Services ranking member Jim Inhofe
Senate Foreign Relations ranking member Jim Risch
Senate Intelligence vice chairman Marco Rubio
House Armed Services ranking member Mike Rogers
House Foreign Affairs ranking member Mike McCaul
House Intelligence ranking member Mike Turner
5 hr 1 min ago
Russia-Ukraine talks ended for the day and will resume Wednesday, Ukrainian negotiator says
From CNN staff
Talks with Russia finished for the day and will resume on Wednesday, Ukrainian negotiator Mykhailo Podoliak tweeted on Tuesday.
"We'll continue tomorrow. A very difficult and viscous negotiation process. There are fundamental contradictions. But there is certainly room for compromise. During the break, work in subgroups will be continued," he said of where thing stand in the talks.
The fourth round of talks between the two sides began on Monday before being "paused" until Tuesday.
4 hr 39 min ago
Russian forces have fired more than 950 missiles since the start of the invasion, US official says
From CNN's Ellie Kaufman
According to a senior US defense official, Russian forces have now fired more than 950 missiles since the beginning of the invasion of Ukraine. 
Both Russian forces and Ukrainian forces have approximately 90% of their combat power "available to them," the official added. 
The US "continues to assess limited to no progress by Russian ground forces in achieving their objectives," the official said, noting that Russian forces have not advanced closer to the capital city of Kyiv.
The US estimates that Russian forces are "still about 15-20 kilometers to the northwest and about 20-30 kilometers to the east" of Kyiv, the official said. 
In the last 24 hours, security assistance from the US and other nations "continues" to arrive in Ukraine. The shipments that arrived within the last 24 hours "did include weapons," the official added.
These comments were given to reporters on Secretary of Defense Lloyd Austin's flight from Washington, DC, to Brussels. Austin is traveling to Brussels to attend the NATO Defense Ministerial.
5 hr 42 min ago
Here's what's in the $13.6 billion Ukraine aid package from the US
From CNN's Katie Lobosco
A massive spending bill signed into law by US President Joe Biden Tuesday provides for a one-time $13.6 billion infusion of military and humanitarian aid to Ukraine as it fights back against Russia's invasion.
The amount of money the legislation includes for Ukraine increased during last-minute negotiations, growing from the $10 billion the White House had asked for earlier in the month.
The Ukraine aid is attached to an appropriations law that sets spending limits for the federal government for fiscal year 2022, which started in October. Lawmakers have haggled over the full-year appropriations bill for months and have passed three stopgap funding bills to keep the government operating in the meantime.
The text of the 2,741-page bill was released last week and Congress passed the legislation before a Friday deadline, avoiding a government shutdown.
How it's going to be spent:
Military aid: About $6.5 billion, roughly half of the aid package, will go to the US Department of Defense so it can deploy troops to the region and send defense equipment to Ukraine, according to a summary of the bill provided by the House Appropriations Committee.
The US has deployed thousands of troops throughout Europe, both before and during Russia's invasion of Ukraine. But putting troops on the ground in Ukraine, which is not a member of NATO, is a line that the US and its Western allies have not been willing to cross.
Humanitarian aid: More than $4 billion will provide humanitarian support for refugees fleeing Ukraine and people displaced within Ukraine, as well as provide emergency food assistance, health care and urgent support for vulnerable communities inside the region, according to a fact sheet provided by the House Appropriations Committee.
Economic aid: The package will provide nearly $1.8 billion to help respond to the economic needs in Ukraine and neighboring countries, such as cybersecurity and energy issues.
The law also calls for $25 million for the US Agency for Global Media, an independent federal agency, to combat disinformation in news broadcasts abroad. Another $120 million will help support local Ukraine activists and journalists and promote accountability for Russian human rights violations.
Read more about the aid package here.